Chicago Fire Fans Are Dying To Know What Was On Severide's Phone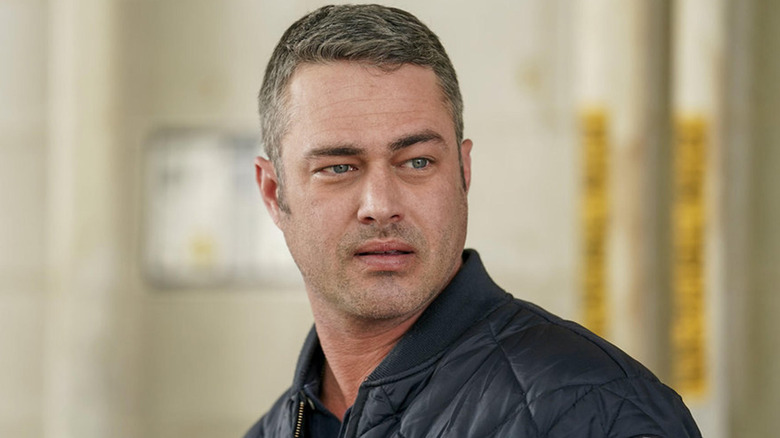 NBC
Lieutenant Kelly Severide has grown up in Firehouse 51. Taylor Kinney has portrayed the hotheaded firefighter ever since "Chicago Fire" premiered on NBC in 2012, appearing in over 230 episodes and counting. Like most "Chicago Fire" characters, Severide has experienced his share of struggles. His best friend Leslie Shay (Lauren German) died at the hands of an arsonist. A couple of years later, he lost his girlfriend Anna Turner (Charlotte Sullivan) to leukemia. When his buddy Matt Casey (Jesse Spencer) decamped for Oregon, it was like salt in the wounds.
But it's not all bad news for Severide. One of the series' most gratifying plotlines has been his on-again, off-again relationship with Stella Kidd (Miranda Rae Mayo), and the pair finally tied the knot in the Season 10 finale. Of course, life comes at you fast in Firehouse 51, and bad news can arrive on a dime. In Season 11's "Run Like Hell," Severide shows Stella something on his phone that has "Chicago Fire" fans dying to know more.
Fans think the phone mystery could explain Severide's upcoming departure
"Run Like Hell" ends with a cliffhanger as Severide meets Stella at Molly's to show her something on his phone. "Hey, I got your message about Van Meter," Stella says. "What's going on?" Severide passes over his phone, and when she looks at the screen, she responds, "Wow. What are you going to do?" Severide stares back in silence as dramatic music builds in the background.
Needless to say, "Chicago Fire" fans are in a tizzy over the mysterious contents of the phone and what it has to do with Captain Tom Van Meter (Tim Hopper), Commander and Arson investigator for the Chicago Fire Department's Office of Fire Investigation. "I wonder what was it Kelly showed Stella," tweeted @Learnthingss, with @_StopPretending adding, "This will be consuming me for the next week! The possibilities, the wanting to know what it is! Ugh!"
With Kinney's planned leave of absence from "Chicago Fire" for personal reasons coming any week now, some fans think the reason behind his departure is whatever's on that phone. "So whatever happened with Van Meter is how they're going to temporarily write off Severide," wrote @MattMurph24. "Smart." Others guessed that Severide might finally be accepting Van Meter's offer to join OFI. In any case, the contents of Severide's phone could finally give fans the hint they've been looking for.