The Modern Family Scene Fans Think Intentionally Displayed An F-Bomb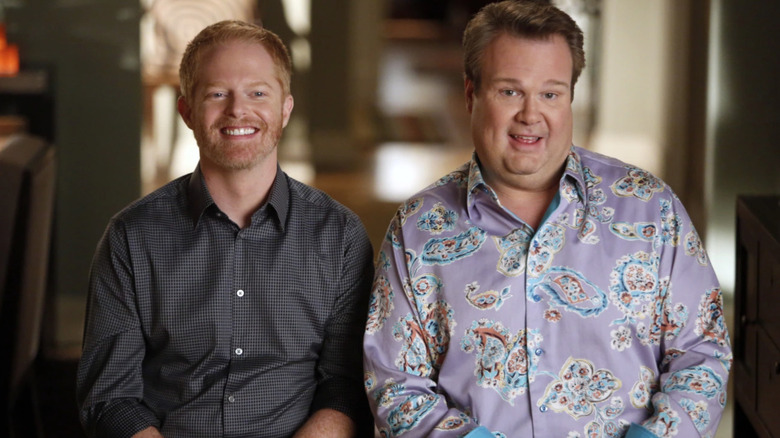 ABC/Shuttershock
Network sitcoms are family-friendly by design. Prone to the all-seeing eye of the Federal Communications Commission (FCC), they must constantly refrain from airing swear words; otherwise, the FCC won't let them be. Their creators also might go to jail. 
And speaking of shows that don't feature swear words, "Modern Family" remains one of the most swear-free and family-friendly shows in modern television history. In addition to having "family" right there in its name, the series is also apparently safe for everyone above the age of 13, according to Common Sense Media. Despite some edgy content and language, as the site reports, the show is otherwise free from anything especially racy. As for violence, it's virtually non-existent in the series.
But sometimes, even a show as pleasant and non-offensive as "Modern Family" can sneak in something naughty. And according to fans, that's exactly what happened in an episode that aired in season 4, titled "The Butler's Escape."
In one scene, Cam covers a suspicious swath of text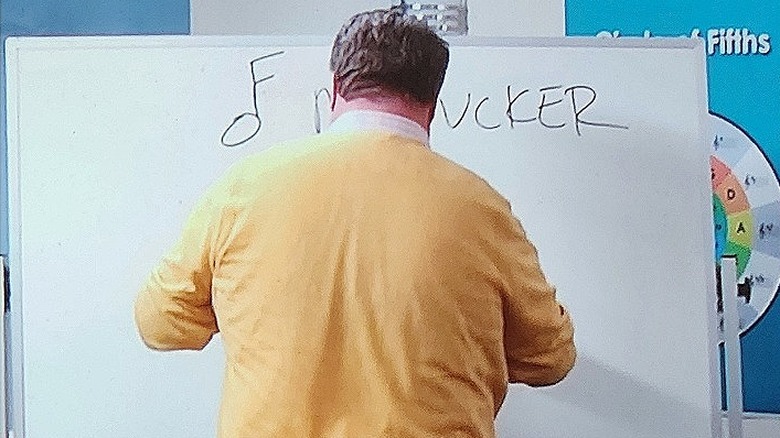 ABC
In this episode, which aired October 17, 2012, Cam (Eric Stonestreet) takes on a job as a music teacher at Luke (Nolan Gould) and Manny's (Rico Rodriguez) school. In the otherwise incident-free episode, Cam struggles to connect with his students and eventually frets over his feeling of failure at the end of the day. Mitch (Jesse Tyler Ferguson), meanwhile, fails just as spectacularly and only manages to get his house in order with the help of Claire (Julie Bowen). As always, everyone reaffirms their love for each other in the end.
But there's one particular scene that caught the attention of one fan on Reddit. In the scene, as Cam writes his name on the board of his music class, his yellow sweatshirt appears to cover up the "T" in his name, leaving just "ucker" on the board. On top of that, the musical note to the left of his sweatshirt looks like an "F." Put the two together, and ... the show doesn't seem so family-friendly now, does it? 
Multiple other fans soon chimed in to comment that the gaffe may have been intentional. Even Stonestreet himself didn't deny responsibility for the visual trick: When sent the screenshot on Twitter, he simply responded with a sly screenshot of his own. And while that doesn't necessarily confirm that this error was on purpose, it doesn't exactly end speculation, either. Seems like fans will just have to keep wondering.