Brandon Scott Jones Knows That Ghosts' Success Is The Balance Between Comedy And Drama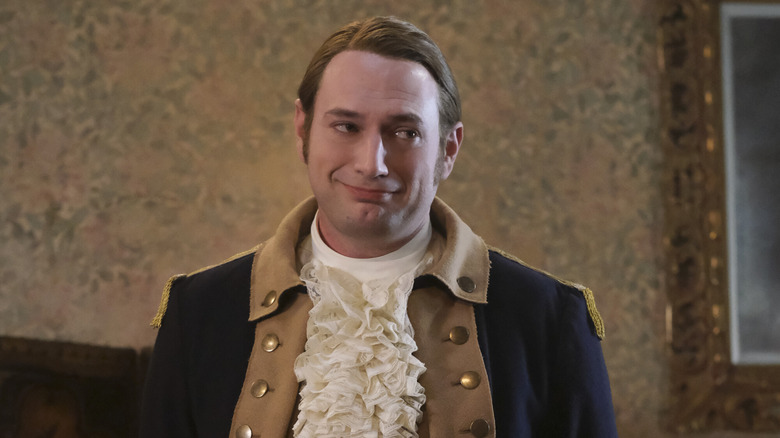 Bertrand Calmeau/CBS
What a good time it is for Brandon Scott Jones. Though you may not know his name yet, his face is certainly familiar. After scene-stealing comedic roles in Rebel Wilson's "Isn't It Romantic" and the HBO Max series "The Other Two," Jones landed a starring role in the cast of the CBS hit comedy "Ghosts" as American Revolutionary War captain Isaac Higgintoot. The role also earned him two consecutive Critics Choice Award nominations for best supporting actor, in addition to the series' nomination for best comedy series.
In "Ghosts," married couple Samantha (Rose McIver) and Jay (Utkarsh Ambudkar) inherit her family's estate, Woodstone Manor, and learn that it is haunted by many people who died on the property. After a near-death experience, Sam discovers she can see, hear, and interact with the ghosts, which in addition to Isaac include Viking Thorfinn (Devan Chandler Long); Lenape Native American Sasappis (Román Zaragoza); the original lady of the house, Hetty Woodstone (Rebecca Wisocky); 1920s bootlegger and jazz singer Alberta (Danielle Pinnock); hippie cult member Flower (Sheila Carrasco); '80s scout leader Pete (Richie Moriarty); and pants-less Wall Street frat bro Trevor (Asher Grodman). They become her new ersatz family as she helps them navigate the afterlife and discover things about themselves — and they've gained millions of fans in the process: The top-rated series averages 8.3 million viewers each week. Jones knows at least one reason why the show is deserving of such success and why audiences love it.
He says the performances are about emphasizing the truth at heart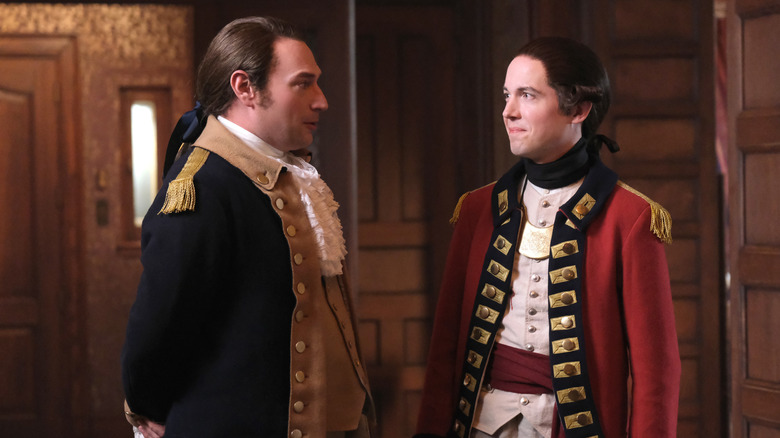 Bertrand Calmeau/CBS
You'd think that after some 250 years of life (well, death), someone like Isaac Higgintoot might have learned more about himself — but no. Whether these ghosts have been around for centuries or only decades, they're still discovering new, important details about themselves, such as Isaac admitting that he's gay. Their new discoveries create both comedic and dramatic situations, and Brandon Scott Jones claims that striking that balance is what brings audiences back week after week.
"The top priority was ... hoping that the performance wouldn't give you whiplash," Jones told Collider when asked how to address serious subjects in a half-hour comedy. "You might be in six minutes of screen time trying to tell this full arc, and you hope that it doesn't go too hard in one direction." He also explained what's most important to him in hard-hitting scenes: "Let's not lean too hard into the drama of it. Let's lean as hard as we can to the truth of what's coming out right there," he said. "You don't want to go full tears and then full comedy, because it might feel a little bit jarring."
Jones, who identifies as queer, also appreciates storylines like Isaac's coming out as relevant for modern audiences while still showing new perspectives. "What's really interesting is this kind of story is usually reserved for younger people — the idea of identity and figuring out who you are," he told USA Today. "But all this is happening to someone 300 years old."