Ghosts Star Brandon Scott Jones Gets Candid About The Inspiration Behind Isaac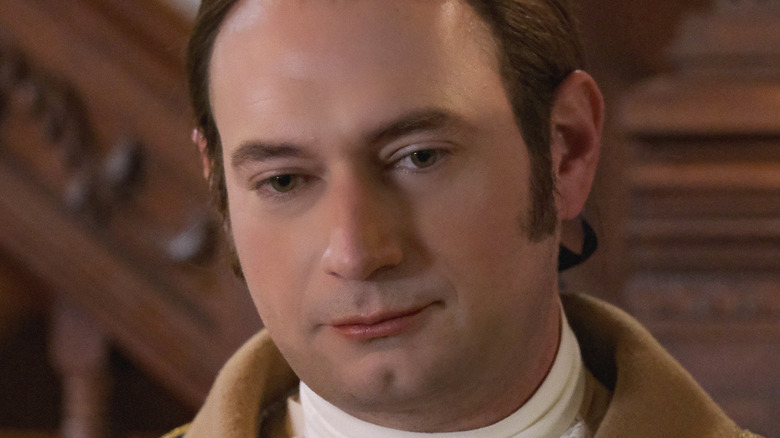 CBS
It's impossible to watch CBS' "Ghosts" and not enjoy Isaac Higgintoot, an American Revolutionary War officer forgotten by history who is overly jealous of the successful legacies of Alexander Hamilton and the other founding fathers and war heroes. While Isaac's fellow ghosts jab at him for leaving a stinky smell behind him due to his cause of death (dysentery), there's a lot of heart from the character. At the end of the first season, audiences see him come to terms with himself and his identity as he comes out and confesses his feelings for the rival British officer ghost, Nigel (John Hartman).
"Ghosts" otherwise follows couple Sam (Rose McIver) and Jay (Utkarsh Ambudkar), who have inherited an old property that they hope to fix up into a bed and breakfast. Following a near-death experience, Sam is left with the ability to see ghosts everywhere, including a colorful crowd that inhabits their new home. Isaac Higgintoot is one of their haunting tenants, and he frequently voices his opinions on Sam's choices — as well as his desire to have her write his biography and turn it into a musical to rival "Hamilton."
Actor Brandon Scott Jones shared his feelings on the character via The Wrap. As for Isaac coming out? "I was definitely excited, because the thing that always interested me the most about playing Isaac was that he's been in the closet for 250 years. As a queer person myself, I know what that feeling is like, and that was only for 20 years," he said. It's certainly exciting to see Isaac gain a different dimension and a better appreciation of himself and owning who he is, and Jones went on to discuss some of the work he did behind bringing Isaac to life (relatively speaking).
Isaac is always 'one step to the side of history'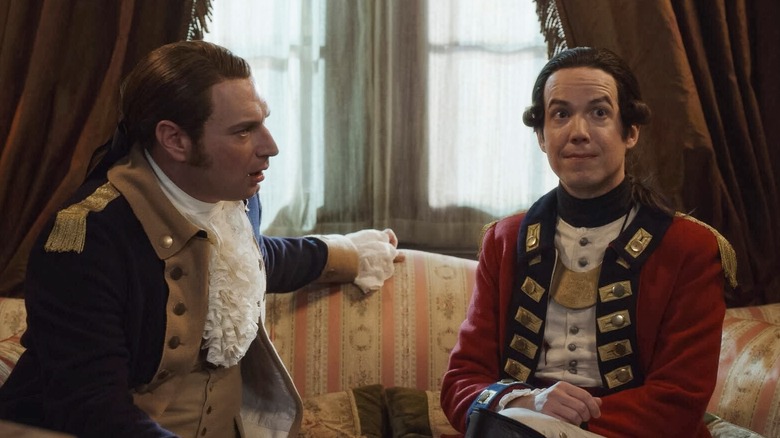 While Brandon Scott Jones explained to The Wrap that much of Isaac's character was already developed in the script, there were a few key ideas that guided his portrayal. "The thing that I really held through the most of the time was this idea of Isaac wanting to be somebody he wasn't, or wanting to be remembered as somebody he wasn't," Jones said. "That's a very queer narrative, but it's also a very funny narrative in the sense of, he's always been one step to the side of history."
Jones also referenced media that tells stories of people from Isaac's time period, including musicals like "1776" and "Hamilton," films like "The Patriot," and cartoons about the American Revolution. "The place I wanted to start with was, Isaac doesn't know that that's how everybody reveres [the founding fathers]," Jones explained — though Isaac's desire to be similarly remembered remains a sore spot for him.
But if the show's second season is any indication, Isaac has a rewarding and exciting future ahead, given that he is now living his truth and has started a relationship with Nigel. There's also his hope that Sam will keep her promise and write his biography, which will finally share his impact on history with the world. While it remains to be seen whether Sam can make him as big as Alexander Hamilton, it will at least grant Isaac the recognition he deserves. And now that he is making peace with his identity, perhaps there's a chance for him to ascend into the afterlife, since coming to terms with that part of him might've been part of his unfinished business.
Audiences can keep up with his development and catch "Ghosts" on Thursday nights on CBS and Paramount+.