Pedro Pascal Thinks Requests To Do His Mandalorian Voice For Children Are 'Inappropriate'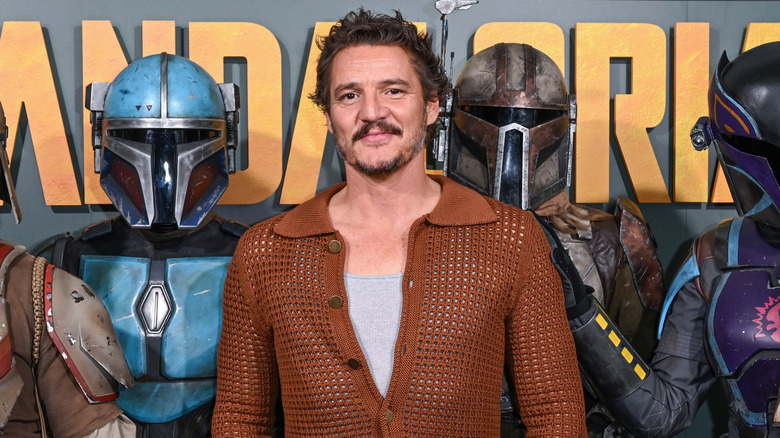 Jeff Spicer/Getty Images
There's a time and a place for Pedro Pascal to speak like his beloved character — Din Djarin — from the hit Disney+ series "The Mandalorian," like on set or in the recording booth. Outside of work, though, Pascal has drawn a line that cannot be crossed regarding the use of Din's voice.
Pascal's distinctive delivery of his dialogue is necessary to the show because a majority of the "Star Wars" spinoff series has the actor wearing a helmet. Never removing his helmet in front of living beings is part of the sacred creed of Mandalorian bounty hunters. It's a creed Din broke in the final episode of Season 2 of the series when he gave up Grogu to Luke Skywalker (Mark Hamill) for Jedi training.
"The Mandalorian" Season 3 will have Mando and Grogu — who made the choice to return to Din in "The Book of Boba Fett" — venturing to Mandalore. As Din states in the official trailer for "The Mandalorian" Season 3, Din hopes to be forgiven for his transgressions.
The trailer features Pascal's slightly amplified, low-rumbling voice. The series is the closest young fans will get to the actor's vocal work, despite the personal requests Pascal gets asked in public. 
Pedro Pascal says doing the Mandalorian voice for kids seems 'creepy'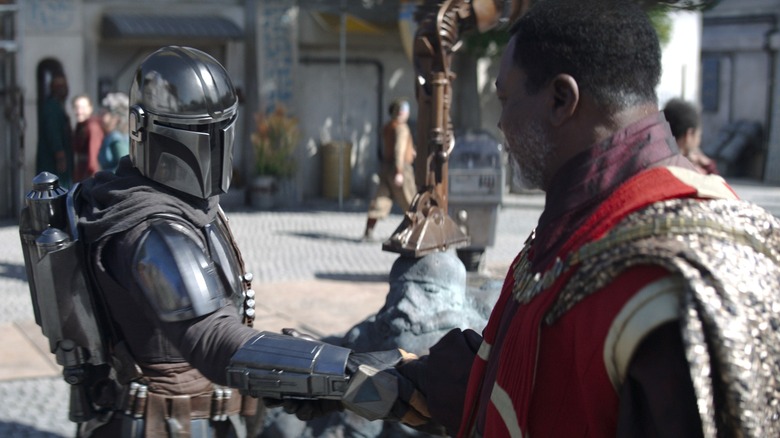 Lucasfilm/Disney+
Having attended fan conventions and press events since "The Mandalorian" debuted in 2019, Pedro Pascal is aware that he'll get requests from fans in public. As the actor told the eponymous host of "The Graham Norton Show" in an upcoming segment, he refuses requests from parents to do his Mandalorian voice for children because it comes off as "creepy."
"People come up to me and ask me to do the voice [from 'The Mandalorian'] for their kids," Pascal said. "But I think it sounds inappropriate because it is a breathy, low-register 'bedroom' voice ... It is so creepy and doesn't work in real-life."
While Pascal solely does the voice of Din for the series, he shares the armor and helmet of the character with various stunt actors. He's also found that helmet comes with some difficulties. Pascal explained to Empire that when he's donning the helmet, performing isn't as easy as it seems. 
"They've continued to finesse and make it more comfortable, but it's like going blind," Pascal said. "Your breath completely fogs up the narrow slit that you can see through. There's no peripheral vision. If there's a hole, I'm gonna fall into it."
Season 3 of "The Mandalorian" premieres Wednesday, March 1 on Disney+, with new episodes dropping on the streaming service every Wednesday through April 19.