What Has Paul Guilfoyle Been Up To Since Leaving CSI?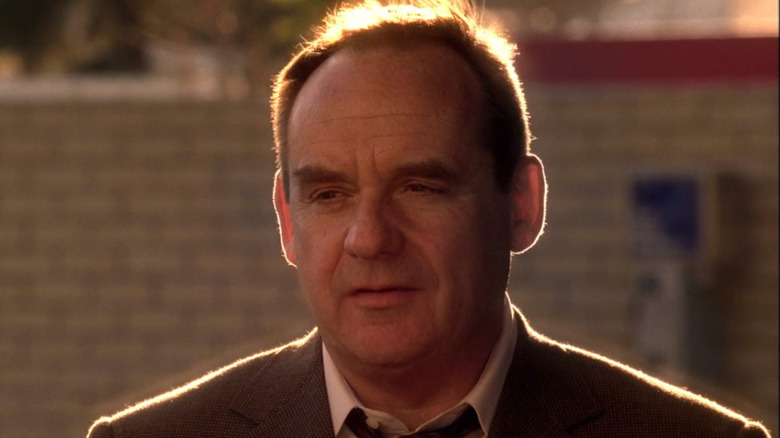 Hulu/CBS
It's hard to believe that, when "CSI: Crime Scene Investigation" first premiered, some viewers didn't like Captain Jim Brass—played by Paul Guilfoyle, the gruff and somewhat deadpan investigator with a tragic past and a heart of gold became not only a character that really grew on fans but one who came to be one of the show's most recognizable characters.
Guilfoyle left "CSI" in 2014. By then, the "CSI " world had expanded to include spin-offs in Miami and New York, both of which had wound down before the primary series was drawn to a close. Guilfoyle reprised Brass for "Immortality," the two-hour series finale in 2015.
But while Captain Brass may be among his more recognizable characters, Paul Guilfoyle had an impressive resume well before "CSI." This includes roles in "Three Men and a Baby," "L.A. Confidential," and "Air Force One," not to mention a twelve-year stint as a member of the Theater Company of Boston. In other words, there was no way that Paul Guilfoyle would disappear from the worlds of film and television after leaving "CSI."
Paul Guilfoyle played a resistance leader in Colony
In 2016, not long after he helped "CSI" bid farewell to viewers, Paul Guilfoyle was cast in a recurring role in USA Network's "Colony." This was a show with a straightforward but well-executed premise. According to some supporters, it was also criminally underrated and canceled way too soon. Aliens have conquered Earth and established a planet-wide authoritarian government. But though it is ostensibly the extraterrestrials in the role of the show's Big Bad, it is their human, Vichy-style collaborators called "Redhats" who are the most immediate antagonist, keeping the population in check and enforcing strict, tyrannical laws.
Our heroes, meanwhile, are the resistance, the underground cells of humans conspiring to weaken and ultimately overthrow the alien invaders. Chief among them is the show's protagonist, Katie Bowman, played by Sarah Wayne Callies of "The Walking Dead." But supporting her and other resistance members is Alexander Quayle, a former high-ranking CIA agent turned resistance leader, played by Paul Guilfoyle.
Guilfoyle was essential during the first season of "Colony," with Quayle leading the resistance cell and going back and forth on whether Katie could be trusted. One of his final acts is to turn on his comrades, attempting to turn in his cell to the collaborators, before being killed by Katie's husband, Will (Josh Holloway), who is working with the Redhats.
He played Henry in The Good Fight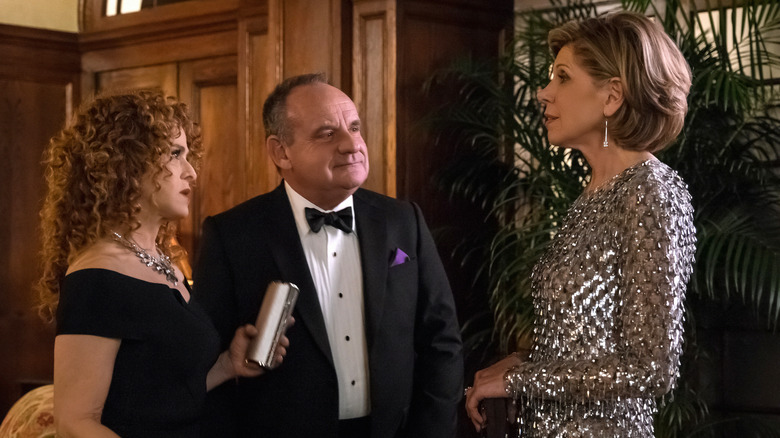 Jeff Neumann/CBS
Every fan of "The Good Fight" will know that the spin-off and sequel of "The Good Wife" revolve around attorney Diane Lockhart (Christine Baranski). Though Alicia Florrick's (Julianna Margulies) arc came to a fitting conclusion at the end of "The Good Wife," Lockhart's is just getting started. The first episode sees her life savings wiped out by a Ponzi scheme that destroys the reputation of her colleague, mentee, and goddaughter, Maia Rindell (Rose Leslie). It's not just Maia that is caught up in the scandal. Her father, Henry Rindell, head of what was once Chicago's much-beloved unofficial first family, is arrested for heading up the whole scheme and is played by Paul Guilfoyle. 
Henry's journey during Season 1 of "The Good Fight" is tumultuous. Though he makes bail and is ostensibly a free man for the time being, his upcoming trial weighs heavy on him. He attempts to commit suicide, and, after that fails, knowing that it could put him back in jail, he flees the country rather than take a plea deal that would have put him in prison but gotten his daughter off the hook. During the second season, Maia turns on him to the FBI, and Italian police arrest him.
If you or anyone you know is having suicidal thoughts, please call the National Suicide Prevention Lifeline by dialing 988 or by calling 1-800-273-TALK (8255)​.
He appeared in a two-part episode of Star Trek: Discovery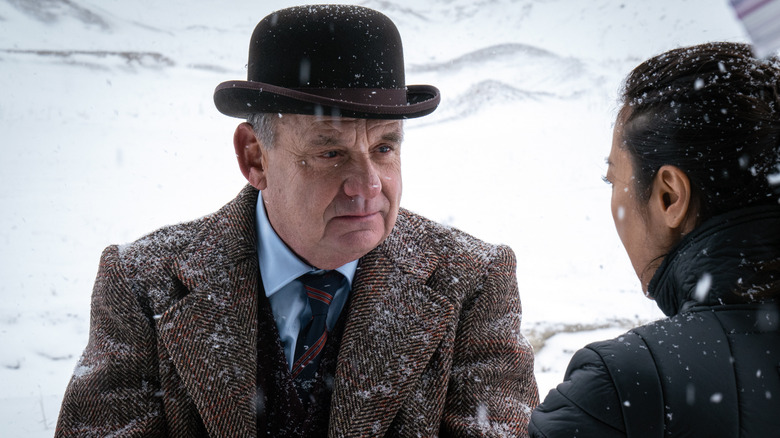 Paramount+
In 2020, Paul Guilfoyle had a chance to try out his space legs when he appeared in a two-part episode of "Star Trek: Discovery." This was in Season 3 when the crew of the Discovery learned that Philippa Georgiou's (Michelle Yeoh) molecules were deteriorating after having traveled through both times and across dimensional barriers, prompting Captain Burnham (Sonequa Martin-Green) to bring her to the surface of Dannus V in search of a cure.
What follows is another journey into the infamous parallel dimension Terran Empire, complete with mirror universe versions of the Discovery's crew and a challenge to the native Terran Georgiou's former ruthlessness. It ends when she is sent back in time to a moment when the two dimensions were more closely aligned, stabilizing her molecules and giving Georgiou a new chance at life. 
How are these portals, through time and space, opened? By a mysterious, well-dressed, somewhat unassuming character who calls himself Carl, played by Paul Guilfoyle. We later learn that Carl is, the Guardian of Forever, an entity going back to the original series who can open pathways across time and space. 
He's brought back Jim Brass for CSI: Vegas
The announcement that "CSI" would be getting a sequel series certainly raised the possibility of a return for any number of characters from the original series. This included Jim Brass. Sure enough, Deadline soon announced that Brass would return for "CSI: Vegas."
Alongside Gil Grissom (William Petersen) and Sara Sidle (Jorja Fox), Jim Brass makes an appearance in the very first episode of "CSI: Vegas." An attack on Brass sets the show's events in motion. Shockingly, though, and in keeping with the string of tragedies destined to fall on him, Brass is now legally blind, having been diagnosed with Fuchs' dystrophy, a degenerative macular disorder that thickens the cornea of the eyes. 
Predictably, this sidelines him in the field. While Sidle and Grissom investigate the framing of their colleague David Hodges (Wallace Langham), Brass is forced to engage from headquarters. As a result, Paul Guilfoyle makes relatively few appearances in the first season of the sequel series.