Sylvester Stallone Was Drawn To Tulsa King Because He Wanted To Play An Alpha At His Age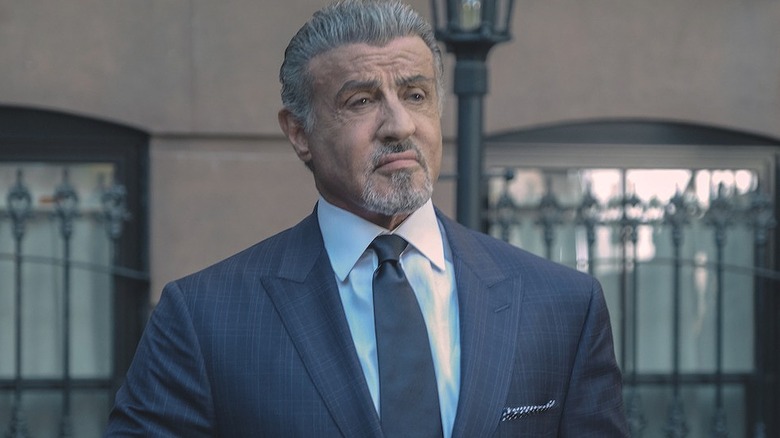 Paramount Network
They don't make them like him anymore. That is to say, marble-cut one-man-army Sylvester Stallone mowing down faceless henchmen in a gun battle that would scorch your retinas. Now it's all an age of precision and panache with the likes of Keanu Reeves going it alone, only with much smaller guns (no offense, Mr. Reeves). That's not to say that Stallone isn't as intimidating as he's always been. The star behind John Rambo and Rocky Balboa still has a presence in any scene his continuously enormous frame fills, only most recently he's done so in shades and an impressively tailored suit for Taylor Sheridan's fish-out-of-water crime drama, "Tulsa King."
A surprising hit when its first season debuted in 2022, "Tulsa King" was one of Sheridan's other shows besides "Mayor of Kingstown" that wasn't linked to his diamond Dutton family saga. Instead of Kevin Costner kicking dirt while ranch hands got branded, this show had Stallone as Dwight "The General" Manfredi, a gangster recently released from prison after a lengthy stint and sent to Tulsa for his troubles. But whereas some stars of his age may not be nabbing the roles that have fit the mold he made for himself following an Oscar-nominated career in Hollywood, it's the accompanying baggage that Stallone feels made him such a good fit for his "Tulsa King" character.
Stallone thinks he had the experience to bring the Tulsa King to life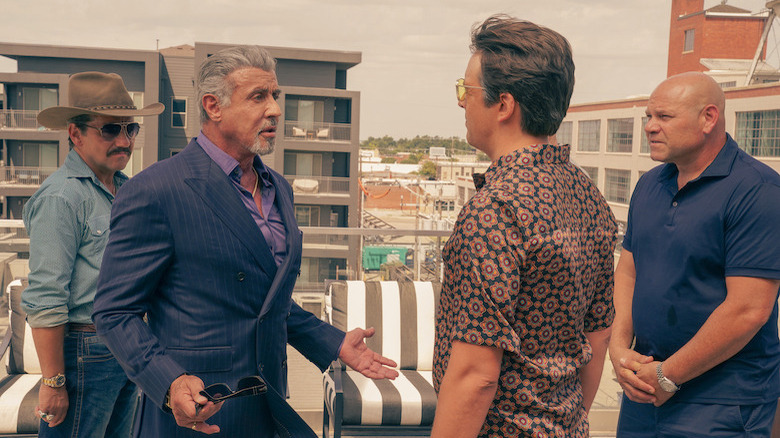 Paramount Network
In an interview with Decider regarding his role that saw him shift over to the small screen for a change, Sylvester Stallone revealed that the excitement about Manfredi came from taking on a character with some fight left in him. Much like his other iconic roles, Manfredi was another old soul with a still burning fire in him, just like the man himself.
"Yeah, no question about it," assured Stallone, who is clashing with biker gangs and rising Mafia bosses in equal amounts in the show. "At this point in my career, I might get to play a grandpa walking down the road with a fishing pole, you know? [laughs] The fact that I'm playing a gangster with the gray hair who's still aggressive, and still an Alpha, is pretty exciting to me."
Besides that, though, there's also Stallone's lengthy career and the lessons that have come with it that helped him bring Manfredi to life. Both are men that have taken hits and (to quote a certain Stallion) kept moving forward. "I think I add a lot of credibility to the role," he continued. "I have a lot of life experience, which works for the character. So better late than never."