A Throwaway Line From The Conners Season 5 Episode 15 Suggests That Andy Might Exist After All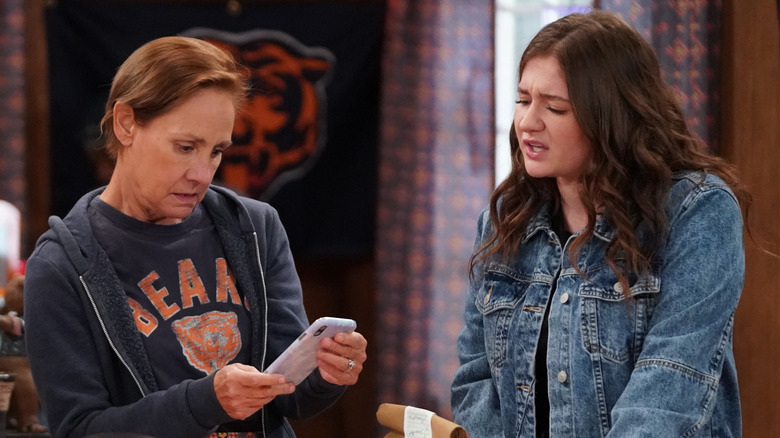 ABC/Eric McCandless
The following article contains spoilers for "The Conners" Season 5, Episode 15 — "Possums, Pregnancy and Patriarchy."
Is the world ready for Darlene Conner (Sara Gilbert) to be a grandmother?
Apparently so, because during "Possums, Pregnancy and Patriarchy," Harris Conner-Healy (Emma Kenney) reveals that she's pregnant thanks to an assignation with her ex, Kai (Austin Zajur). For those who don't remember the poet with bum-like tendencies, he appears in "Crumbs and Couch Surfers," Episode 9 of Season 5, to couch surf at Dan's (John Goodman) and Louise's (Katey Sagal) place. Harris's relationship with him ends after she learns he's been stealing money from her and Louise chasing him out of the house with a baseball bat.
Harris' announcement understandably sends the whole family into a tizzy. Everyone seems to have an opinion about Harris carrying on with her pregnancy. While some of the family's mad and some of it's glad, Jackie Harris (Laurie Metcalf) provides a calming center for Harris and supports her grandniece right from the beginning. While trying to prove to Harris she'll always be there for her, Jackie comes out with a throwaway line that reveals a piece of "Roseanne" past might not be as dead and gone as fans previously thought.
Jackie's abortion admission and stray comment has fans intrigued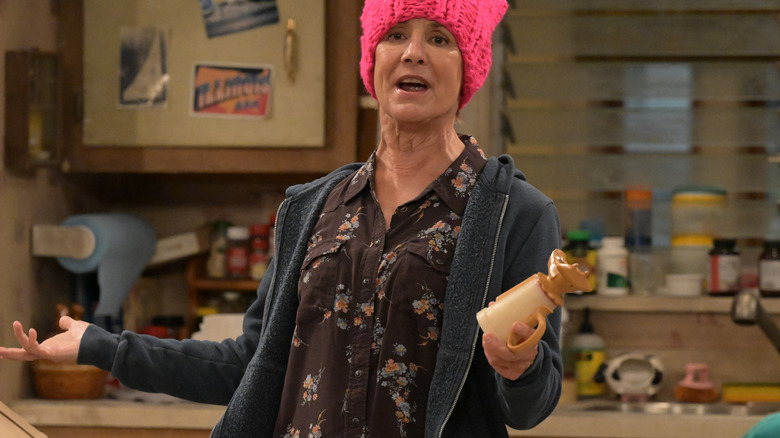 ABC/Temma Hankin
During "Possums, Pregnancy and Patriarchy," Jackie lists the long line of Harris-Conner-Healy women who have been "knocked up" over time out of wedlock. After mentioning Roseanne (Roseanne Barr), Darlene, and Bev Harris (Estelle Parsons) obliquely, Jackie says, "your aunt got knocked up." Now this could refer to Becky Conner-Healy (Lecy Goranson), but a number of fans watching the show live on Reddit wondered if the impossible might now be true; could Andy Harris have been retconned back into existence by that comment? One fan wrote: "Wait a ... second. Did they just casually unretcon Andy? I'm dying." Another Redditor wondered if they'd hear more references to Andy or if Jackie was referring to herself.
To be fair to the show's writers, the reference might have also been to an abortion Jackie says she had off-screen later on in the episode. This incident — never dramatized on "Roseanne" — is one Jackie states she does not regret while advocating for Harris to have one as well. But this revelation just muddies the picture even more. Is Jackie happily and firmly child-free? Or is Andy out there floating around in the narrative ether, waiting to pop up and jump-scare the audience? Time will definitely tell when it comes to that one. Until then, fans must content themselves with Jackie being an awesome great-aunt.