Whatever Happened To CoatChex After Shark Tank?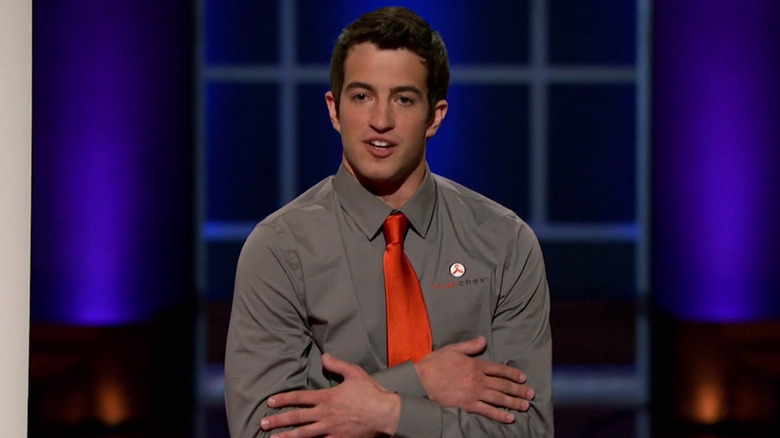 ABC/Hulu
While lots of entrepteneurs have gone on "Shark Tank" to pitch new products or inventions, some are there to offer something a bit different: a tweak to an existing process that makes it more efficient. That's the gist of pitches like the Plated meal delivery system or the Wine & Design art studio. Recent college graduate Derek Pacqué attempted to follow in those entrepreneurs' footsteps when he went into the tank in September 2012 to pitch CoatChex, during "Shark Tank's" Season 4 premiere.
CoatChex is a response to a relatable problem. When restaurants and bars don't have a coat check system, it means patrons have to either babysit their coats all night or leave them in a discrete spot hoping they don't get stolen. CoatChex is a ticketless coat check system that uses a digital interface. After handing over their coat to an attendant, customers enter their name into CoatChex, then pose for a photo that's used for identification purposes.
Pacqué asked for $200,000 in exchange for a 10% equity stake in his company. Despite his energetic sales pitch, the sharks were reluctant to negotiate. Daymond John didn't think Pacqué was educated enough about the business. Kevin O'Leary wasn't interested in a seasonal business that relies on people wearing coats. Barbara Corcoran didn't think CoatChex was a substantial upgrade over existing coat-check systems. Robert Herjavec couldn't get past Pacqué's valuation of his company, even after Pacqué upped the ante to offer a 15% equity stake. Mark Cuban offered $200,000 for a 33% equity stake, but Pacqué wasn't willing to give away that much of his company. He countered with a 20% equity stake offer, but Cuban walked.
So, did the sharks make the right decision? Or did Pacqué?
CoatChex became Chexology, and it's still going strong today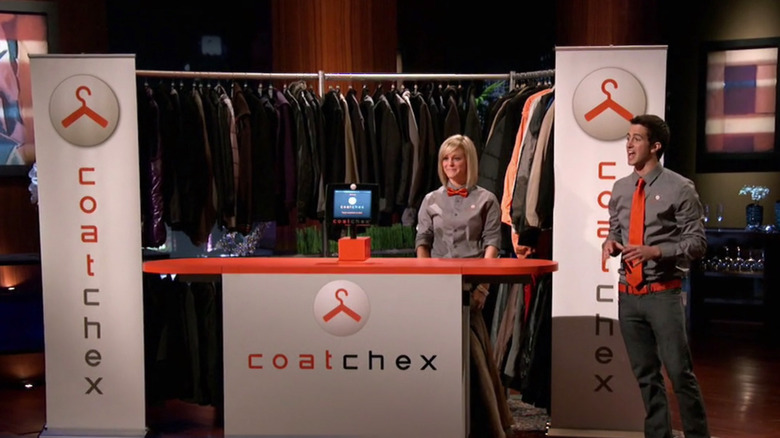 ABC/Hulu
First, some context. At the time of his "Shark Tank" appearance, Pacqué hadn't yet done any sales. This was a major reason why most of the sharks balked at making an offer–the product hadn't yet been proven. So, upon leaving the tank, Pacqué's first goal was to secure contracts with event companies to create a track record. He also wanted to expand CoatChex to provide the same service for other "bailment" businesses, or those that involve handing over property for a short period of time–dry cleaners, airport luggage, valets, and so on.
Since "Shark Tank," Pacqué did exactly that. In 2015, he moved to New York City and changed the name of his company to Chexology. That year, Pacqué had secured business deals with more than 50 accounts, including big-name venues like Madison Square Garden and the Lincoln Center. This led Chexology to secure $1.2 million in seed funding (per PR News Wire).
According to Yahoo News, Chexology's success has only continued since. Today, it makes between $1 million and $10 million annually. Its machines have appeared at the Super Bowl, New York Fashion Week and Mercedes-Benz Fashion Week, and its clients include American Express, Nike, Barclays Center, Chase and Delta Airlines. Not bad for a company that was unproven.