Filming Harry Potter Stopped Rupert Grint From Getting A Necessary Medical Procedure
Like many of his "Harry Potter" franchise co-stars, Rupert Grint's post-franchise career has been one spotted by ups and down. At the moment, however, Grint is riding a pretty significant upswing. That's in no small part due to work in M. Night Shyamalan's Apple TV+ hit "Servant," as well as his scene-chewing turn opposite Dave Bautista in Shyamalan's "Knock at the Cabin."
In casting Grint for those projects, Shyamalan clearly recognized a depth and darkness in the actor barely glimpsed in the decade he spent mugging for easy laughs as Ron Weasley in the "Harry Potter" franchise. For his part, Grint fully embraced the darkness, and in doing so, has proved he's more than ready to leave his aloof yet disarmingly capable "Harry Potter" counterpart well in the past.
Grint will, of course, never fully be able to do that, if only because the "Harry Potter" franchise remains as popular as ever these days. More than a decade after it ended, the actor wisely doesn't shy away from either the franchise's legacy or the sacrifices he made to earn a place in it. In fact, Grint has become a first-rate source of behind-the-scenes "Potter" fodder of late. During a recent interview, he dropped yet another fascinating nugget from his "Potter" days, admitting that at one point, he was so busy shooting and promoting the franchise that he couldn't find time to schedule a decidedly necessary medical procedure.
Grint had to wait until he was done with the Harry Potter franchise to get his tonsils out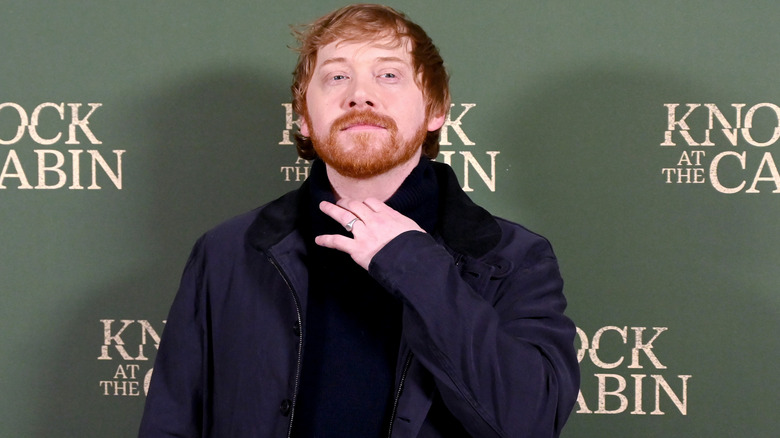 Dave J Hogan/Getty Images
Rupert Grint told the almost unbelievable story of his medical woes during a recent sit-down with GQ. While discussing what his life was like as the franchise that made him famous neared its end, the actor admitted his first order of post-"Harry Potter" business was not to book his first post-"Potter" film role. Rather, it was to finally have his tonsils removed.
As Grint recounted to GQ, his physical health took a backseat to the franchise for much of his tenure, and he claimed his tonsils actually became inflamed during the filming of 2005's "Harry Potter and the Goblet of Fire"; that film essentially marked the halfway point of the big screen "Potter" saga. The actor went on to say that the "shoot, promote, shoot" nature of the franchise simply left him no window to have his tonsils removed the rest of the way. "While I was filming, there was never any time to get them out," Grint offered, adding, "From 'Goblet' to the end of the franchise, I was just ill. My tonsils were absolutely massive."
His tonsils had become so inflamed by the end of the final film's shooting that in addition to the physical discomfort they provided him, they served as a reminder of the pressure-filled position he was in. "They became a metaphor, really," Grint quipped. "As soon as I finished my work, I got them removed. It was one of the best decisions I ever made." While we hate the thought of an actor suffering through filming, his story has given us a whole new respect for Rupert Grint's late-franchise "Harry Potter" contributions.