Madelyn Cline Had To Give Herself Daily Pep Talks When Filming Glass Onion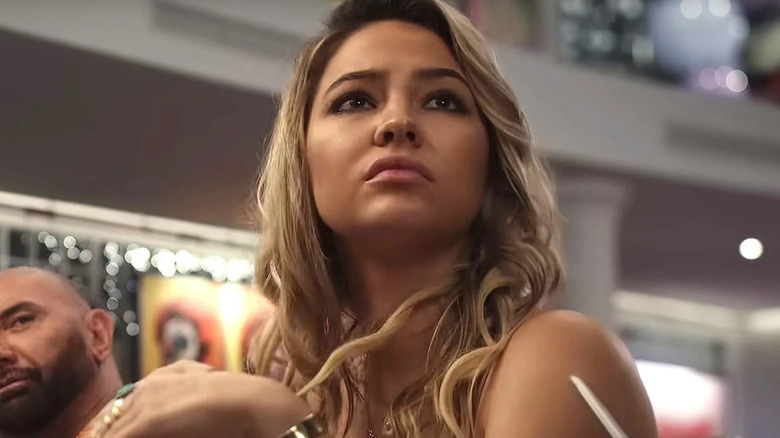 Netflix
Madelyn Cline has steadily worked her way up to becoming the newest Netflix it-girl. The young actress has plenty of credits to her name, but many people likely first became acquainted with her when she starred in a couple of episodes of "Stranger Things." She soon moved onto a much more substantial role as a lead character of another Netflix hit show — "Outer Banks." That show is about to enter its third season, and Cline is riding high off a major Netflix release from last year, namely playing Whiskey in the Oscar-nominated "Glass Onion: A Knives Out Mystery."
Cline played an integral role in the murder mystery as Duke's (Dave Bautista) girlfriend, who will do anything to advance the career prospects of herself and Duke. The part was a real sign of just how far Cline had come, but during filming, she apparently found herself intimidated by some of the more seasoned actors. As such, she had to give herself regular pep talks to psych herself up.
Madelyn Cline admired all her co-stars as well as director Rian Johnson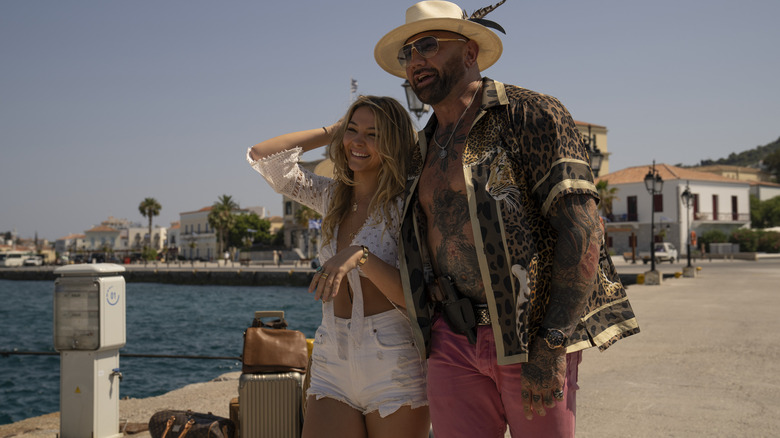 John Wilson/Netflix © 2022
"Glass Onion" is the very definition of a star-studded cast, bringing together the likes of Daniel Craig, Janelle Monáe, Edward Norton, Kate Hudson, Kathryn Hahn, Leslie Odom Jr., Jessica Henwick, and Dave Bautista. Madelyn Cline has certainly proven she has the chops to act alongside all these greats, but during filming, she had to take a step back to really focus on her craft. 
When appearing on "The View," Cline spoke about her daily pep talks to calm herself down from being next to some of her idols. She said, "At first, I was nervous because obviously, I grew up watching each and every one of them as actors and admiring their work. And then on top of that, I was working with Rian [Johnson], who I'm a huge fan of, and he's also just the sweetest person, so that was some level of comfort." She went on to continue praising her co-stars and how she wanted to do justice to the part. The show's hosts had her back and told her that she's definitely a star in her own right and that there are plenty of people out there who would be star-struck to see her.
Cline's on her way to having a career as expansive as her "Glass Onion" co-stars, and up next for her is "Outer Banks" Season 3, which premieres on Netflix on February 23.