Patrick Warburton's Mother Tried To Get Family Guy Off The Air With Petitions To The FCC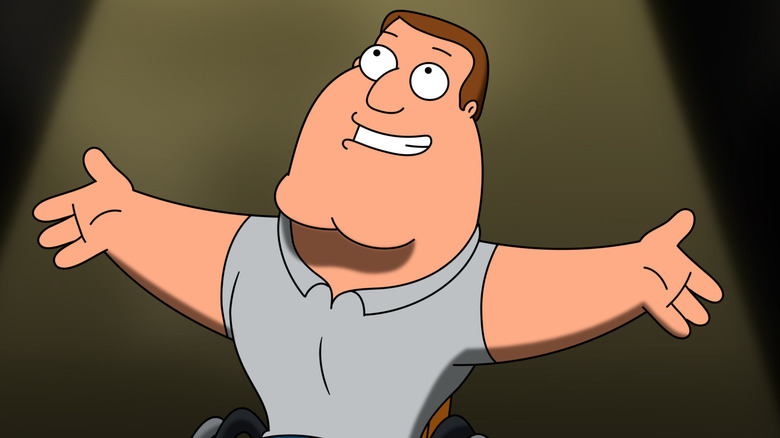 20th Century Fox Television
Many loyal TV viewers will recognize Patrick Warburton from his laconic role as Elaine's on-again/off-again boyfriend, David Puddy, on "Seinfeld." Animation fans, on the other hand, know Warburton from his voiceover work, including his recurring appearances as Joe Swanson on the long-running Fox series "Family Guy." 
Joe is one of the Griffin family's next door neighbors, and he is a super macho, paraplegic cop. While nothing gets in the way of his work, the irreverent show regularly makes jokes about Joe's impotence and incontinence. While this humor doesn't sit well with everyone, Warburton has his approach to tackling a show of this nature.
"It's a cartoon," Warburton said back in 2013 to AV Club. "The essence of it is total absurdity, so let's take away anything. You have to take away anything in regard to decency and morality or whatever."
Despite this, he acknowledged there are people who react poorly to "Family Guy." This includes his mother, who actively tried to have it taken off the air.
Warburton's conservative parents are disappointed in his show
When Patrick Warburton appeared on the Sirius XM show Dirty Sexy Funny, he affirmed that like host Jenny McCarthy, he grew up in a conservative, god-fearing household. This means his parents aren't exactly big fans of "Family Guy." 
"I have two parents — honest to God –that couldn't be more disappointed that I'm on this show," Warburton said to AV Club. 
This has gone so far that his parents have taken action against the series. His mother joined groups who send petitions to the Federal Communications Commission (FCC) asking for "Family Guy" to be removed from broadcast for being morally offensive. Meanwhile Warburton dished about his dad leaving a voicemail which said, "I wish you would get off that show." 
Warburton appears to be understandably conflicted about this, but has made peace with his parents' feelings. 
"I don't want to hurt anybody, especially my family," Warburton said, "but at the same time, you have to be honest and true with yourself, and I just see it for what it is, which is just comedy, plain and simple."