Michael Weatherly's Favorite NCIS Episode Is (Usually) In Season 7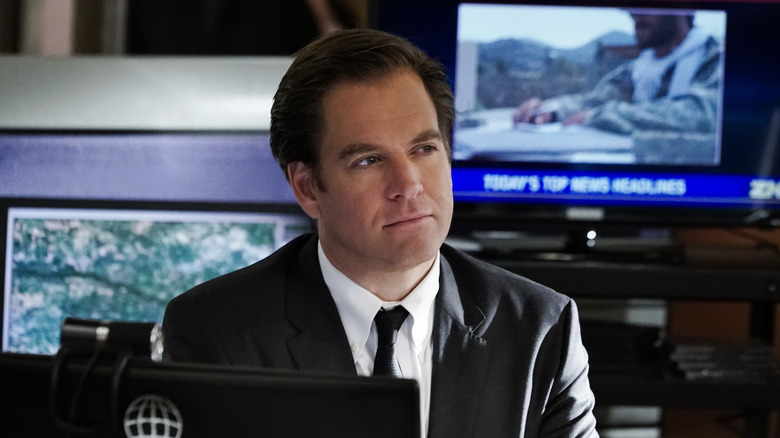 Jace Downs/CBS
Even though he's been gone from the series for nearly seven years, longtime fans of "NCIS" will still remember Michael Weatherly fondly for his performance as series staple Anthony DiNozzo. DiNozzo was a significant character within "NCIS" throughout its first 13 seasons. His undeniable charisma and reputation defined his early work as a senior field agent as a shameless flirt.
As the series went on, the character slowly grew from a somewhat arrogant jokester into a charming but grounded team member who occasionally provided the show with some much-needed comic relief. Despite being one of the more lighthearted characters in a series about gruesome and unexplained murders, DiNozzo's career eventually caught up to him in Season 13, when his former love interest Ziva David (Cote de Pablo) appeared to have been killed in a mortar attack on her home. After learning that he is the father of Ziva's daughter, DiNozzo departs from the series to care for the girl.
DiNozzo's growth from his early days as a cocky chauvinist into a more grounded (though still hilarious) father figure is one of the most important character arcs in the entire series, and there are plenty of moments that stick out from his journey as some of the best "NCIS" episodes to feature DiNozzo. As such, it should come as no surprise that Michael Weatherly's favorite "NCIS" episode focuses heavily on DiNozzo's relationship with Ziva.
Weatherly believes Truth and Consequences is an all time NCIS episode
When asked by Parade about his favorite episode in all of "NCIS" (no small task, given that the series has been on for nearly 20 years), Michael Weatherly replied that his answer, most of the time, is the Season 7 premiere "Truth or Consequences" – which saw Anthony DiNozzo being interrogated by terrorist Saleem Ulman (Omid Abtahi) in an attempt to rescue Ziva David.
"It changes depending on sort of what my blood sugar level is. But time and time again, I go back to this episode called 'Truth or Consequences,'" Weatherly said. "The reason I keep going back to that episode is that it was really a primer on what 'NCIS' was at that point in time. Because of the story that was unfolding and the way that story got told, if you were a brand-new viewer, it really unfolded and revealed all the characters and the dynamics of the show, and it really fired on all cylinders."
The episode opens with DiNozzo being tortured and interrogated by Ulman. This leads to DiNozzo recapping the three months of work it took to track down Ulman (and his hostage, Ziva). The episode's unique style of nonlinear storytelling and emphasis on Ziva and DiNozzo's connection makes it by far one of the best episodes for fans of DiNozzo and one of the most distinctive "NCIS" episodes overall. Indeed, it's clear that this episode represents the best of what "NCIS" has to offer in the eyes of Michael Weatherly.