12 Legendary Monster Actors You Didn't Recognize In Other Roles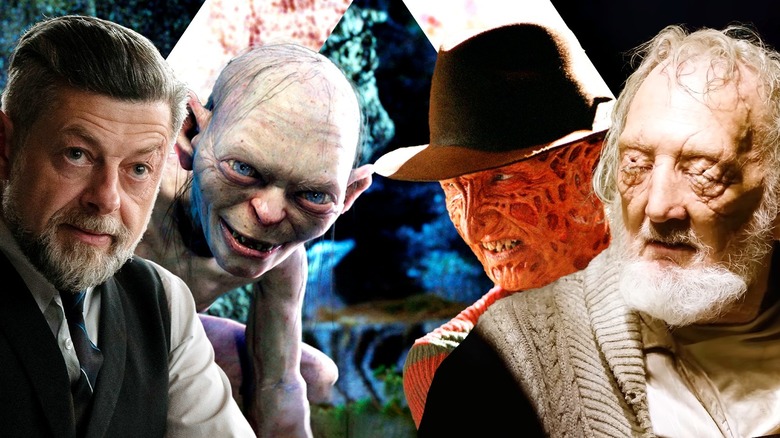 Static Media
Most actors are branded by their looks. And sometimes those looks are modified heavily by makeup or CGI to turn them into monsters. Characters like Freddie Kreuger and the Wicked Witch of the West transcend the actors behind the costumes. So when Robert Englund or Margaret Hamilton appear in other works, they're hardly recognizable.
Some actors are unfortunately dwarfed by these parts — the faces behind classic Universal Pictures monsters might be essential components in the art of filmmaking, behind some of the most iconic films of all time, but it's hard to pick them out in a lineup if they're not in makeup. Regardless of how much acclaim they've carried into the rest of their cinematic or televisual careers, these actors' ability to engage and move audiences has solidified them in the realm of stardom. It's about time these performers get the recognition they deserve. Let's unmask these 12 legendary monster actors you didn't recognize in other roles.
Robert Englund in Stranger Things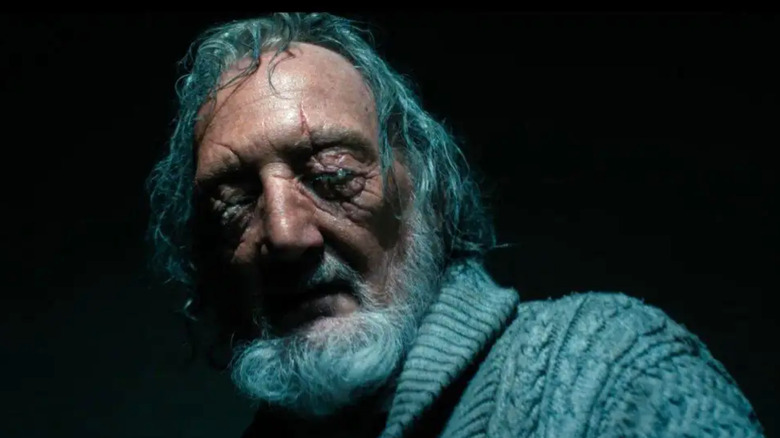 Netflix
From Elm Street to Hawkins, Indiana, Robert Englund is a horror legend who continues to haunt our nightmares after all these years. Most know him for his frightening role as Freddie Kreuger in Wes Craven's "A Nightmare on Elm Street." In Monsterland's "Nightmares on Elm Street: The Freddy Krueger Story," Craven describes Freddy as "the worst of parenthood and adulthood — the dirty old man, the nasty father and the adult who wants children to die rather than help them prosper. He's the boogey man and the worst fear of children — the adult that's out to get them."
After six sequels and a crossover film with "Friday the 13th's" Jason Voorhees, it's hard to imagine Englund without Freddy's burns and scars, green and red sweater, and deadly glove. So when he appeared in Season 4 of "Stranger Things" as the blind prisoner Victor Creel, many fans had to do a double take.
This time Englund isn't haunting the dreams of teens. Instead, his character Victor opens up to Hawkins teens Nancy (Natalia Dyer) and Robin (Maya Hawke) about what happened the night his family was murdered. Englund makes a thoughtful connection between his two roles, telling Netflix's Tudum, "A lot of what's happening in 'Stranger Things' in these last [few] seasons, just like in 'A Nightmare on Elm Street,' is about the loss of innocence." Next time you watch Season 4, Episode 4 of "Stranger Things," you can appreciate the meta '80s nostalgia just a little more now that you know the significance of the actor behind the character.
Andy Serkis in The Batman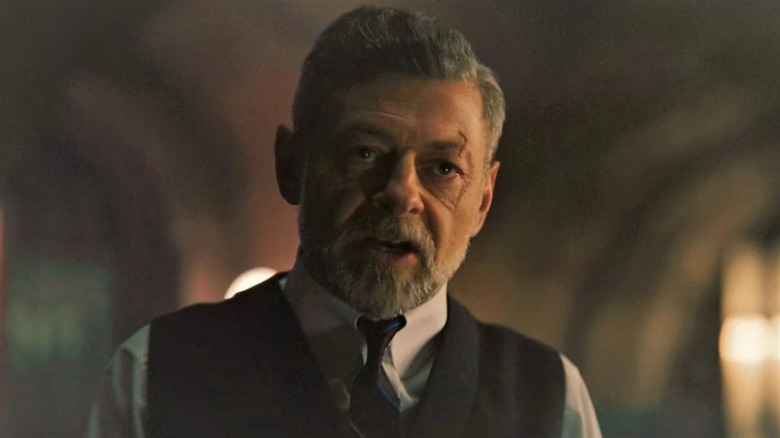 Warner Bros. Pictures
Andy Serkis is the master of motion capture. His many critically acclaimed performance capture roles include Gollum in the "Lord of the Rings" film trilogy, Caesar in the 2010s "Planet of the Apes" film trilogy, and Supreme Leader Snoke in the Star Wars films "The Force Awakens" and "The Last Jedi." In an interview with BBC, Serkis talked about his motion-capture performances, saying, "The emotional content of these performances live and die by what the actors bring to the roles on set. ... I never approach a live-action role any differently to a performance-captured role. The process of acting is absolutely identical."
However, Serkis doesn't restrict himself to only performance capture roles. Most recently, he's played Ulysses Klaue in the Marvel films "Avengers: Age of Ultron" and "Black Panther" as well as Alfred Pennyworth in "The Batman." Since these aren't his typical computer-generated characters (and because Serkis isn't walking around on all fours), don't be too hard on yourself if you didn't make the connection right away.
Warwick Davis in the Willow franchise
Warwick Davis is a man of many faces, and those faces are often created using makeup, prosthetics, and costumes. In fact, Davis' first notable acting role was as the Ewok Wicket W. Warrick in the "Star Wars" film "Return of the Jedi" when he was just 11 years old. He then went on to play multiple other roles in the subsequent "Star Wars" films and would later play professor Filius Flitwick and the goblin Griphook in the "Harry Potter" film series. However, if you're a horror fan, you may know him better as the vengeful and murderous leprechaun in the horror-comedy film "Leprechaun" and its five sequels. Even in heavy makeup and prosthetics that would take hours to apply and remove, Davis delivers a terrifying performance with comedic charm.
For many, it's actually one of Davis' first big breakout roles where viewers have difficulty identifying him. After "Star Wars," Davis was approached by Ron Howard and George Lucas to play the title character, Willow Ufgood, in the fantasy film "Willow." According to Davis, the film was written specifically with him in mind. More than three decades later, Davis reprised his role in the 2022 Disney+ series of the same name. "When I go from a role with heavy prosthetic makeup, which I've done quite a bit of as well, and then do a role where I'm not wearing any, I have to be conscious of toning everything down," Davis tells the AV Club. "There are very different disciplines that you have to think about."
Margaret Hamilton in The Addams Family series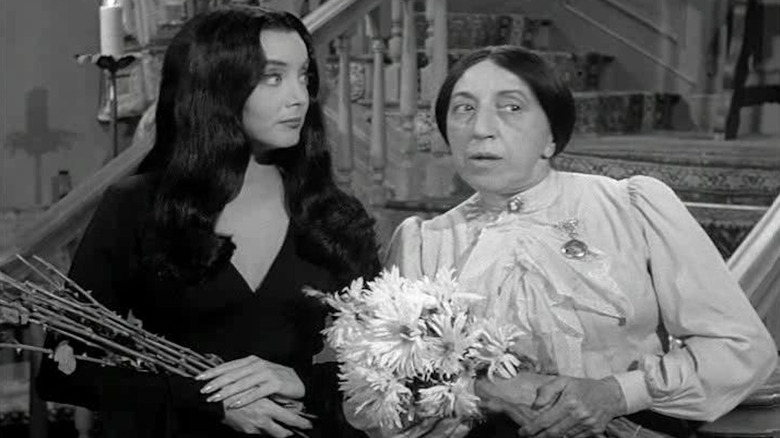 ABC
MGM's 1939 adaptation of L. Frank Baum's 1900 children's fantasy novel, "The Wizard of Oz," may have been ranked No. 10 on the American Film Institute's 100 Greatest American Films of All Time. But only one of those characters was captivating enough to make it onto AFI's list of The 50 Greatest Villains of All Time. Ranking at No. 4, she'll get you, my pretty, and your little dog, too.
Margaret Hamilton's portrayal of the green-skinned, black-cloaked Wicked Witch of the West will forever live on in the hearts of adults and children alike — even after giving them a good scare. And although her role as the Wicked Witch remains the most memorable, it wouldn't be the last time Hamilton portrayed a witch on screen.
From the '50s to the '70s, she joined the cast of a couple of soap operas, "Valiant Lady" and "As the World Turns." However, even if you didn't recognize her at first, you're more likely to have seen her in the 1960s TV adaptation of "The Addams Family," where she guest starred as Morticia Addams' mother, Granny Hester Frump, in three episodes — once again, playing a witch.
Doug Jones in Batman Returns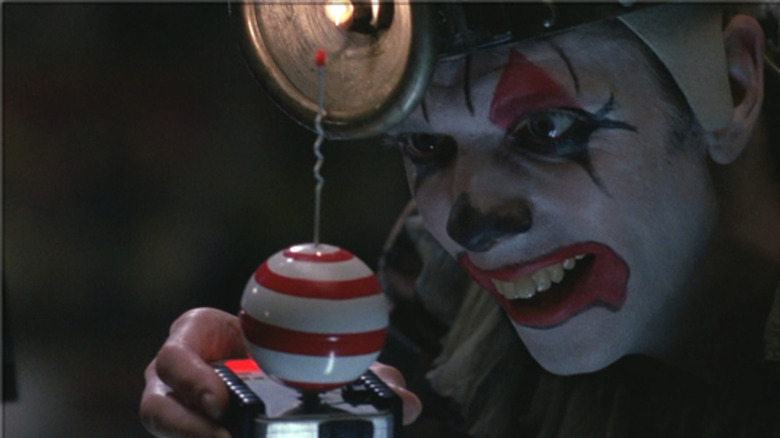 Warner Bros.
Doug Jones is a favorite cast member of Guillermo del Toro's, having played the Faun and Pale Man in "Pan's Labyrinth," Abe Sapien in the "Hellboy" films, and the humanoid amphibian love interest in the Best Picture-winning "The Shape of Water." He's also notable for playing zombie Billy Butcherson in "Hocus Pocus" and its sequel, the villainous Silver Surfer in "Fantastic Four: Rise of the Silver Surfer," and Captain Saru in "Star Trek: Discovery." The actor usually finds himself in roles where he has to squeeze into a tight, full-body latex costume.
Jones describes his experiences to NPR, saying, "Any creature suit that I've worn over the last 31 years hampers your eyesight, your hearing. You basically become a nursing home patient; you need help getting around. The irony of that is usually you're playing a being that has superhuman strength, [but] you need help walking to the set."
Yet he's had his fair share of roles where he's not covered in prosthetics; it's actually one of Jones' first roles, and he's nigh unrecognizable. In Tim Burton's "Batman Returns," Jones had yet to embrace his niche for creature acting and instead donned a face of light clown makeup for his role as Thin Clown. The actor has come a long way since his first major film, but what a way to kick things off.
Max Schreck in The Street (1923)
German actor Max Schreck influenced not only the future of monster actors but the entire horror genre. His portrayal of Count Orlok in the 1922 silent film "Nosferatu" remains iconic to this day. Based on Bram Stoker's 1897 novel "Dracula," the unofficial German Expressionist adaption ended up being the first and last film released by Prana Film, a production company that was forced into bankruptcy after being sued by Stoker's heirs. However, this major setback didn't stop "Nosferatu" from becoming one of the most legendary horror movies of all time. It may not have the same scare factor compared to today's standards, but the art direction, eery imagery, and Schreck's performance are enough to justify its admiration.
Schreck will forever be known as the long-fingered, bald, rat-inspired vampire Count Orlok, but besides the count, he's had an extensive career on the stage and in the silent era of film, all the way through the introduction of sound. But Schreck can be hard to recognize. Just a year after the release of "Nosferatu," Schreck appeared in the 1923 silent film "The Street" as a blind man, presented as a ghastly figure. He would also work with "Nosferatu" director F. W. Murnau once again on the project "The Grand Duke's Finances" in 1924, playing the sinister conspirator.
Lon Chaney in Tell It to the Marines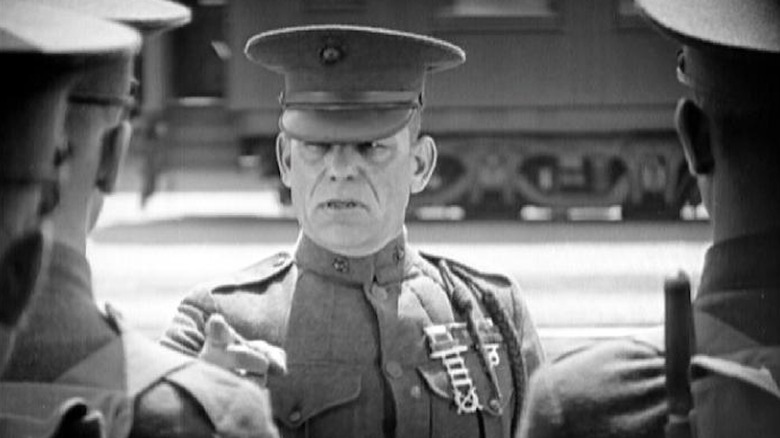 MGM
With his unprecedented ability to disappear into his fearsome and frightening characters, particularly with the cunning use of makeup, Lon Chaney rightfully earned the nickname "The Man of a Thousand Faces." His rise to fame began with his celebrated performance as The Frog in George Loane Tucker's "The Miracle Man." On his films, Chaney designed his own makeup, tapping into unexplored territory with skills learned from his vaudeville and theater days. His next two big roles included Quasimodo in "The Hunchback of Notre Dame" and the Phantom from "The Phantom of the Opera," the latter of which gave audiences a real fright during the character's iconic unmasking.
His many disguises make him especially hard to recognize as Marine Sgt. O'Hara in the 1926 film "Tell It to the Marines." His respected portrayal earned him the title of honorary Marine, making him the first film star to be chosen for the honor. With or without makeup, Chaney proved his place among the greats.
Boris Karloff in The Black Cat (1934)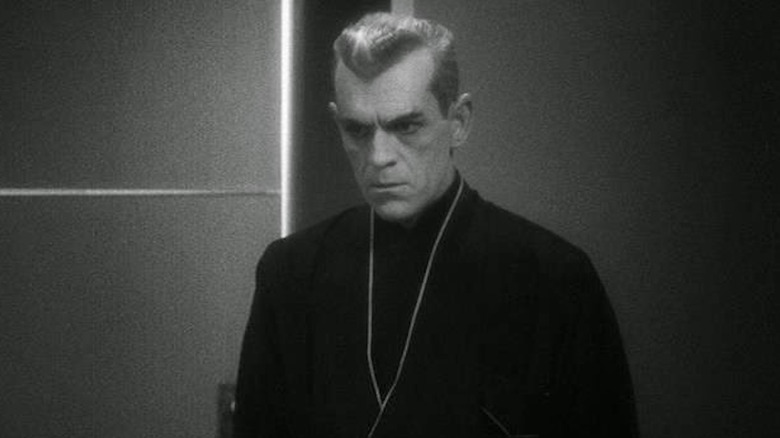 Universal Pictures
Boris Karloff brought the dead back to life with his breakout horror role as Frankenstein's Monster in the 1931 film "Frankenstein." His intense monster makeup and costume featured a large, flat rectangle head with stitching, two bolts on opposite sides of the neck, and tattered clothing with towering platform boots. Soon after the success of "Frankenstein," Karloff took another monster role with Universal Studios as Imhotep in the 1932 film "The Mummy." As on "Frankenstein," he teamed up with Jack Pierce to create the famed bandaged look. From this point on in his career, Karloff continued to dominate the horror genre until the latter half of the '30s.
However, in films such as "The Black Cat," where Karloff plays Hjalmar Poelzig, you likely wouldn't be quick to recognize him without the heavy makeup. The stiff contours of his face and his severe widow's peak are still there, but the hulking brute of "Frankenstein" and the dried-out face of Karloff's mummy aren't, allowing the actor to embody a more human yet sinister character in the treacherous Austrian architect Poelzig. If heavily adapted Edgar Allan Poe films aren't your thing, Karloff is equally unrecognizable in some non-monster roles in his late career, such as when he stars in Peter Bogdanovich's "Targets" as — surprise — a washed-up horror movie actor.
Bela Lugosi in The Raven (1935)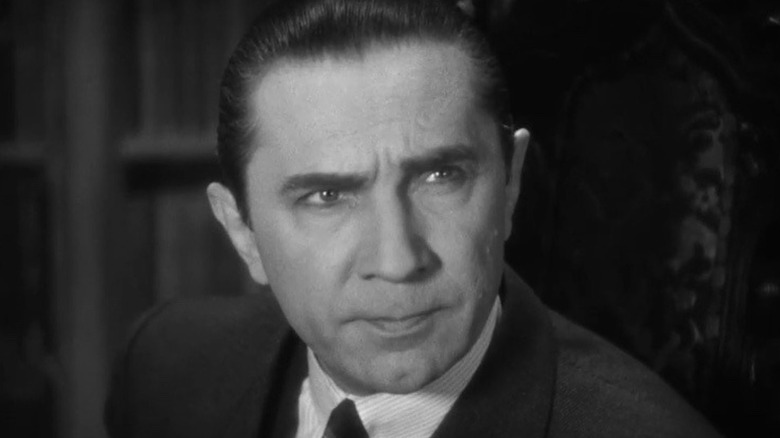 Universal Pictures
Working frequently alongside Boris Karloff was fellow monster actor Bela Lugosi, best known for playing Dracula in the 1931 film. This version, adapted from Bram Stoker's 1897 novel "Dracula," was released almost a decade after the unauthorized "Nosferatu" and was the first adaptation of the story to include sound. Although they're two completely different interpretations, certain scenes in "Dracula" seem to be inspired by "Nosferatu." Lugosi's role in the film was his second time portraying the character after doing so on the stage. Lugosi and Karloff were paired in five films at Universal Studios, one being a "Frankenstein" sequel, "Son of Frankenstein," in which Lugosi played Ygor.
Horror roles became commonplace for Lugosi, but among his non-costumed roles, it's possible you may not have recognized him as Dr. Richard Vollin in "The Raven," yet another film he starred in alongside Karloff. It's rare to see him in a suit rather than in his Transylvanian garb, but even so, "The Raven" is still a horror picture — Lugosi had trouble breaking out of typecasting. Though he still retains the Dracula ensemble and eerie presence, he might be less recognizable in later roles in Ed Wood movies, if only because the projects, like "Plan 9 from Outer Space," were shot at the end of his career.
Elsa Lanchester in Witness for the Prosecution (1957)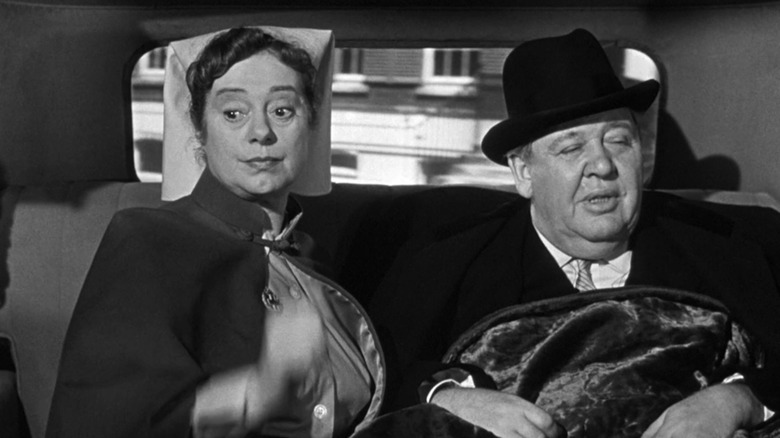 United Artists
Every monster needs a bride, and that's where the talented Elsa Lanchester shines. Released as the first sequel to the 1931 film "Frankenstein," the film stars Lanchester as the title character alongside Karloff, who reprises his role as Frankenstein's Monster. With a tough act to follow up, the two's chemistry on screen was enough to make the sequel just as memorable as the first. Lanchester's pioneering performance and classic hairdo with white streaks on each side are also due credit for the film's acclaim.
It's hard to imagine Lanchester in any other role. However, she stayed busy with her acting. Twenty years later, Lanchester starred in Billy Wilder's mystery-thriller film "Witness for the Prosecution" as the nurse Miss Plimsoll. Although you wouldn't recognize her at first, this would become one of the most prominent performances of her career, earning her an Academy Award nomination for Best Supporting Actress.
John Matuszak in The Ice Pirates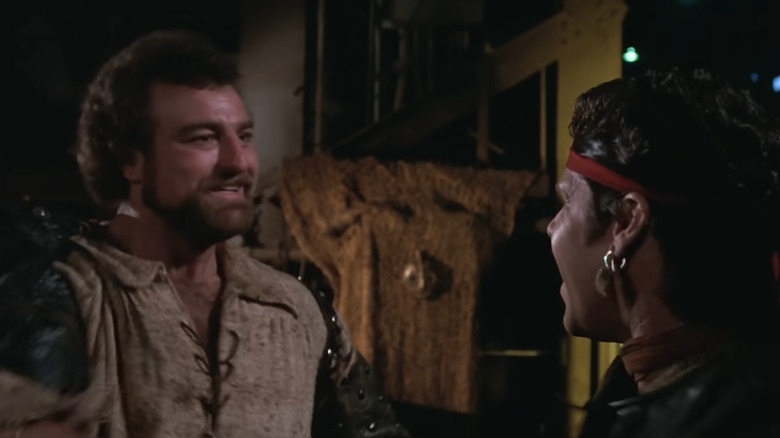 MGM/UA Entertainment Company
"The Goonies" brings back childhood nostalgia for many, no matter how old you were when you first watched it. Full of adventure and childlike wonder, the film quickly became a classic for many. Among the ensemble cast, one character in particular stands out from the rest — mostly because of the incredible prosthetics. Sloth (John Matuszak) may initially strike you as a monster, but the kind-hearted captive is anything but and quickly befriends one of the children. Under an impressive mask of makeup and prosthetics, Matuszak arguably delivers his best and most identifiable acting performance.
Before becoming landing acting roles in the '80s, Matuszak played as a professional football player in the NFL. His wide-set, athletic physique made him the perfect fit for the gentle giant characters he became known for. Before "The Goonies," Matuszak appeared in the science fiction film "The Ice Pirates" as Killjoy, but after getting to know him as Sloth, it becomes hard to recognize him otherwise. As a goofy, barrel-chested heavy, Matuszak is having as much fun as every other member of the cast. "The Ice Pirates" might be a "Star Wars" ripoff you remember as a kid, but Matuszak's presence in this ridiculous, low-budget sci-fi romp is easy to forget, given his iconic turn as Sloth.
Lou Ferrigno in The Incredible Hulk (2008)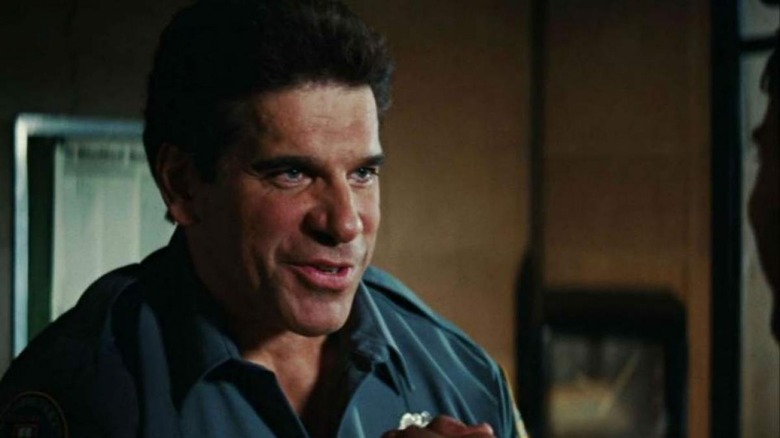 Universal Pictures
The Incredible Hulk first appeared in live-action in 1977, in the long-running, beloved CBS series. Creating an accessible TV show based on a comic book was no easy task, with finding the perfect actor to play the Hulk being one of the most challenging ventures. After Richard Kiel didn't work out for creative reasons, bodybuilder Lou Ferrigno came into the picture as a natural fit for the role. Ferrigno's Hulk may be known for his embodiment of rage, stress, and anger, but the actor has shown a soft side after opening up about turning to Hulk and Spider-Man comic books in his youth for escapism from bullying.
If you can picture Ferrigno without the green makeup and green wig, you might be able to recognize him in his cameos as a security guard in the 2003 film "Hulk" and the 2008 remake "The Incredible Hulk." Ferrigno's cameos in the "Hulk" films are sweet tributes to the actor who first brought the rage monster to life on screen, in the same way that beloved comics writer Stan Lee got a cameo in every Marvel project until his death. Ferrigno also continued to voice the Hulk in MCU films uncredited through "Avengers: Age of Ultron," though Mark Ruffalo is currently inhabiting the role.