Vince Gilligan Ended Breaking Bad Universe In Fear Of Being A 'One-Trick Pony'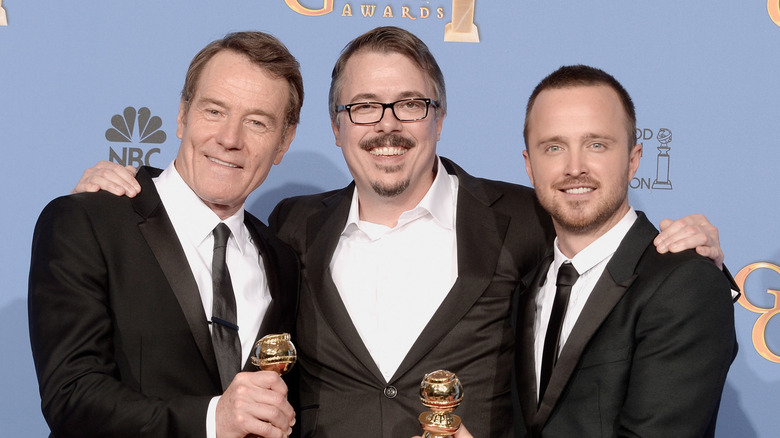 Kevin Winter/Getty Images
AMC found itself sitting on top of a goldmine when "Breaking Bad" debuted in 2008. The crime series, which followed high school chemistry teacher Walter White (Bryan Cranston) as he starts his own meth empire in the wake of a cancer diagnosis, quickly became a critical hit. Audiences soon found themselves in love with the series as well, watching it week-to-week on AMC, or binging it over a weekend on Netflix. By the time the two-part Season 5 came around, "Breaking Bad" was the biggest, most-talked about show in the world.
How did "Breaking Bad" become such a defining part of pop culture? In a retrospective deep dive into the series, The Guardian suggests that "Breaking Bad" debuted at the right place, at the right time, as the "golden age of TV" was just kicking off. "'Breaking Bad' became a classic drama for many reasons: some to do with craft, some to do with creativity," Paul MacInnes wrote of the series. "But above all else it stood out because, however surreal the surroundings, in its conflicted, complicated characters it was true to reality."
The success of the series ultimately led to the prequel "Better Call Saul," which Rotten Tomatoes argues is better than "Breaking Bad." Then there's the critically acclaimed "Breaking Bad" sequel film "El Camino," which peels back the layers on Jesse Pinkman's (Aaron Paul) quest for freedom. With success, however, comes expectation. In an intimate interview with Rolling Stone, franchise architect Vince Gilligan opened up about why it was important to wrap up the "Breaking Bad" universe and focus on something new.
Vince Gilligan is done with Breaking Bad... for now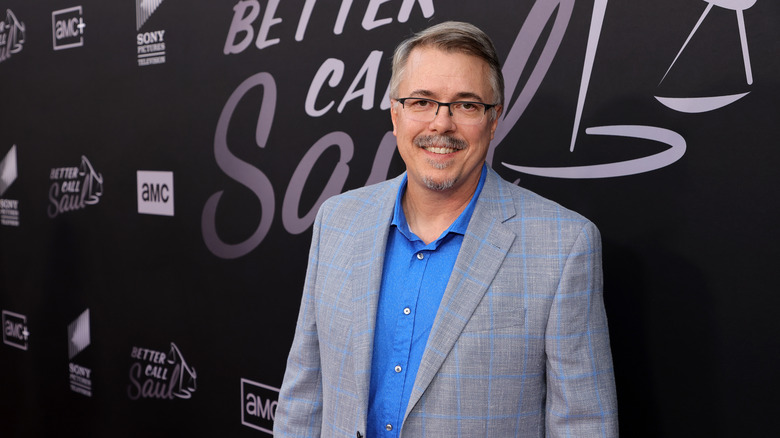 Kevin Winter/Getty Images
While discussing the final season of "Better Call Saul," which wrapped up in the summer of 2022, Vince Gilligan explained to Rolling Stone that the larger "Breaking Bad" universe was small in scope and location. "Ours is a very small one, Albuquerque, New Mexico, versus some of these worlds and series of movies and TV shows." It's difficult to imagine a setting getting in the way of Gilligan cooking up more "Breaking Bad" projects but ultimately, the creative expressed in the interview that it was time to focus on a new project. "The main thing I'm scared of is becoming too much of a one-trick pony," Gilligan said. 
"Yes, I could do more with this universe," the creative continued. "And maybe someday I will, especially if I fail at everything that comes next. Then I'll come crawling back. But right now, whether there's more room to grow or not — and there probably is — I feel like it's time to do something new." For fans, the prospect of more "Breaking Bad" must certainly be exciting. 
Besides creating the short-lived CBS series "Battle Creek," Gilligan has primarily focused on the "Breaking Bad" universe since its inception in 2008. While "Better Call Saul" aired its final season in 2022, Gilligan did return to the "Breaking Bad" universe briefly for PopCorners' 2023 Super Bowl commercial. The advertisement, directed by Gilligan, showed Jesse and Walter peddling PopCorners to Tuco (Raymond Cruz). In an interview with People, Jesse actor Aaron Paul discussed how Gilligan was initially hesitant to film the commercial. Gilligan ultimately joined the commercial after Paul and Bryan Cranston convinced the creative that PopCorners wanted to pay homage to the franchise. For now, that's the closest Gilligan has gotten to returning to the "Breaking Bad" universe.