Viola Davis' 60 Minutes Interview Had Fans Singing Her Praises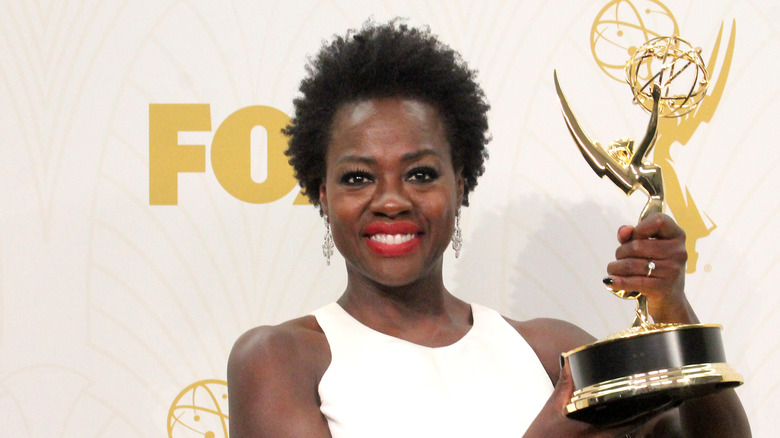 Kathy Hutchins/Shutterstock
Viola Davis is a true quadruple threat whose EGOT accomplishments have reached audiences in nearly every medium of the performing arts. The recent Grammy winner ("Finding Me") began her professional career in 1996, and she showed off her unparalleled work ethic that very same year. She guest starred in two television series ("NYPD Blue" and "New York Undercover"), showed up in the feature film "The Substance of Fire," and made her Broadway debut in "Seven Guitars."
The accomplished actor's work in television, film, and theatre was handsomely rewarded, too. Davis won two Tony Awards ("King Hedley II" and "Fences"), a Primetime Emmy ("How To Get Away With Murder"), and a 2017 Oscar for the exact same role — Rose Maxon in "Fences" – which earned her a Tony in 2010. Even with her award-winning performances in both the play and film, Davis gives "Fences" playwright August Wilson all the credit.  "It's a great role," Davis said during an exclusive Q&A with Film at Lincoln Center. "It could not be any more perfectly written." 
Davis' collection of hardware and honors is impressive, but the performer has also amassed a fanbase that enjoys her work in all of the mediums she performs in. But those enthusiasts who admire Davis found even more to cheer for after seeing her appear on "60 Minutes."
Fans praise Davis as 'one of the finest actresses of this generation'
Viola Davis participated in an exclusive interview on "60 Minutes" in 2020. The actor discussed a wide array of subjects during her sit-down, including her formative years and her career path. At the time of this writing, over 1.3 million people have viewed the candid video, and the fans could not have praised Davis anymore. "Every black woman is eternally thankful that Viola Davis showed up for us in this lifetime," YouTuber Yelang Jinka wrote in the comments.
Davis' life wasn't always as glamorous as the one she leads today. Davis grew up in poverty, and the actor felt shame because of it. "I grew up in poverty and I, to this day, carry that shame inside of me," YouTuber greenbeagle13 empathized. "This is an incredible interview. Love this woman." Davis' accomplishments represent a rags-to-riches American dream realized — and an actor at the top of her game. "Viola Davis is one of the finest actresses of this generation!!!" commenter Paul Thompson posted.
For some, it's that combination of real-life meets celebrity that makes Davis who she is. "This woman is a freaking national treasure," Rebekah Sutton commented. "Everyone should know her name. Beautiful soul, beautiful performances, beautiful person." But user VidEt might have summed up Davis' humble eminence best: "The fact that Viola Davis still doesn't quite realize she is one of the greatest actors not merely of her generation but of ALL TIME is kind of mind-blowing."