Tulsa King's Andrea Savage Underwent Gun Training For Her Role As Stacy Beale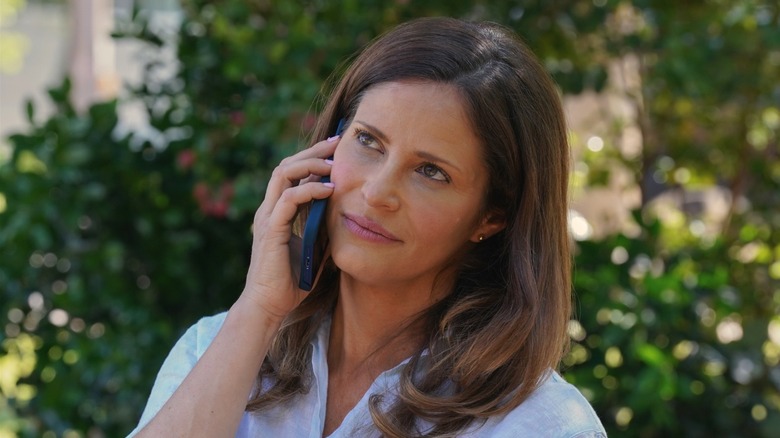 Brian Douglas/Paramount+
"Tulsa King" star Andrea Savage has put together an impressive resume boasting an eclectic mix of television and film work since beginning her professional career in 1996. Savage started her climb up the showbusiness ladder when she portrayed Renata Vargas in "Sweet Valley High." Over the years, the actor has taken on a lot of comedy-centric work that strikingly juxtaposes the cold, by-the-book character of ATF agent Stacy Beale she portrays on "Tulsa King."
Savage spent stints on television comedies like "Significant Others," "Episodes," and "Dog Bites Man" before creating and playing the lead role of Andrea Warren in the short-lived truTV series, "I'm Sorry." And the actor admits that she was completely unprepared when meeting her "Tulsa King" co-star Sylvester Stallone for the first time. "Never even were introduced until we were about to shoot the scene where I proposition him," Savage said in an interview with "New York Live."
"There wasn't a table read, there wasn't a meeting," Savage continued. "I was suddenly flown to Oklahoma, and it was in a tornado warning. And then looking at Sylvester Stallone, I was going, 'Where did this happen in my life?' My life took a very strange left turn." Admittedly, the comedy genius was already in uncharted waters, but "Tulsa King" got even dicier when the thespian realized her character had to be a crack shot with a gun.
The training helped Savage learn how to play her character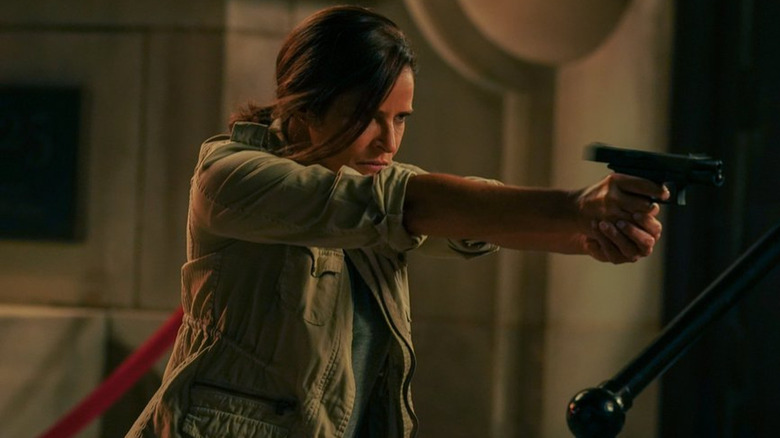 Brian Douglas/Paramount+
Stacy Beale (Andrea Savage) serves as a foil and lover for mafia capo Dwight "The General" Manfredi (Sylvester Stallone) in "Tulsa King." Throughout the show's first season, the duo's chemistry makes things difficult for the ATF agent. But what proved to be most complicated for Savage was the fact that she'd have to learn to wield a gun to portray the character. "I had to train for it," Savage told "New York Live."
"I went to a shooting range to practice," Savage continued. The actor revealed that she was initially frightened by the thunderous sound of all the guns being fired around her at the practice facility. However, Savage's attitude changed when she picked up a loaded gun for the very first time. "And then it felt real right," Savage said in the same interview with a devilish little smile on her face. "It felt too right."
"I'm not a great shot, though," Savage continued. "I'm like a warning shot. You know what I mean? I'm not going to kill you, but you'll know that I'm there, and I want you to move."
Savage held her own on screen with Stallone, and Stacy proved to be a sparkplug in Manfredi's new life in Oklahoma. However, the ending of "Tulsa King" Season 1 leaves fans with a massive cliffhanger due to a decision Agent Beale makes when it comes to whether she should choose her crime-fighting career or criminal lover as the top priority in her life.