Rocky Reviews Aren't Hindering Ant-Man And The Wasp: Quantumania's Opening Weekend Box Office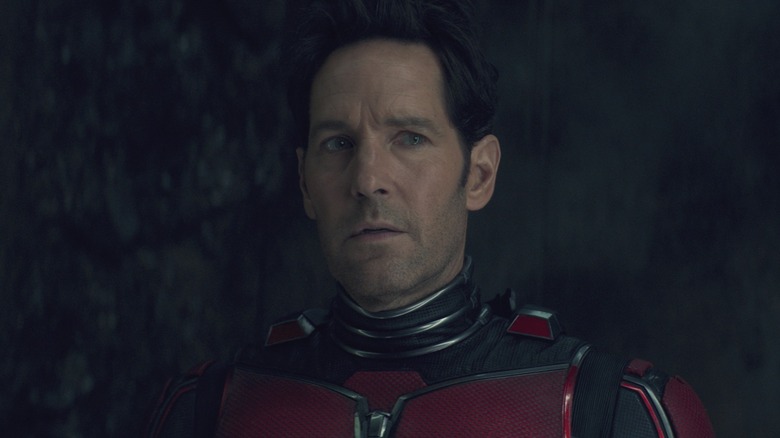 Marvel Studios/Walt Disney Studios Motion Pictures
"Ant-Man and the Wasp: Quantumania" is making a Giant-Man debut at the box office. 
Phase 5 of the Marvel Cinematic Universe officially kicked off with the "Ant-Man" threequel, which features Scott Lang (Paul Rudd) and the Ant-Gang finding themselves transported to the Quantum Realm. In the cosmic world beneath our world, they come across Kang the Conqueror (Jonathan Majors), who is set to be a major cause of tension for the Avengers as the MCU continues.
"Quantumania" is a notable departure for the "Ant-Man" franchise, as the Rudd-led films have typically been smaller in scale and consequence. Unlike previous films in the "Ant-Man" trilogy, director Peyton Reed's latest has the notable task of setting up Kang's cruelty during his major debut. Fan expectations were clearly high for Marvel's brand-new adventure, and they clearly showed up in droves during the film's opening weekend. Deadline confirms that "Ant-Man and the Wasp: Quantumania" is set to deliver a $100 million three-day opening weekend. A 4-day weekend, thanks to Presidents Day, will result in a $115 million debut. Worldwide, "Quantumania" is set to rake in an impressive $225 million.
What particularly makes these numbers exciting for Marvel Studios is that their latest's box office performance doesn't seem to be hindered by mixed reviews.
A $100 million debut is nothing to scoff at after mixed reception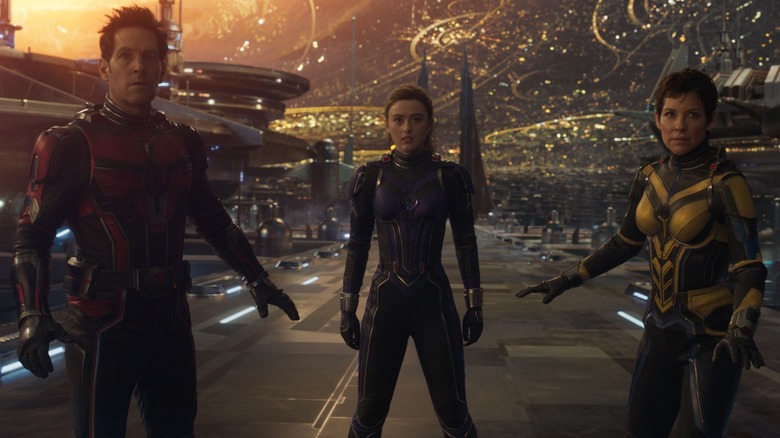 Marvel Studios/Walt Disney Studios Motion Pictures/YouTube
"Ant-Man and the Wasp: Quantumania" is one of the most divisive projects Marvel Studios has released to date. The threequel currently holds a rotten 48% rating on Rotten Tomatoes, a series low for the "Ant-Man" franchise, with previous entries holding scores over 80%. On the platform, "Quantumania" is the second lowest-rated film in the Marvel Cinematic Universe, standing just ahead of 2021's "Eternals," which holds a franchise-low of 47%. General audiences are mixed on the Quantum Realm-centered film, as well. After polling audiences for their thoughts on Peyton Reed's latest, "Quantumania" received a CinemaScore of B. The first two films in the franchise received ratings of A and A-, respectively.
In a 4/10 review, Looper dismissed Ant-Man's latest adventure, saying it "feels less like an actual movie and more an excuse to get to the next movie that itself may or may not feel like an actual movie."
While audiences and critics aren't totally in love with the sci-fi flick, box office receipts are painting a different picture. Deadline's domestic three-day weekend expectations for "Quantumania" put the threequel well ahead of 2018's "Ant-Man and the Wasp," which boasted an opening weekend of $75 million, per The Numbers. The sequel, released months after "Avengers: Infinity War," wrapped up its global theatrical run with $623 million.
Will "Quantumania" manage to beat its predecessor's global numbers? Only time will tell. Deadline confirms that the film is playing well internationally, but Asia Pacific markets aren't responding well to the threequel's sci-fi elements. Exhibitor Relations Co. confirms that China, a previously bountiful market for Marvel, ignored "Quantumania," giving it a measly $6.2 million opening day, 74% less than its predecessor.