Robert Downey Jr. And Ironheart's Dominique Thorne Have Finally Met Thanks To Alden Ehrenreich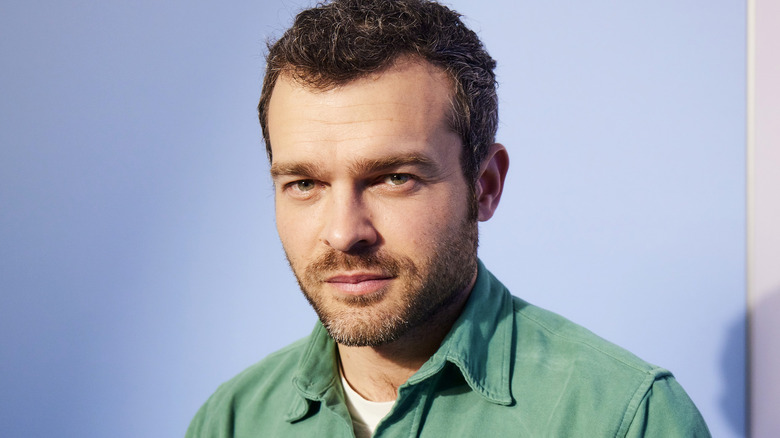 Corey Nickols/Getty Images
Alden Ehrenreich is going to have a very busy 2023. His next project is the highly anticipated "Cocaine Bear," and after that, he'll star in Christopher Nolan's latest epic, "Oppenheimer." It's a busy slate, especially seeing how the actor has kept a fairly low profile in the aftermath of playing a young version of Han Solo in 2018's "Solo: A Star Wars Story." But it clearly didn't make him avoidant of large-scale Disney projects, as he'll soon return to franchise filmmaking with a part in the upcoming Disney+ series, "Ironheart."
Nothing is known as of yet regarding Ehrenreich's role, but ever since Ironheart (Dominique Thorne) debuted in "Black Panther: Wakanda Forever," the hype has been through the roof for her to headline her own series. Of course, Ironheart takes heavy inspiration from her hero, Iron Man (Robert Downey Jr.), and while Tony Stark has passed in the Marvel Cinematic Universe, the two actors still got a chance to talk in real life. And it's all thanks to Ehrenreich serving as the connective link between the two.
Robert Downey Jr. encouraged Alden Ehrenreich to join Ironheart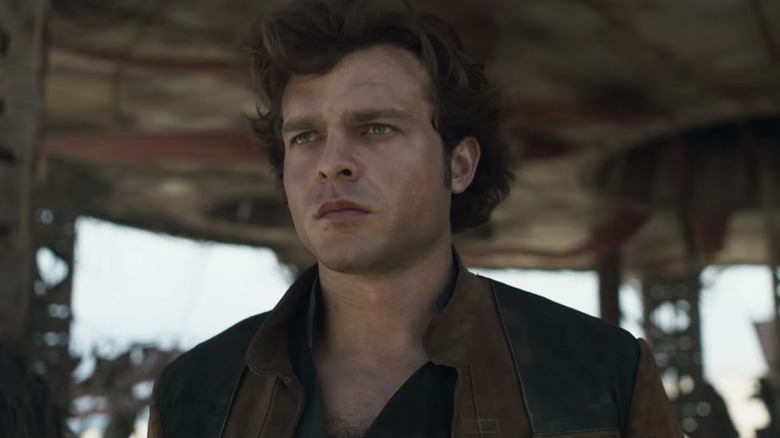 Lucasfilm/Disney
The upcoming "Oppenheimer" stars a who's who of Hollywood talent, including Robert Downey Jr. and Alden Ehrenreich. As it turns out, when the opportunity to join the MCU came to Ehrenreich, he turned to his co-star for advice, seeing how he played such an integral role in the franchise. The actor told The Hollywood Reporter, "I just FaceTimed him and was like, 'Is there something that I need to know before I sign on to this?' I was like, 'Is he going to say, 'Don't do it'?' I think they asked Harrison Ford before [Solo] what he would say to the next Han Solo, and he said, 'Don't do it.' But Downey didn't say that."
It's unclear what Downey told Ehrenreich, but it must've worked because he's going to star in "Ironheart." Ehrenreich returned the favor by introducing Downey to Dominique Thorne, who will keep Iron Man's legacy alive in the MCU. He went on to say, "They didn't know each other and hadn't talked yet, so I put them in contact with each other. He is so unf***ingbelievably generous and sweet and giving with his time, and he was so happy to talk to her and encourage her. So that was really nice."
Sadly, it may be a while until we see either Thorne and Ehrenreich in "Ironheart," as it sounds like Disney and Marvel Studios will push the series off from its original planned 2023 release date. For now, you can plan on seeing Ehrenreich in "Cocaine Bear," in theaters on February 24, and "Oppenheimer," in theaters on July 21.