Looper Unearths Which New Ant-Man 3 Cast Member Marvel Fans Are Most Excited About - Exclusive Survey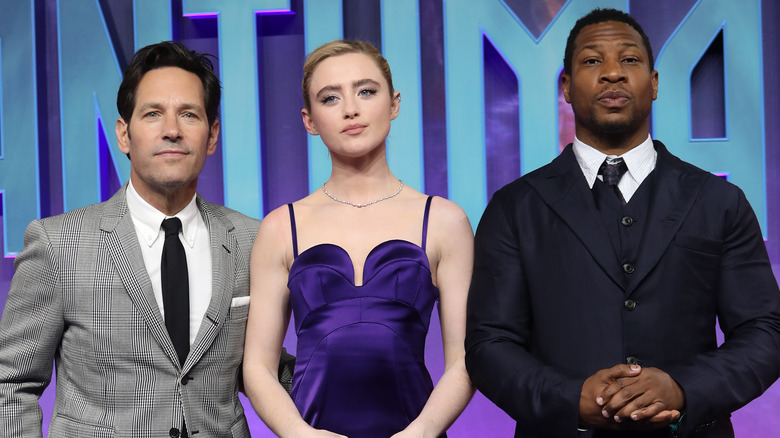 Lia Toby/Getty Images
"Ant-Man and the Wasp: Quantumania" may be reuniting Marvel Cinematic Universe fans with one of the original Avengers in Scott Lang (Paul Rudd), but plenty of new characters join the cast alongside Earth's tiniest hero. We polled Looper readers to find out which of the new additions they're most excited for, and the results were overwhelmingly, perhaps predictably in favor of one particular newcomer.
Joining the Ant-themed lineup this time around is comedy legend Bill Murray in the role of Quantum Realm upper-cruster Lord Krylar. Elsewhere, William Jackson Harper of "The Good Place" joins our heroes as the telepathic Quaz alongside Katy M. O'Brian as the freedom fighter Jentorra (O'Brian previously portrayed Kimball in the ABC series "Agents of S.H.I.E.L.D."). Ant-Man's daughter, Cassie, has a majorly expanded role in the film, and is now played by Kathryn Newton.
Of course, our heroes need a villain to square off against, and Jonathan Majors is here as the ultimate despot, Kang the Conqueror, appearing in his first MCU film after debuting on the Disney+ series "Loki" in 2021. A tyrannical warlord from the 31st century, Kang can harness the power of the multiverse to travel across space and time, wreaking havoc on entire timelines in his quest for the ultimate domination of all realities.
So, which of these fresh faces were our readers most hyped to see onscreen?
Jonathan Majors wins our fan excitement poll in a major landslide
In a massive landslide, Looper's readership was most excited to see Jonathan Majors finally unleash his full powers as Kang the Conqueror among all new cast members in "Ant-Man and the Wasp: Quantumania."
Out of 5,100 votes cast in our straw poll, a whopping 65% responded to the question, "Which new cast member are you most excited about?" by selecting Jonathan Majors. Bill Murray polled at a distant second place with 27% of the vote. Shockingly, the other new MCU stars failed to break double digits in our survey. Kathryn Newton registered at 4%, while William Jackson Harper and Katy M. O'Brian took home only 2% each of the vote.
Majors is certainly the major draw for audiences, and Marvel Studios has spent plenty of time hyping up his villainous role in "Quantumania." Moreover, fans have been praising his performance in the movie as one of its highlights. He's earned the fan adoration in spades. Nor is it puzzling that Murray placed second. He's one of the most recognizable comedic actors for multiple generations of moviegoers. But we're a little surprised to see Newton, Harper, and O'Brian sharing the remaining 8% of the vote. All three get more screen time than Murray, and Newton gets nearly as much to do here as Paul Rudd or Majors.
Perhaps audiences will warm to the less familiar names after seeing them in action. "Ant-Man and the Wasp: Quantumania" is open in theaters everywhere.