Penn Badgley On The Most Depressing Part Of Joe And Love's Relationship On You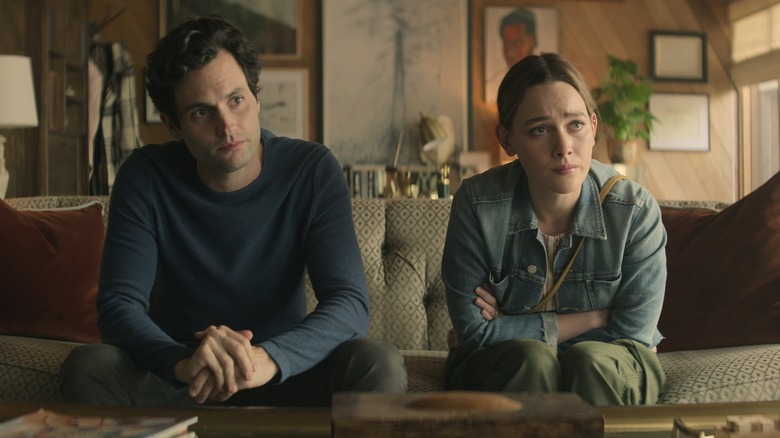 Netflix
The course of true love never runs smoothly, especially if you are a serial killer. "You" takes viewers into the life of Joe Goldberg (Penn Badgley) — a murderer fixated on romance. Based on the Caroline Kepnes novels, the character's journey over four seasons involves an intriguing mix of macabre moments and unrelenting intimacy under various guises. 
Among Joe's relationships, the longest-running is the one he shares with Love Quinn (Victoria Pedretti), a chef who enters his life at a major turning point and becomes an integral part of his story. Seasons 2 and 3 see the couple meet and then marry and attempt to raise a family in the process. Unfortunately, Love's secrets prove to be as diabolical as those of her husband, and she demonstrates exactly how far she will go to preserve her dream of a life with Joe. Their relationship comes to a shocking end during the Season 3 finale. "You" star Penn Badgley may be back for a 4th season but he's still talking about the previous season's events surrounding Love.
Penn Badgley was shocked that Joe and Love's relationship soured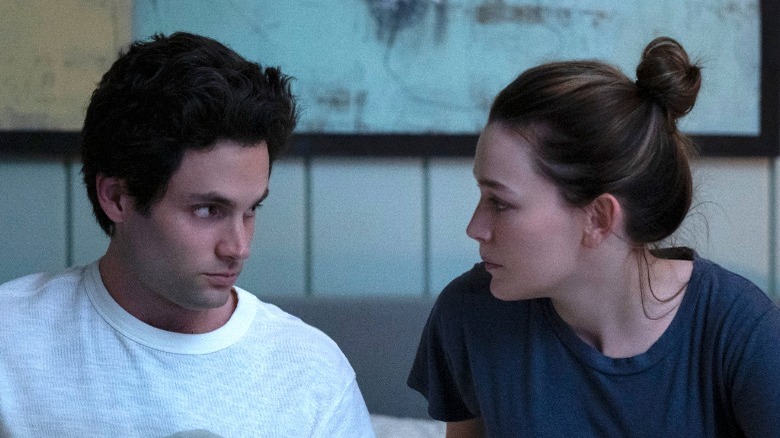 John P. Fleenor/Netflix
While speaking with Buzzfeed, "You" star Penn Badgley revealed that he found the fact that Joe and Love eventually turn on one another to be quite surprising. In fact, he listed it as his most surprising plot line of the series. "I thought they were going to be like Bonnie and Clyde and then he wants to kill her immediately. Go figure," he explained.
Joe's relationship with Love is a complicated one from the start, and it only became more difficult with the reveal that both were capable of very diabolical things. Love finding that Joe is fixated on another woman eventually unravels everything the couple built together — even if most of it was basically a wishful facade. Joe's eventual turn against his wife ultimately leads to a resolution that is far from what Love imagined. Love's use of poison against her husband feels like a Shakespearean moment — his eventual betrayal with the very substances she cultivated all the more so.
Badgley did admit that Joe's hatred for Love made sense. Still, The actor found it upsetting that Joe would turn against Love after discovering her secret; he was hoping that the character's decisions would go in a very different direction.