American Pickers' Mike Wolfe Will Buy Anything During A Treasure Hunt (As Long As He Can Sell It)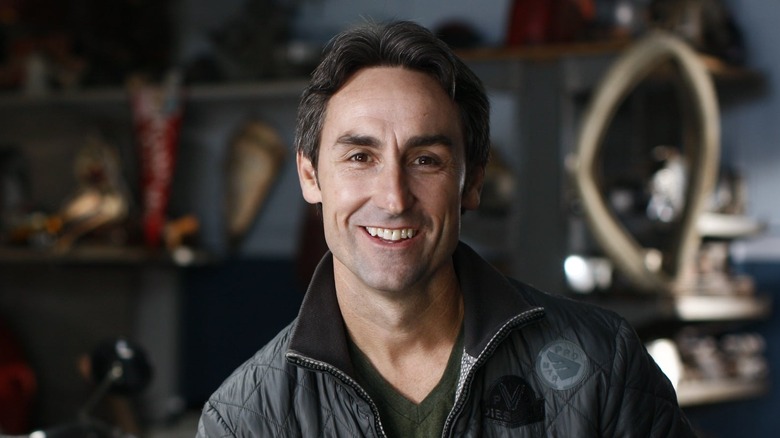 A+E Networks
If more than 360 episodes of History's hit reality series "American Pickers" have taught us anything, it's that people can't seem to get enough of Mike Wolfe and crew traversing the country's every back road in pursuit of discarded and long-forgotten antique treasures. And over the series' 24-season run, Wolfe has proven time and again there's no backyard barn too out of the way, and no storage unit too overstuffed to dig through.
More often than not, that dedication pays off for the "American Pickers" creator and star, whose knack for turning one man's garbage into a little of that proverbial do-re-mi is a legit marvel in and of itself. Just watching the show, however, it can often look like Wolfe takes a rather scattershot approach to picking, gobbling up any and every piece he finds intriguing. That's hardly the case, with "American Pickers" dedicating no shortage of airtime to Wolfe and his various co-pickers haggling with sellers over the cost of this item or that one.
Likewise, there's typically loads of footage of the "Pickers" team ogling rusty and dusty artifacts they never actually buy. If you're wondering exactly how Mike Wolfe discerns which picks to pay out for, it seems he picks by one simple rule — the item has to be something he knows he can sell.
Wolfe believes the item's story matters when deciding what to purchase
Despite the overt romanticism Mike Wolfe weaves into every single episode of "American Pickers" over the years, it's worth remembering that picking is actually his job. In fact, most of the items he picks on the series are ultimately ticketed for a showroom spot in one of his Antique Archeology stores. While Wolfe is open to buying pretty much anything on the show, he also goes into every "American Pickers" purchase with the bottom line on his mind.  
The famed antiquer admitted as much during a recent interview with Road Dirt, telling the publication in no uncertain terms, "I'll buy anything I can sell." Wolfe went on to say, "The treasure hunt only begins with uncovering what we call 'rusty gold,'" adding that the story behind an item is often as important as the item itself. As stories go, Wolfe has always been candid about how much he enjoys the stories behind sellers' items. "Most of the time, they don't have anybody in their lives who thinks this is cool. And then I come along, and I love it," Wolfe said.
Still, Wolfe is well aware that picking can sometimes create precarious situations. Occasional peril aside, his love of the pick is strong enough to believe that Wolfe would probably be happy enough to do it for free. But given his uncanny ability to see the value in even the rustiest stuff out there, he'll likely never have to work for free.