We've Actually Seen Officer Nick Riley Actor Shawn Hatosy In Law & Order Before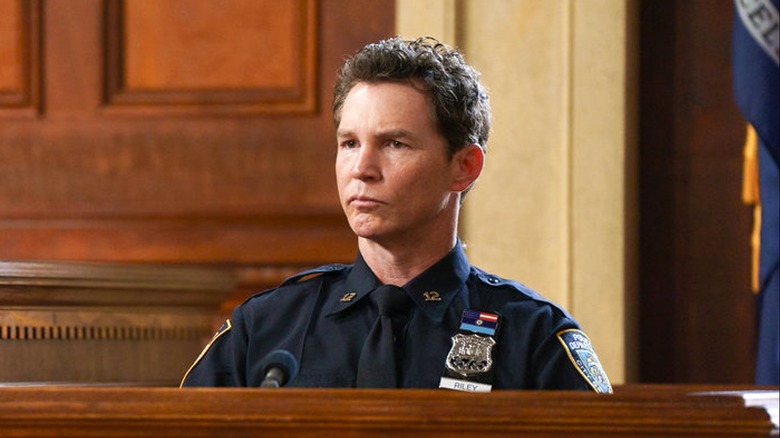 Peter Kramer/NBC
Contains spoilers for several "Law & Order" series episodes
Piling up a mind-boggling, 480-plus episodes across more than 20 seasons and generating multiple spin-offs, uber-producer Dick Wolf's mighty "Law & Order" looms like a titan over its cops-and-lawyers' genre space — starting with its 1990 debut. Canceled in 2010, the show went on to prove you simply can't keep a fan-fave series down when it was resurrected from TV oblivion to make a triumphant comeback for Season 21 early in 2022. The seemingly unkillable franchise then topped that landmark revival by earning an order for yet another season, premiering later that same year.
Not surprisingly for any franchise with a decades-spanning record like "Law & Order," the show and its spin-offs see a veritable cornucopia of recognizable and less-well-known actors turning up in starring, regular, recurring, and guest star roles. And one of the reasons die-hard fans might be getting a sense of déjà vu about certain faces is the fact that the "Law & Order" slate of shows is more than willing to cast the same actor to play a variety of characters in any number of different episodes.
One such familiar "Law & Order" player fans may know from elsewhere in the franchise is actor Shawn Hatosy, who suited up as Officer Nick Riley in the 2023 episode "Heroes." So, where might viewers have spotted this veteran actor before?
Shawn Hatosy turns up in other episodes in the Law & Order universe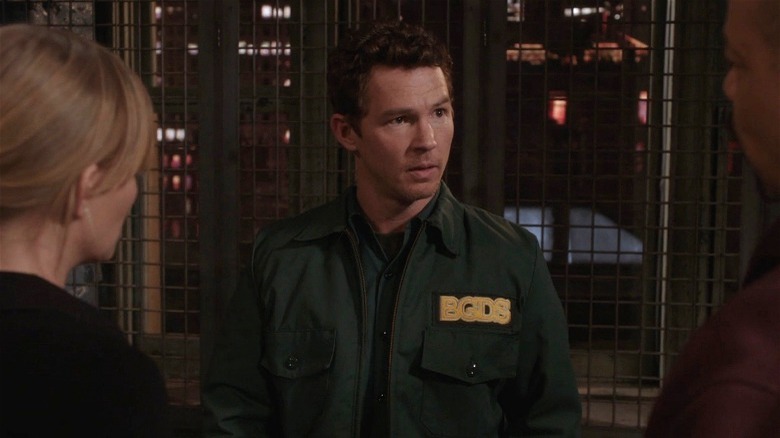 NBC
In his most recent appearance on the "Heroes" episode of "Law & Order," Shawn Hatosy's Officer Riley plays a central part after a mass-casualty nightclub shooting turns out to be a violent ruse to cover up a targeted killing. But as noted above, the franchise frequently recycles actors across the entire "Law & Order" episodic empire, and fans could certainly have seen Hatosy in a number of other "Law & Order" shows.
For instance, Hatosy played Chester Manning, a suspected murderer and the boyfriend of Ellen Pompeo's character, in the 1996 Season 6 "Law & Order" episode titled "Savior." He showed up on a "Law & Order" spin-off in 2009 as Larry Clay, a shifty business partner who turns out to be a killer in the "Salome in Manhattan" episode of "Law & Order: Criminal Intent."
In 2011, the actor was cast once more as a murderer, playing mentally ill serial killer Larry Sheppard in "Law & Order: Los Angeles." And one year later he returned to the Dick Wolf-verse on "Law & Order: Special Victims Unit" portraying Kevin Fahey, a sketchy delivery van driver who turns out NOT to be a killer in the "Valentine's Day" installment of that series.
When interviewed by Wolf Films about his work on the latter episode, Hatosy noted that playing Fahey helped him stretch as an actor, saying it "gave me an opportunity to play a little bit of a different kind of character and I was happy to do it."