Steve-O Initially Thought He Was Too Old To Make A Fourth Jackass Movie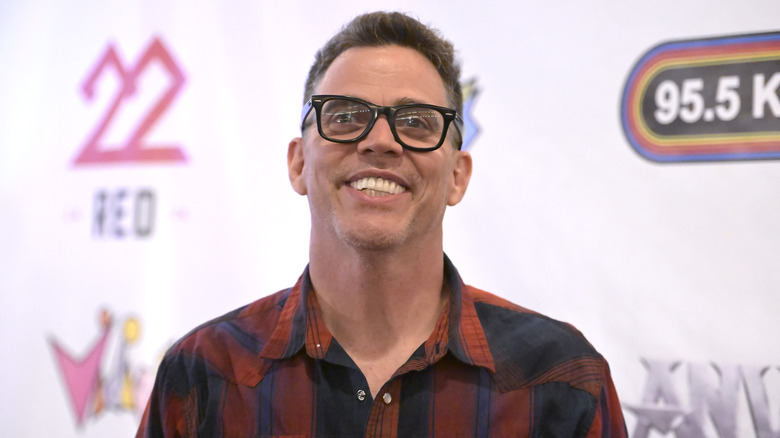 Michael Tullberg/Getty Images
When Johnny Knoxville and his merry band of masochists joined forces for the original "Jackass" series in 2000, Steve-O, Chris Pontius, and the rest of the cast were a bunch of twenty-somethings for whom terms like "orbital blowout fracture" and "torn urethra" didn't mean much, yet. Skateboard pranks and scatological humor turned out to be the building blocks of a franchise, and the gang has since released a beloved slate of "Jackass" movies, specials, and spin-offs.
In 2022, after a 12-year break from their last "Jackass" film (not to mention 2013's "Jackass Presents: Bad Grandpa"), Knoxville and company returned to the big screen with "Jackass Forever." A paean to the "dudes rock" genre if there ever was one, "Jackass Forever" confirmed that they do, in fact, still got it, despite the original cast members being in their 40s and 50s. For Steve-O, being firmly in middle age was a contributing factor to his reluctance to join the project.
Jackass Forever made Steve-O consider his attitude towards aging
In a February 2023 episode of his podcast, "Steve-O's Wild Ride," Steve-O breaks down how he felt when he first heard about "Jackass Forever." "I remember when Knoxville told us he wanted to make a fourth 'Jackass' movie. I didn't get it," he said. "I just thought, 'Man, we are too old for this.'" He then joked in the cast's group chat, "'Dude, if we're gonna do this, we should have the opening sequence set to a Rolling Stones song.'"
For Steve-O, the prospect of making another highly physical, dangerous "Jackass" movie made him consider his own relationship with aging. "I feel like being old in our society is a party foul," he said. "Nobody wants to think about their mortality. Nobody wants to consider that they'll end up dead. Nobody wants to even think that they'll end up old." Steve-O continued that he had trouble reconciling being seen as an older person on screen. "The idea of becoming old and wanting people to look at you at the same time ... is the ultimate terror to me," he continued. "It's such a nightmare."
Looking down the barrel of 50 didn't stop Steve-O from giving his all in "Jackass Forever," whether it was on the marching band treadmill or when he got extremely intimate with a colony of bees. Some signs of aging do inevitably crop up, but not to the movie's detriment.