Jay Hernandez's Magnum P.I. Role Brings His Career Full Circle Back To NBC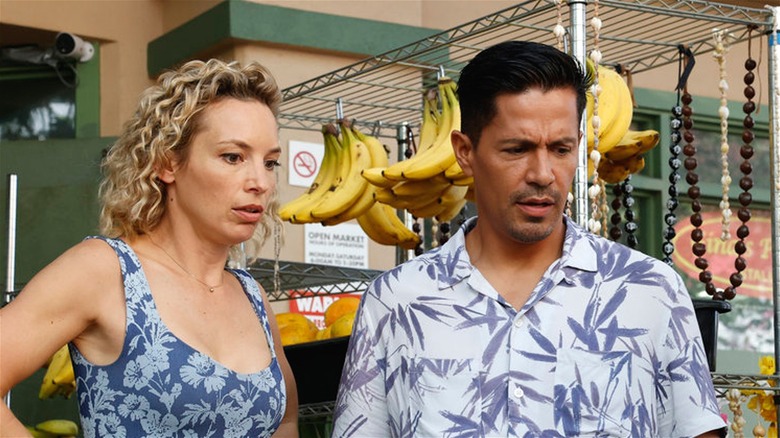 Zack Dougan/NBC
They say that when you love something, set it free, and if it comes back to you, then it is meant to be. "Magnum P.I." was originally a show from the 1980s that starred Tom Selleck as the eponymous main character, Thomas Magnum. As a private investigator, Magnum often operates on the periphery of the law, but his results are usually undeniable. These days, "Magnum P.I." has undergone a reboot, which first premiered in 2018 and stars Jay Hernandez as Magnum. Both iterations of this character have the same background — a former Navy SEAL who operates in Hawaii, solving a multitude of crimes and aiding in investigations.
This new "Magnum P.I." has been met with favorable responses from viewers, which is noted by the audience score of 83% across all four seasons over on Rotten Tomatoes. Hernandez himself has had an interesting career thus far, having made his first television appearance back in 1998, and from there he has appeared in movies and TV shows that straddle genres like "Nashville," "Suicide Squad," "Hostel," "Crazy/Beautiful," and "Joy Ride" — just to mention some of Hernandez's efforts. In a twist of fate though, it seems Hernandez's role in "Magnum P.I." and its move to NBC actually represents a full circle in his career.
Hernandez got his professional start from NBC
Appearing on "The Tonight Show Starring Jimmy Fallon," Jay Hernandez had a chance to speak about his "Magnum P.I." show and several other aspects of his life. Towards the end of the segment, Fallon brought up the fact that he is happy that Hernandez is back on NBC, since CBS had canceled "Magnum P.I." and it was subsequently picked up by NBC. Then, Fallon referenced one of Hernandez's earliest roles. Hernandez laughingly replied, "It's a full-circle scenario because I started on NBC, like, 20 years ago on a show called 'Hang Time.'" Both Hernandez and Fallon then sang the theme song, with Fallon mentioning that he absolutely loved "Hang Time" and that the show should be brought back.
Appearing in 29 episodes of "Hang Time" between 1998 and 2000, Hernandez plays the role of Antonio Lopez, his very first professional role. "Hang Time" is about a group of friends that navigate teenage life while also practicing, playing, and talking about basketball, which helps give "Hang Time" a specific niche within late 1990s teen drama-comedies. Considering that Hernandez got his first big break from NBC, and now currently leads his own show for the network, it seems as if Hernandez and NBC have some pretty serious history together, and one that both parties probably hope continues.