Paige's Season 6 Return Leaves Young Sheldon Fans Feeling Uneasy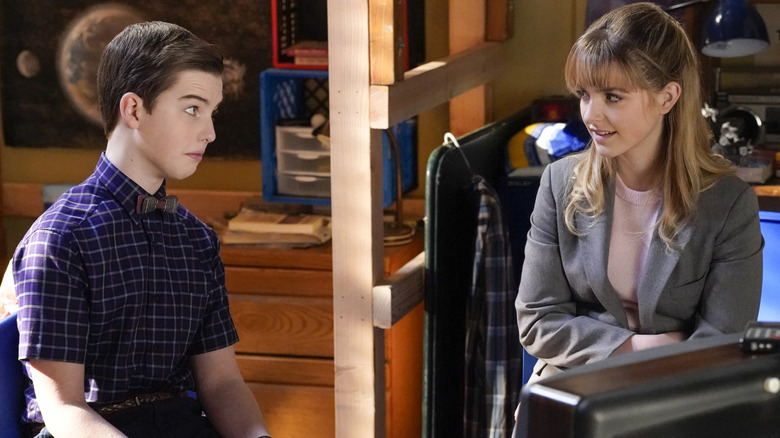 Robert Voets/CBS
"Young Sheldon" fans got an unexpected surprise in Season 6, Episode 13, "A Frat Party, a Sleepover and the Mother of All Blisters." Amidst Sheldon's (Iain Armitage) antics developing a searchable database, Georgie (Montana Jordan) and Mandy's (Emily Osment) preparations for the baby, and George's (Lance Barber) secret shed conversations, we'd almost forgotten about Sheldon's troubled friend/rival Paige (Mckenna Grace). Though the "Ghostbusters: Afterlife" star has only been featured in eight episodes of the series, her character consistently makes an impression on viewers. The most recent episode of the series was no exception to this rule.
Like Sheldon, Paige is incredibly gifted with a high level of intelligence that places her well ahead of her peers. Because of this, she has a hard time making friends with students much older than her, until she blows her life up in an explosive example of self-sabotage. After her parents' divorce, Paige begins to resent her status as a prodigy student and starts acting out, as exemplified by her rebellious actions at the college frat party.
Paige's behavior in the latest episode of "Young Sheldon" has fans increasingly worried, as they expressed on both Twitter and Reddit. They fear she may be headed down a dark path that will be extremely hard to come back from.
Fans are reasonably concerned about Paige's future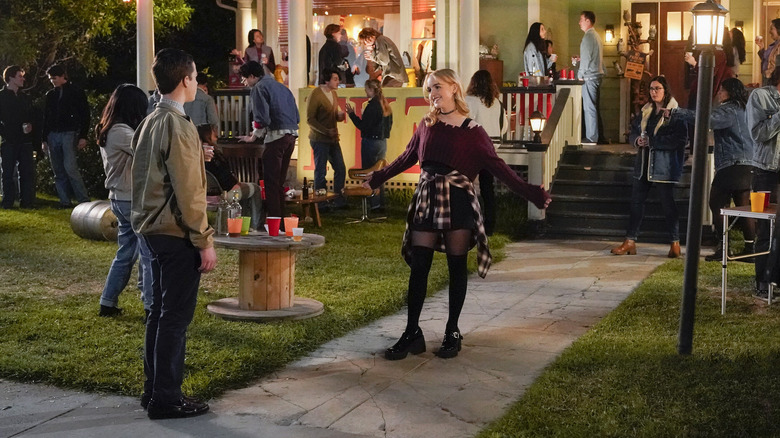 Robert Voets/CBS
Paige makes a number of harmful choices in "A Frat Party, a Sleepover and the Mother of All Blisters" including underage drinking, smoking marijuana, and almost going home with a much older boy. Luckily, Missy (Raegan Revord) and Sheldon are there to stop her, showing her that she does have friends, even if she doesn't realize it. After this close call, fans' anxieties are progressing and they are worrying about her next appearance.
On Reddit, u/mtm4440 pointed out that every time we see Paige, her emotional state worsens. "After the divorce, the lack of friends, and the dropping out of college, I'm really worried for Paige in the future episodes. Each guest appearance has shown her progressively getting worse." Another user, u/genevieve4, underlined this and added, "The show won't go that deep, but I wonder if she lived to see her 20s. It looks like her teenage years are going to be dark." 
More discussion unfolded on Reddit, including the whereabouts of Paige's recently divorced mother or her chaperone from school, who could help Paige in her time of need. On Twitter, @waparker536 even noted, "Paige is going through some things and needs professional help." Other fans noticed "The Big Bang Theory" connections throughout the episode, like u/Sleepy_Oboist, who was ecstatic to learn that adult Sheldon (Jim Parsons) is narrating from 30 years in the future, giving us a better idea of how far ahead he is. Some viewers, like MajorZombie7204, observed that the events in Season 6, Episode 13, explain why Sheldon doesn't excessively drink or do drugs in the original series after seeing how badly it affected Paige.