Superstore's Nichole Sakura Changed Her Name To Reclaim Her Heritage
One of the recent times a television show made you say, "Hey, it's that girl!" might have been on the CBS sitcom "Ghosts." The series, following a woman who can interact with ghosts, just finished a guest-starring arc with the actor Nichole Sakura as Jessica, whose ghost lives in a car. But Sakura is probably most recognized as Cheyenne from the successful NBC sitcom "Superstore."
Sakura knew early on that she wanted to be an actor, and she began pursuing a career at age 14. She received her theater degree from the University of Southern California in only three years and started working directly after. Her feature film debut was as JB's girl in the 2012 film "Project X," and she landed her first leading role as Kayla in "Model Minority" that same year. She also wrote, directed, and starred in her own short film, "Kiko in America," the following year. After appearances in "Grey's Anatomy," "Teen Wolf," and the Lake Bell-Simon Pegg romcom "Man Up," Sakura won the recurring role of Amanda on the Showtime hit, "Shameless." Following 17 episodes over three seasons (2014 to 2016) as Lip's (Jeremy Allen White) problematic love interest, Sakura joined the cast of "Superstore" as pregnant teen Cheyenne.
But while Sakura is becoming more well known, through fun roles like Jessica, Cheyenne, Amanda, and now Louise on the Hulu comedy "Maggie," fans may not have known that she went by a different name when she started out.
Nichole Sakura was Nichole Bloom while on Shameless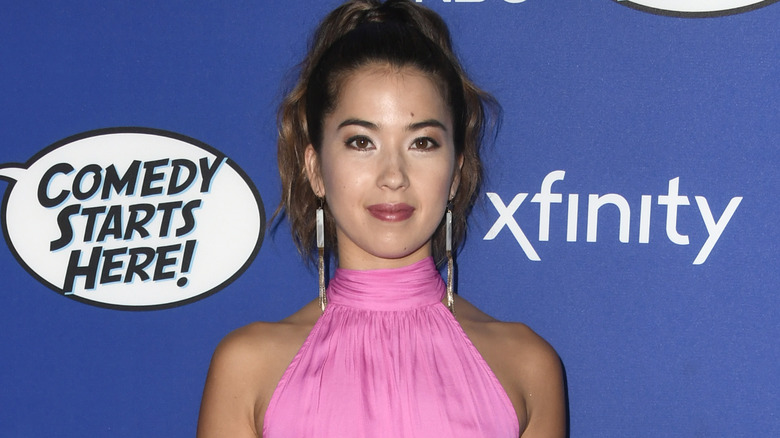 Frazer Harrison/Getty Images
Nichole Sakura's birth name is Nichole Sakura O'Connor. As the name implies, Sakura is half Japanese (her mother), and half Irish (her father). But when she started her career in showbusiness, she was warned by her first agent that her Japanese heritage would cause problems for her, "because [she] didn't fit into any one category — [she] didn't seem Asian or White enough," as she explained in an Instagram post. "I began to look at my Japanese side as a hindrance to my career, and something that would lessen my odds of getting work."
Rather than use the name O'Connor, Sakura adopted the stage name Bloom, based on the translation of Sakura, which means cherry blossoms. She wanted a name that was "as ambiguous as possible and [would] downplay my Japanese side," she said. But in 2020, she took her real name back. "However, as I've grown into myself and my career, I've come to feel more and more how important it is to embrace who I am, including my name," she shared. She appreciates that the entertainment industry is "now beginning to include more people of color and mixed backgrounds."
Perhaps Sakura took advice from her own "The More You Know" segment in 2018. "Challenge yourself to acknowledge your own bias and intolerance," she says in the PSA. "Expose discrimination wherever it happens, even if it's your own." Congratulations, Nichole.