Ghosts' Utkarsh Ambudkar Loves The Show For Its Lightheartedness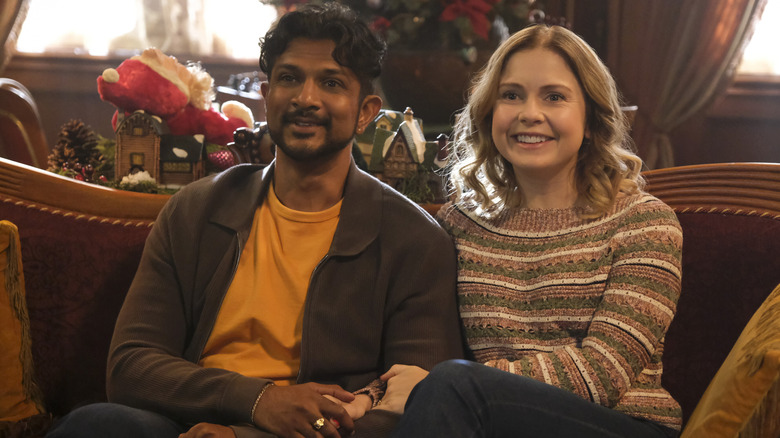 Bertrand Calmeau/CBS
What happens when a young couple moves into a haunted house? A whole bunch of mishaps that end in hilarity. At least that's the case on the hit CBS sitcom "Ghosts." The show — based on the popular BBC One series — follows Jay Arondekar (Utkarsh Ambudkar) and his wife Samantha (Rose McIver) as they move into a home they recently inherited. They dream of turning the homestead into a picturesque bed-and-breakfast. While settling in, Sam has a near-death experience that allows her to see the ghosts that inhabit the home. Each ghost died somewhere on the property throughout history. This includes Lenape Tribe member Sasappis (Román Zaragoza), viking Thorfinn (Devan Chandler Long), singer Alberta (Danielle Pinnock), Revolutionary War soldier Isaac (Brandon Scott Jones), stockbroker Trevor (Asher Grodman), hippie Flower (Sheila Carrasco), scout leader Pete (Richie Moriarty), and the home's former owner Hetty (Rebecca Wisocky). While this crew of afterlife residents mainly enjoys watching TV, they do tend to find themselves in some sticky situations, including body possessions and an accidental gazebo fire.
The ghosts are confined to the home's property, but there are no boundaries as to what comedic situations will come next for this group. And according to Ambudkar, that's why he enjoys working on this show so much.
Why Ambudkar feels that people need a show like Ghosts
Bertrand Calmeau/CBS
In an interview with The Wrap, Utkarsh Ambudkar said he really enjoys the show's upbeat vibe. "We're just here to give you a little boost [of] joy and get you through, there's no 'Squid Games' here. And I love that stuff too, but there's some people who have enough weight in their lives. They don't need any more darkness. That's where we come in, and it's also something we can all watch together," he said, noting that the show's family-friendly atmosphere is really special to him. And while families laugh in their living rooms, the whole cast and crew are having a blast on set. Ambudkar told Entertainment Tonight, "The hardest thing is to not laugh at these actors. I mean, they're so good ... They're just so talented and so fun and the energy that they have together is so loving and joyful..."
Ambudkar is no stranger to comedy, having played joyful roles on the big and small screens. Many might remember him for his role as Rishi Lahiri on "The Mindy Project." Others may recall his role as gamer Mouser in "Free Guy" or as Manish Kulkarni in Netflix's hit coming-of-age series "Never Have I Ever." No matter the role, he is always ready to bring the comedy, including that of the supernatural variety.