Modern Family's Final Table Read Ended With An Emotional Standing Ovation
When "Modern Family" finished its 11-season run, it's hard to say who was more distraught over the show ending, fans or the cast members. "It's the first time in my life, truly — as an actor, anyway — when the scene, basically, is calling for that kind of emotion [crying] and the director and showrunner had to come out and say, 'Could you guys cry less?'" Ty Burrell, who played Phil Dunphy, told "Live with Kelly and Ryan" about the show's final scenes. Even Julie Bowen, who played Claire Dunphy, got choked up when talking to ET Canada, visibly holding back tears as she said, "It is family, and they will always be my family."
Jeremy Maguire was only 3 years old when he was cast as Gloria Delgado-Pritchett (Sofia Vergara) and Jay Pritchett's (Ed O'Neill) son, Joe Pritchett, whose storylines fans didn't always love. And for a child as young as Maguire, spending five years on a sitcom is a long time. While some of the things he'll miss about "Modern Family" are hugs and playing with his TV family, the show ending affected him just as much as the adults, with Maguire recalling the heightened emotions at the final table read.
He'll never forget the last day of filming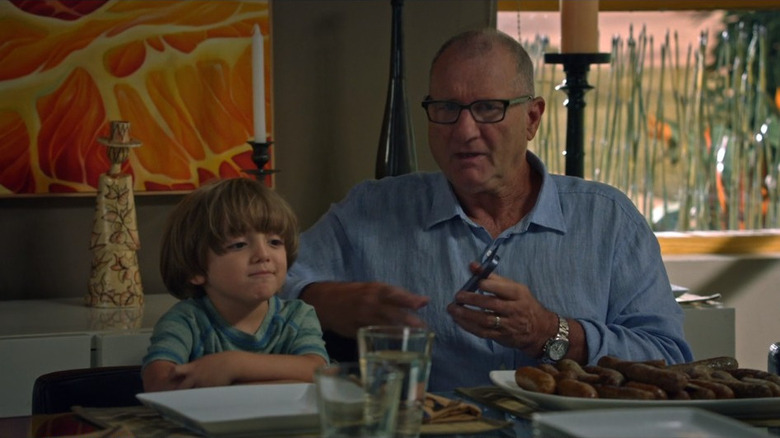 ABC
Jeremy Maguire may have been the last to join the Pritchett-Dunphy clan, but when the time came to wrap up the show, he was affected just as much as those who had been there since Day 1. "Our final table read we all did a standing ovation when we finished reading the script and cried a bit knowing the following week it would all be over," he told Teens Wanna Know when talking about emotional moments in the last two weeks of the show.
Other "Modern Family" cast members have praised the show's supportive environment, so it's no surprise that Maguire's memories of the wrap-up are just as emotional as everyone else's. "The emotions in that hug were so real for us all," he said of the last scene, in which everyone comes together for a giant group hug. "When we were done filming it they wrapped each one of us individually with a final hand clap. Every cast and crew member and everyone else watching us film had tears in their eyes. I'll never forget that day."