Why Strangers Things' Murray And Joyce Make A Great Pair, According To Brett Gelman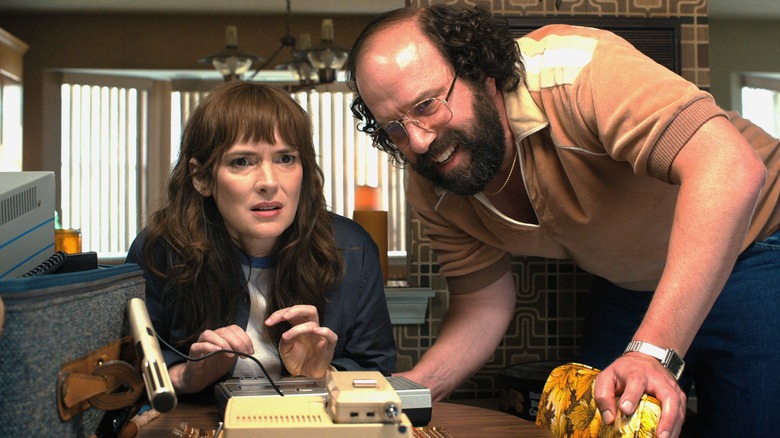 Netflix
Although "Stranger Things," Netflix's hit paranormal series, has always focused on the young residents of the fictional Hawkins, Indiana, the show has been consistently bolstered by its adult cast. From early on, Joyce Byers, played by a mournful Winona Ryder, has brought a sense of gravitas to the proceedings alongside David Harbour as police chief Jim Hopper, while Brett Gelman, who joined the cast in Season 2, adds a dose of surreal humor as conspiracy theorist Murray Bauman.
In Season 4 of "Stranger Things," Murray and Joyce team up to save Hopper from the Russian prison where he winds up after his near death at the end of the previous season. Despite the fact that Joyce leaving for Russia makes no sense, there's undeniable buddy-comedy chemistry between Joyce and Murray. The pair go through some delightful farces, impersonating Russian soldiers and making deals with a swindling international smuggler.
Over the course of their dramatic rescue, Murray's affinity for kimonos is revealed to be more than a personality quirk, with the scruffy former investigative journalist unleashing some karate chops. He even flambés some Demogorgons with a flamethrower. Speaking about his character's team-up with Joyce, Gelman revealed just why he thinks the two make such a great pair.
Murray and Joyce have shared losses, Brett Gelman says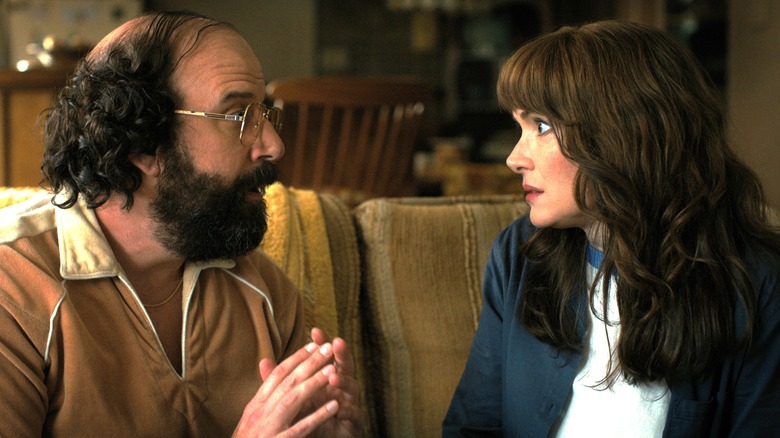 Netflix
In an interview with Vulture, Brett Gelman expressed his belief that the thread tying Murray and Joyce together in Season 4 of "Stranger Things" is their shared sense of grief. Both characters have been through the wringer, especially during the explosive events of Season 3, when they believed Hopper to have died in the laboratory explosion underneath the Hawkins mall.
"They've both gone through loss. They only have each other to talk [to] about the specific things that happened in season three," said Gelman, pointing to a detail that backs up his claim. "The first time we're talking on the phone, in episode one [of Season 4], you get the sense this isn't the first phone conversation they've had since the last season. There's a sense of loss over Jim's death and Alexei's death and also going into the lab together."
Gelman compared Murray's rescue mission alongside Joyce to the sequence in "Star Wars: Return of the Jedi" where Princess Leia (Carrie Fisher) and Lando Calrissian (Billy Dee Williams) team up to rescue Han Solo (Harrison Ford) from Jabba the Hutt (Larry Ward). "It's like, 'We experienced this loss and now we know he might not be dead, and we have to go get him for our own sense of wholeness,'" Gelman said. "There's a love of adventure in both of them."
Murray and Joyce will return in the fifth and final season of "Stranger Things," but though they arrive home from Russia intact, their struggles are far from over. The ending of Season 4 saw a new kind of darkness spreading across Hawkins, signaling a final showdown yet to come.