Who Did Jennifer Coolidge Play In Seinfeld?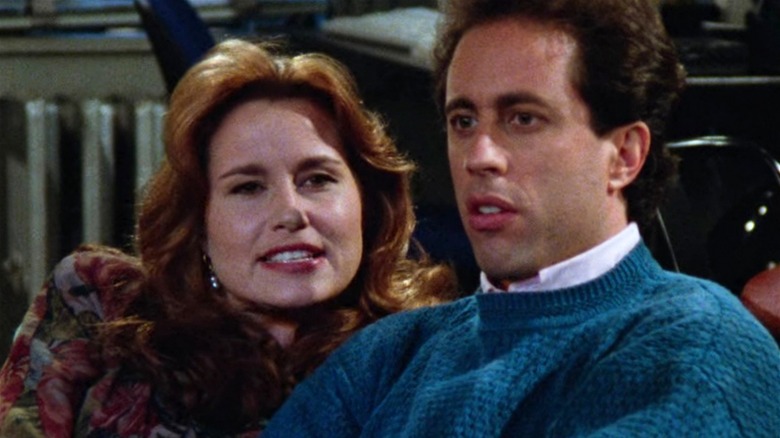 NBC
Jennifer Coolidge has certainly had a major career resurgence in the past couple of years thanks to her main role as Tanya McQuoid on HBO's satirical hit "The White Lotus." The actress won an Emmy last year for her performance in the first season. It's funny because Coolidge almost turned the role down, she revealed to Today last February: "I was too vain, I didn't want to go on camera because I sort of destroyed myself during COVID and didn't feel like I was in shape for it."
But before she joined the series created, written, and directed by Mike White, Coolidge had a long, varied screen career. Most famously, she plays Stifler's Mom in the "American Pie" movies; the veteran performer was also in hit comedies like "Legally Blonde," "Best In Show," and "Click." She was a regular as well on "2 Broke Girls" and had a recurring part on "The Secret Life of the American Teenager."
However, even longtime fans of Coolidge may not remember her guest role on "Seinfeld."
Coolidge is The Masseuse on Seinfeld
Jennifer Coolidge's first television role was as Jodi, the title character of "Seinfeld" Season 5 episode 9, "The Masseuse." Jodi is Jerry's (Jerry Seinfeld) newest girlfriend, but her refusal to give him a massage drives him up the wall. She ultimately tells him, "Listen, I massage who I want when I want!" Meanwhile, George (Jason Alexander), even though he's already dating someone, is deeply attracted to Jodi because she hates him.
In an interview with GQ in 2015, Coolidge revealed that she had repeatedly lied on her resume to get the "Seinfeld" role. "I'd gone to a school called the American Academy of Dramatic Arts up in Pasadena, and I'd just named all these shows and all these different theaters at the school as if they played there," she added. She got help as well from a mother and daughter at a boutique who helped her find the right audition outfit (via Giant Freakin Robot).
Coolidge may have changed her background to get her foot in the door, but her performance at the audition was so good that she received compliments from Julia Louis-Dreyfus of all people, who played Elaine on "Seinfeld." It was truly a sign of things to come for the immensely talented actress.