What Has Josh Meyers Been Up To Since That '70s Show Ended?
The Fox sitcom "That '70s Show" became a major hit for the network over the course of its run, resulting in stardom for many members of the main cast, including Ashton Kutcher and Mila Kunis. The show's popularity resulted in Netflix creating a sequel titled "That '90s Show," which made its debut in 2023, nearly 20 years after the original series wrapped its run.
"That '70s Show" introduced a few new main characters in Season 8, one of which was Randy Pearson. Played by Josh Meyers, who's the brother of comedian Seth Meyers, Randy is a colleague of Hyde (Danny Masterson), who develops an unlikely friendship with Red (Kurtwood Smith) and gets into a relationship with Donna (Laura Prepon) over the course of the season.
Meyers ultimately was part of the show for only one season, as the eighth season became the show's last. This is what he's been up to since "That '70s Show" ended.
Meyers has gone on to work with his brother and Steven Soderbergh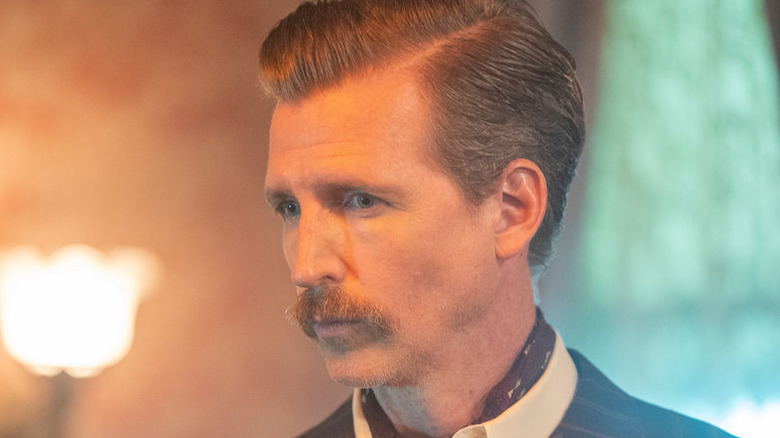 Ron Batzdorff/NBC
With Josh Meyers' last appearance on "That '70s Show" coming in 2006, his next major role came in the 2008 comedy "College Road Trip," in which he stars alongside Raven-Symoné and Martin Lawrence. In the film, Meyers plays Deputy Stuart, a police officer and co-worker of James Porter (Lawrence). He followed that up with another comedy, the 2009 mockumentary "Brüno," in which he stars as Kookus Mansfield alongside Sacha Baron Cohen.
Meyers returned to television in 2012 with guest appearances in the comedies "Are you There, Chelsea?" and "Breaking In." He followed it up with guest appearances in 2013 in the TV shows "Newsreaders" and "The Mindy Project." He also continued to preform in films like "Inventing Adam," "Straight A's," and the Steven Soderbergh film "Behind The Candelabra." All these films happened in 2013, making it a prolific year for Myers. 
2014 saw Meyers join the Amazon Prime series "Red Oaks," alongside Jennifer Grey, Richard Kind, and Paul Reiser. Over the course of the show's three seasons, Meyers was a key part of the show, playing Barry, the videographer at the titular Red Oaks country club in New Jersey.
Over the past few years, Meyers has also made recurring appearances on "Late Night with Seth Meyers" as a satirical version of the California governor Gavin Newsom. His last role was an appearance on the NBC science-fiction series "Quantum Leap."