Law & Order Made Hugh Dancy Feel Accepted As A New York Actor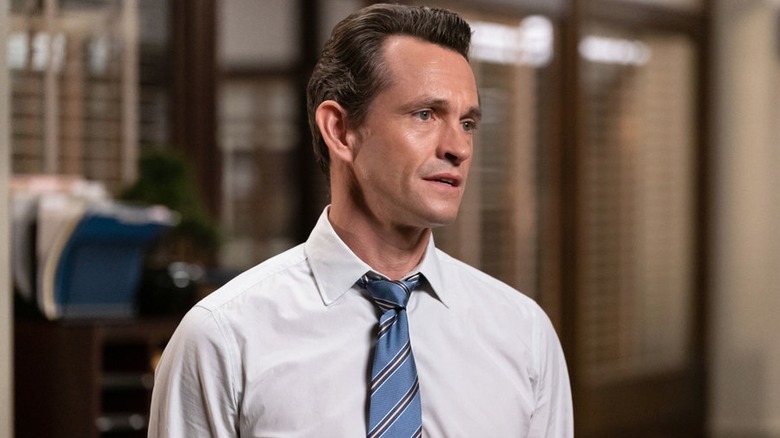 Ralph Bavaro/NBC
With the second season finale of the "Law & Order" revival having officially aired, NBC has yet to officially announce whether or not it will be back for a third. Given the enduring popularity of the "Law & Order" franchise on the whole, however, it seems a safe enough bet the flagship series will be back.
Even if the axe does fall on "Law & Order" for what would be the second time since its 1990 debut, the series' legacy in the small screen landscape will likely never fade. The series is, of course, widely regarded for changing the way television procedurals worked when it first hit the airwaves, and its "ripped from the headlines" approach to story provided the template for virtually every television drama that followed. For better and for worst, the series also laid the groundwork for how to legitimately franchise a television property.
Still, if "Law & Order" and its various spin-offs are remembered for nothing else, it'll be for becoming a touchstone for virtually every actor who's ever worked on the New York City scene. As Hugh Dancy is currently fronting the "Law & Order" revival, he can now count himself among that illustrious list of actors. And according to Dancy, booking that "Law & Order" gig signaled he might finally feel accepted as a bona fide New York actor.
Dancy felt like an imposter on the New York scene before booking Law & Order
Hugh Dancy made his way to the New York scene later than most. He was born in England, and cut his teeth on the UK scene before earning early Stateside gigs in Ridley Scott's "Black Hawk Down," and the Anne Hathaway vehicle "Ella Enchanted." In the years since, Dancy has become one of the best-respected actors working in and around Hollywood, clocking roles in all manner of film and television projects. That includes a starring role in the cult hit series "Hannibal," and several lauded jobs on the vaunted New York theater scene.
Credentials aside, Dancy spoke candidly about how much it meant to him to book "Law & Order" in a recent interview with Collider, telling the publication it's particularly fun to work with young actors on the revival and wonder if they might become soon become stars, as his own partner Claire Danes did. Dancy goes on to admits it's been a personal point of pride to now be able to put "Law & Order" on his resume, because he finally feels validated as an actor in The Big Apple.
"I've also been a 'New York actor' for 15 years or so, and I've acted on the stage here myself," Dancy told Collider. He went on to say, "When you look at a playbill, every single actor has 'Law & Order' right on there, and I never have. I've always felt slightly like I was moonlighting." With two seasons of "Law & Order" work under his belt, it seems Dancy can finally hold his head up high in New York acting circles.