The Final John Wick: Chapter 4 Trailer Has Fans Buzzing Over The Warriors Easter Egg
The final preview for Baba Yaga's return has arrived online this week, and make no mistake; John Wick (Keanu Reeves) is out to play-ay in his upcoming fourth installment. Boasting another globetrotting, gun-toting quest that will have everyone and their hitman's aunt gunning for our favorite big-screen killer, the new trailer for "John Wick: Chapter 4" has a lot of things going for it, but there's one particular moment in the all-new trailer that has filmgoers' attention.
For a franchise that has thrived on someone fighting their way through an eclectic group of enemies spanning a few bloody nights, it's surprising that it's taken this long to make a direct nod to the classic Walter Hill film from 1979, "The Warriors." A beloved pulpy little number, the film saw a small gang from Coney Island fight through New York City to get home after being framed for another gang leader's murder. For Mr. Wick, that would be a Tuesday. 
Now, while there's no sign of a baseball gang with immensely unsettling face paint on the horizon, it took only a split second of an homage to an iconic scene from Hill's film to have fans excited even more than they previously were.
John Wick: Chapter 4 has a Warriors mic drop and fans are digging it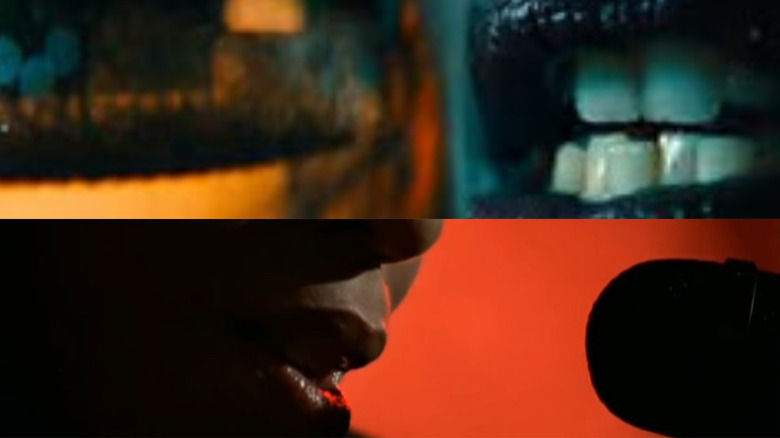 Lionsgate/Paramount Pictures
In the first seven seconds of the trailer for the upcoming film, a faceless DJ is seen on the radio sending out a message to John Wick, who, last we saw, was missing after suffering a massive fall in "Chapter 3." The imagery and its intention are a direct homage to Hill's film, which saw another anonymous disc jockey (Lynne Thigpen) repeatedly call out to The Warriors over the radio as they make their way past each opposing gang that was out to get them. While there's no confirmation on if this new DJ will follow the trend, the fans are loving it regardless.
Under the new trailer on YouTube, DoctorPretorious616 commented, "Nice homage to "The Warriors" with the DJ at the beginning! And the hip-hop version of The Sopranos theme was an appropriate choice as well, can't wait to see how this all wraps up!" Commenter masterjaredclayton concurred, saying, "I'm loving that homage to The Warriors. This movie is gonna be dope." 
Twitter didn't miss the "The Warriors" nod either. @THEKID_ had to double-take, saying, "Is it just me or is that opening 'DJ' scene a little shout out to The Warriors?" While @Conor9292 said, "Can we please all appreciate the subtle homage to Walter Hill's The Warriors?" Oh, it's appreciated alright, and given just how flawless Mr. Wick's record has been since the beginning, we can expect that Keanu Reeves' reprisal as his legendary hitman will be good ("real good")  when it arrives on March 24.