Abbott Elementary Fans Are Losing It Over Ava's Teletubbies Burn In Season 2 Episode 15
It's normal for people to laugh while watching some of the hilarious moments play out on the series "Abbott Elementary," but the joke Principal Ava Coleman (Janelle James) made about Janine Teagues (Quinta Brunson) in reference to a certain Teletubby in the "Fire" episode has resulted in some hysterical reactions from fans.
Golden Globe winner Quinta Brunson has put together a gut-busting comedy series that fans continue to enjoy, and a lot of the reasons behind the side-splitting success arguably have to do with the show's talented cast. While each one brings their own brand of funny to the table in each entry, many fans agree that Principal Ava Coleman steals the show every time she is on screen. Whether it's trying out a new side hustle or building her brand as an influencer, viewers have grown to enjoy watching her amusingly do everything but her job leading the school. Janelle James has been in the industry since 2013, and her time in "Abbott Elementary" has proven to be her most significant credit, earning her a Primetime Emmy nomination in the process.
Fans could presumably spend all day picking out their favorite funny things Ava says because there really are so many to choose from. But when she laid the smackdown on Janine Teagues at the end of Season 2, Episode 15 with an unflattering Teletubby comparison, audiences could not stop talking about it.
Eveyone but Janine loves the harsh Teletubby sun baby reference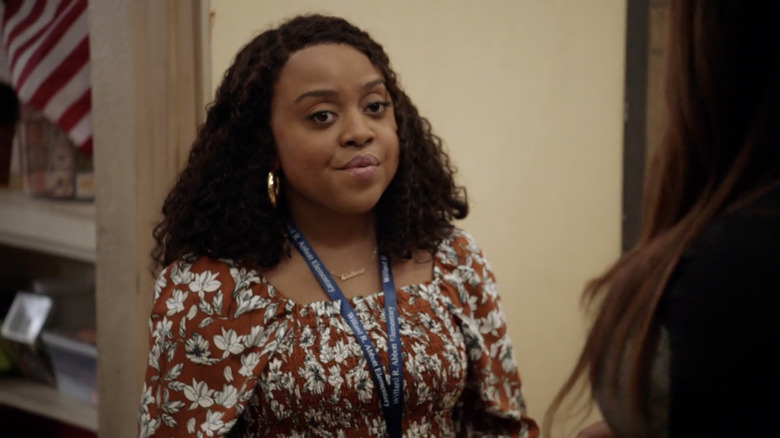 ABC
Toward the end of the "Abbott Elementary" episode, when Janine Teagues asks if her fellow teacher Barbara Howard (Sheryl Lee Ralph) is mad at her, Ava Coleman doesn't hold back as she hilariously responds, "Just because you got a round face like the Teletubby sun baby doesn't mean the world revolves around you." Janine is less than thrilled at the comparison, but people who watched enjoyed the potent putdown.
Viewers weren't afraid to make it known that while she has had many clever remarks in the past, the burn Ava laid out in the episode "Fire" really brought the heat. The reference had users in stitches, like @danny9956, who wrote, "Lol Ava told Janine she has the baby face from the Teletubbies sun yes," and @thegrandame also commented on the comical comeback posting, "not the round face like the Teletubbies sun I gagged Ava has the best lines." In fact, the joke landed so well that some fans may not forget it when they look at Quinta Brunson, like @Ms2Cute98, who stated in a post, "Teletubbies Sun baby!! Now every time I see her, I'm going to laugh." The well-crafted jab isn't just hilarious but also garnering substantial praise. @_kayhami posted some awards hype, saying, "Please give Janelle James an Emmy just for the Teletubbies line alone," and @PunkyStarshine wrote what many viewers were presumably thinking when the ordeal occurred with: "This show remains perfect and hilarious."
She may be a terrible principal, but she is certainly one of the funniest characters on the show, and based on the reactions, the Teletubby takedown is a contender to be one the funniest moments on "Abbott Elementary" ever.