Yellowstone's Dawn Olivieri Is Firmly In The Pro-Jamie Camp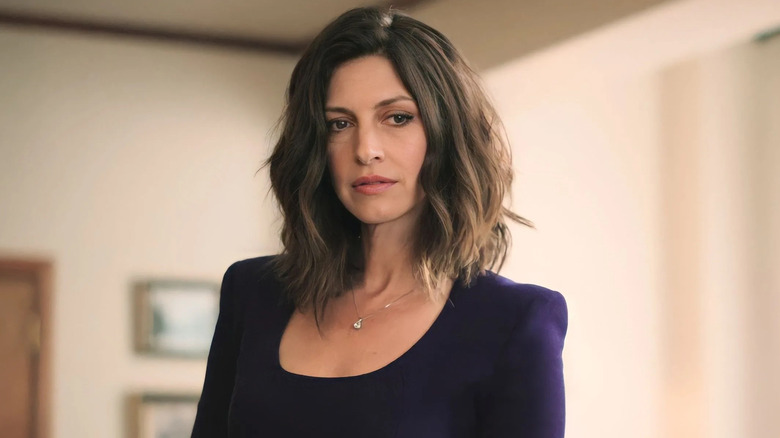 Paramount Network
Sarah Atwood (Dawn Olivieri) has done nothing but shake things up for the Dutton clan during Season 5 of "Yellowstone." For most of the family, she's the enemy personified; a hired gun for their hated rival Market Equities, she's been unable to get what she wants out of the family through legal channels. Which is why she decided to explore some very personal ones. Entering into an affair with Jamie Dutton (Wes Bentley), she's made a deal with him to install Jamie as Governor of Montana in trade for a rubber stamp of approval of the airport Market Equities wants to build in pristine Dutton territory. 
The battle for the top of the heap will put Jamie in direct competition with his adoptive father, John (Kevin Costner), who happens to be the current governor — and Sarah has strongly hinted that the best way to do this would be to eliminate the Dutton paterfamilias entirely instead of leaving it in the hands of the voters. 
While Sarah's motives are currently shaky with the end of part 1 of Season 5 — is she moving solely at Market Equity's command, her own selfish desires, or does she genuinely admire Jamie and want to be with him? — viewers don't need to guess when it comes to Dawn Olivieri's allegiance. It turns out that she's definitely in Jamie's corner. 
Dawn Olivieri thinks Jamie's due some success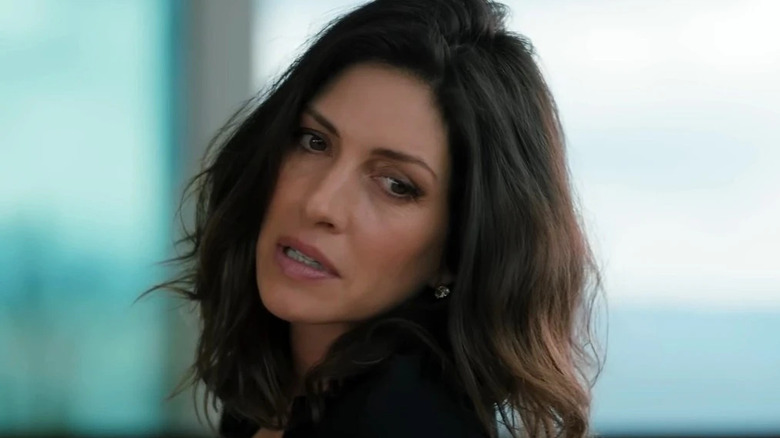 Paramount Network
Per an interview with Entertainment Tonight, Dawn Olivieri seems to believe that it's Jamie Dutton's turn in the company driver's seat, even though Sarah's motives are currently quite murky. "This is his time," Olivieri said. She pointed toward how Wes Bentley has grown into a more assured, stately way of being as an actor as time has gone on.  "I have watched firsthand [Wes] as an actor and as a character, step into his power. So if ever there's a time, it's now."
As for whether or not she thinks Sarah feels the same way, Olivieri told TV Guide that she's trying to play things cool as a cucumber, with purpose. "My poker face is the best you're gonna see. I don't want you to know. I want to appear fuzzy. I don't want to be specific and sharp, like Beth's character is right now. I have that in my arsenal — boy, you better believe I have that in my arsenal — but I don't want that to come through right now."
The name of the game is keeping the audience guessing just as much as Jamie is. Olivieri notes that her character is trying to play it both ways — a little bit soft, a little bit strong — to hook Jamie and keep him hooked. "Sarah's character, on my end as an actress, is extremely refined ... We're not fist fighting. I'm building a connection with a man that has a lot of trauma and also a lot of power, so it's been very soft and subtle, because I don't want to tip him off either."
Fans will have to wait until Season 5 returns this summer to find out just how successful Sarah will be in her aims.