Stranger Things' Shawn Levy Personally Called Ivan Reitman For The Rights To Use The Ghostbusters' Suits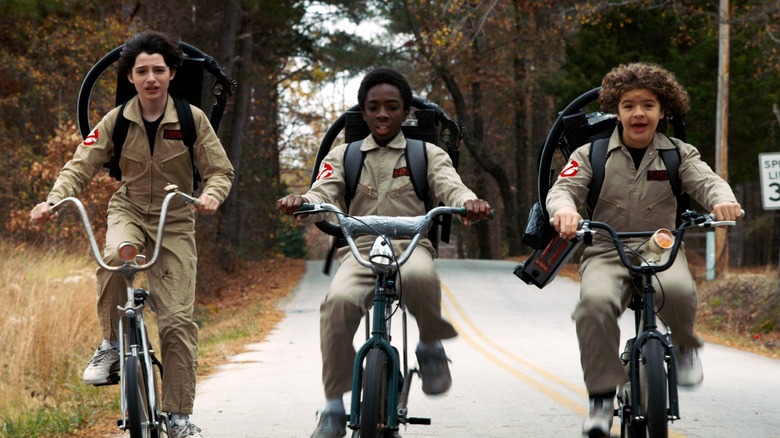 Netflix
After its first season debuted in 2016, "Stranger Things" quickly took the world by storm. One of the rare TV shows that truly does have something for everyone, fans gravitated to its (then) child-star cast, its supernatural mythology, its unabashed love for "Dungeons and Dragons," and its countless homages to beloved 1980s auteur films. Season 2 of "Stranger Things" ramped up the nostalgia even further, with the first trailer scored to Michael Jackson's "Thriller." The season also included inspired costuming, including long stretches in which the Hawkins children dressed for Halloween in "Ghostbusters" costumes, which only added to the hype. Many fans — some likely even dressed in those same costumes as children — loved seeing the show pay homage to another 1980s classic.
What many viewers likely didn't consider when watching "Stranger Things" Season 2 is the fact that Netflix needed permission to put the "Ghostbusters" costumes on screen. Like any merchandisable element of franchise IP, parent companies don't easily sign off on their valuable iconography. And according to producer Shawn Levy, getting that permission required him to go directly to "Ghostbusters" director Ivan Reitman.
Shawn Levy is the Duffer brothers' IP rights warlock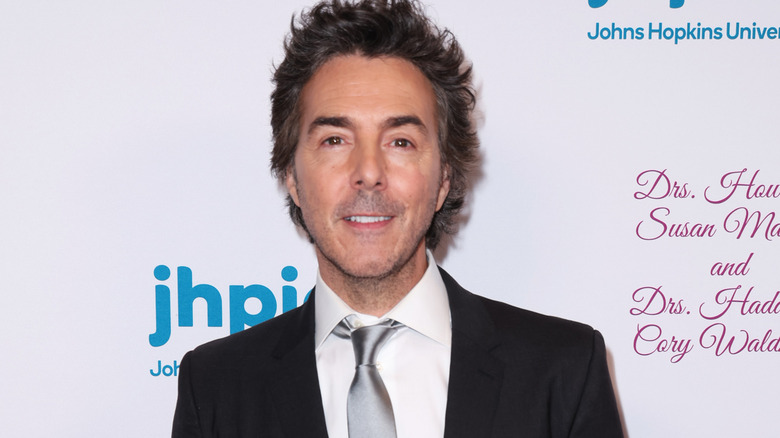 Phillip Faraone/Getty Images
Speaking to Vulture ahead of Season 2, "Stranger Things" producer Shawn Levy revealed the difficulties involved in getting permission to use "Ghostbusters" costumes in the hit Netflix series. Showrunners Matt and Ross Duffer had written the "Ghostbusters" costumes into the script, but when they went through the regular channels for approval, the Netflix production was consistently met with a resounding, "No."
Levy said the same thing happened when attempting to use "Thriller" for that season's trailer and the Millenium Falcon from "Star Wars" back in Season 1. "In all three of those cases, the brothers turned to me and said: 'Warlock,' that's their nickname for me, 'we need 'Ghostbusters,"" Levy explained. "I said, 'Okay, leave this with me. I'm on it.' So I personally called Ivan [Reitman] and he said yes!"
According to Levy, it was even harder to get permission for "Thriller." Though the producer didn't go into detail, he claimed the process took months. "I'd wake up at 4 am thinking, 'It's a good trailer, but it's not going to make people lose their mother-effing minds,'" Levy added. In order to get the rights to the iconic pop song for the "Stranger Things" Season 2 trailer, Levy went directly to Michael Jackson's estate without telling the Duffers. "Suffice it to say, it was a big group of people that had to come to a yes," Levy remarked.