Ashton Kutcher's De-Aging For Netflix's Your Place Or Mine Involved Low-Tech Solutions
Just before Valentine's Day 2023, Netflix strategically dropped a brand new flick that finally pairs two of the rom-com genre's biggest heavyweights: Ashton Kutcher and Reese Witherspoon in "Your Place or Mine." After separately starring in early 2000s classics like "Just Married" and "Legally Blonde," respectively, Kutcher and Witherspoon now play 40-something best friends who hooked up 20 years prior.
"Your Place or Mine," written and directed by Aline Brosh McKenna, opens up with this particular scene. The year is 2003, and certain things –- such as the layered tops and flat-ironed hair of Debbie Dunn (Witherspoon) and the belt chain of Peter Coleman (Kutcher) –- help transport audiences back to those simpler times.
However, younger stars weren't brought in for this opening segment. Kutcher, 45, and Witherspoon, 46, play the college-age versions of their characters before the film jumps to present day. It's certainly not uncommon for actors to play a significantly younger individual on-screen. Just look at Jason Earles, who was in his late-20s while playing high schooler Jackson Stewart on "Hannah Montana."
Still, 20 years is a massive age difference. So how did Kutcher, a father of two, pull off this impressive feat? According to him, it involved a few tweaks to his appearance.
Ashton Kutcher shaved his chest hair to look 20 years younger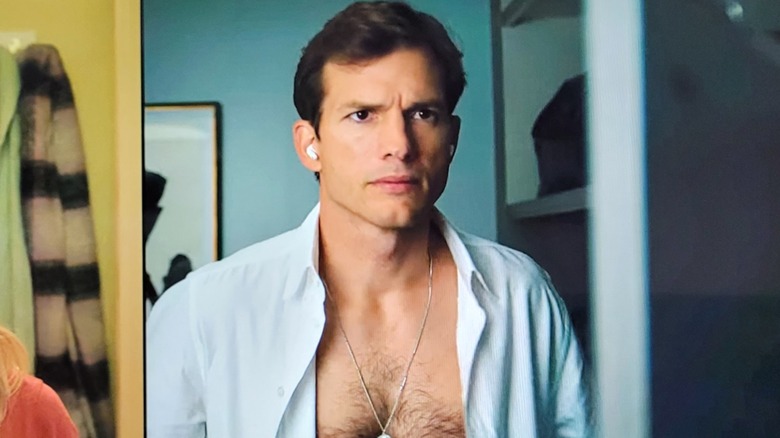 Netflix
In an interview on the U.K. morning show "Lorraine" (via TODAY), Ashton Kutcher revealed that his de-aging process for the opening "Your Place or Mine" segment had to involve some rather simple adjustments: manscaping and exercise. "So here's the crazy thing, before we shot the sequence where I was 20, I was like, 'I didn't have this much chest hair when I was 20, and I'm like, 'I actually need to mow this thing down a little bit and like, clean it up,'" he said. "And I'm doing sit-ups and I'm like, 'God, I used to have abs when I was 20! What happened?'"
At the moment, it's questionable whether or not Kutcher's efforts are paying off. "Your Place or Mine" boasts a 37 percent on Rotten Tomatoes, where the critics are giving the movie -– and its flashback introduction –- mixed reviews.
Anna Menta, of Decider, said, "The opening is the worst scene in the movie... Your Place or Mine missed its one shot to make us care about Peter and Debbie getting together, and as a result, the next 80 minutes they spend apart is a slog." As for Mark Kennedy, of the Associated Press, he offered partial praise for the film and the appearance of Kutcher and Witherspoon: "This Valentine's Day, it hits the spot if you're in the mood for pretty people acting insecure and clueless."
Luckily, Kutcher didn't make any permanent changes to his body in his attempt to look 20 years younger and, as he said on "Lorraine," his mowed-down chest hair is beginning to grow back.