Ashton Kutcher 'Finally' Collaborates With Reese Witherspoon In Upcoming Rom-Com Your Place Or Mine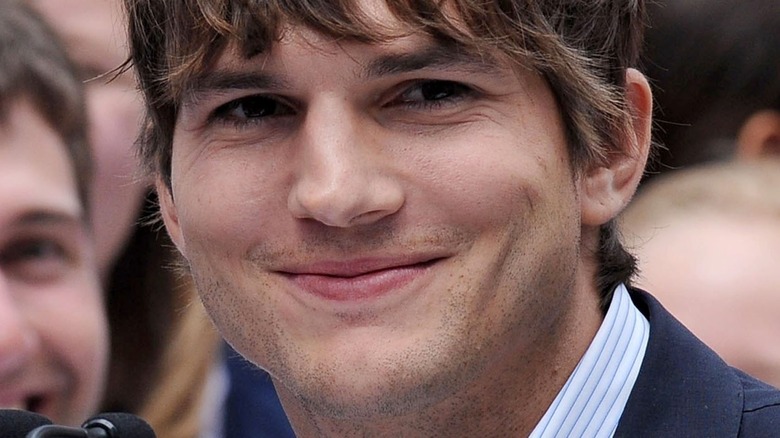 Everett Collection/Shutterstock
When it comes to the most iconic romantic comedies of the early 2000s, Ashton Kutcher and Reese Witherspoon are two of the biggest heavyweights.
Kutcher, who in recent years starred in the TV series "The Ranch" and voiced Baxter on the animated "Stoner Cats," left quite the impact on the rom-com genre with "Just Married," "What Happens in Vegas" and "No Strings Attached." As for Witherspoon, whose recent credits include "Big Little Lies" and "Little Fires Everywhere," she brought beloved characters like Melanie Smooter in "Sweet Home Alabama" and, of course, Elle Woods in "Legally Blonde" to life.
It seems a given that Kutcher and Witherspoon would have starred as love interests at some point. However, that collaboration never took place. While Kutcher's characters fell for the likes of Natalie Portman and Cameron Diaz, Witherspoon's on-screen personas are opposite Patrick Dempsey and Vince Vaughn.
But now, Kutcher and Witherspoon will finally share the screen in the upcoming rom-com "Your Place or Mine." Written and directed by Aline Brosh McKenna, the brains behind "27 Dresses" and "The Devil Wears Prada," the forthcoming flick follows Peter (Kutcher) and Debbie (Witherspoon), two opposites who switch houses — and lives — for an entire week. After remaining friends for 25 years following a one-night hookup, this swap allows them to understand each other on a deeper level.
As "Your Place or Mine" prepares to drop on Netflix on February 10, its two stars are thrilled for audiences to see their first collaboration.
Ashton Kutcher has wanted to work with Reese Witherspoon for many years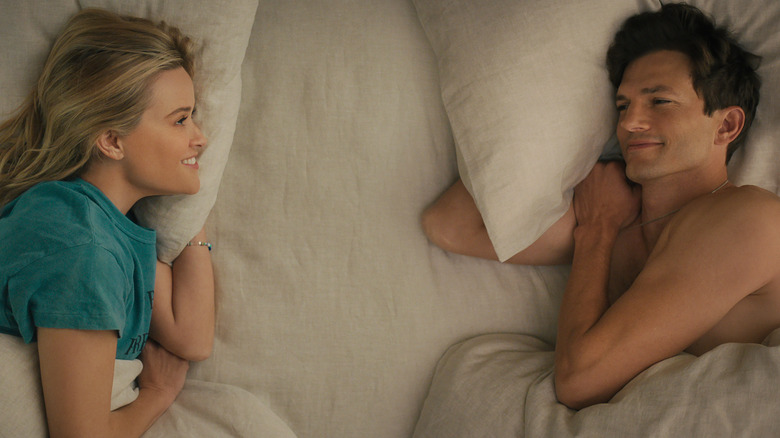 Netflix
In a recent interview with People, Ashton Kutcher expressed his excitement over working with Reese Witherspoon. He gushed about finally getting the opportunity to star alongside the actress and be part of a project by Aline Brosh McKenna. He described them as "two women I have wanted to work with for years."
Of Witherspoon, Kutcher reflected on how much fun they had together on set: "I can talk to Reese about anything — acting, business, kids, media, football. She's always game." For Witherspoon, the feeling is mutual. She said of her co-star, "I think he's so funny. We have a very similar sense of humor and timing."
Though Kutcher and Witherspoon are excited for the world to experience their first collaboration and McKenna's latest script, which Witherspoon said is "hysterically funny and easy to relate to," it's hard to gauge audience interest at the moment. When Netflix posted a promotional tweet for "Your Place or Mine," it was flooded with requests for the streaming platform to bring back "Warrior Nun" for a third season.
Still, those who worked on "Your Place or Mine" seem excited about the latest rom-com venture. McKenna sang the actors' praises, as well, seeing as how she's known both of them for quite some time. She called Witherspoon "one of the best ever," while Kutcher is "comedically so gifted, but [he] also can really be very grounded and very specific and real in his choices."
"Your Place or Mine" also stars Rachel Bloom, Tig Notaro, Jesse Williams, and Steve Zahn.