Blood And Honey Director Says Red Tape Keeps Mickey Safe From The Killer Treatment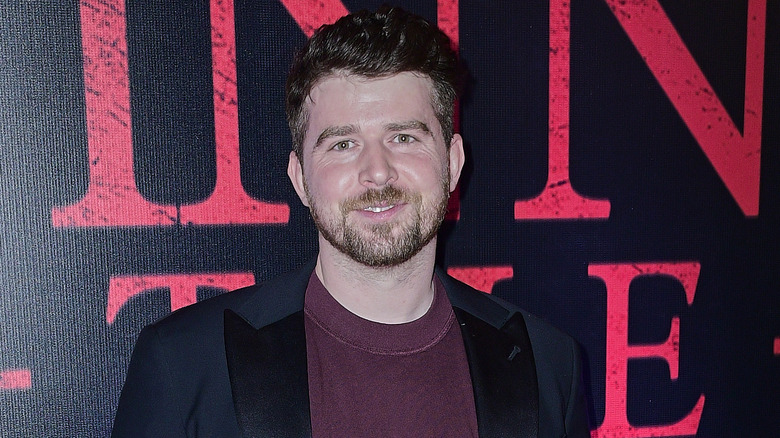 Medios Y Media/Getty Images
When the trailer for "Winnie-the-Pooh: Blood and Honey" hit the internet, it understandably caused a lot of buzz. Everyone's favorite gentle, honey-eating bear, transformed into a human-slaughtering monster? Yes indeed, and you can thank both the public domain and writer/director Rhys Frake-Waterfield for that.
Note that Frake-Waterfield's take on the "Winnie-the-Pooh" legend strains to avoid making visual references to the Walt Disney version of the silly old bear. Instead of wearing a red shirt, his version of Pooh Bear sports overalls and a red checkered dress-up shirt. His version of Piglet looks more like a warthog than an innocent, stuttering pink pig, and Tigger — well, Tigger doesn't exist in this one. But those are adjustments that keep the character in line with the E. H. Shepard illustrations which accompanied the A. A. Milne book upon which Disney's take on the Hundred Acre Woods is inspired by — i.e. the version of Pooh which is public domain, versus the Disneyfied version which is still under copyright.
It's that respect for the House of Mouse which keeps Frake-Waterfield's take on Pooh so distinct. But what about Mickey Mouse himself? After all, an early version of the character is set to hit the public domain soon, when the copyright on "Steamboat Willie," his first short, expires. Would Frake-Waterfield be tempted to write a film about a killer Mickey?
There's no plan to make Mickey a slasher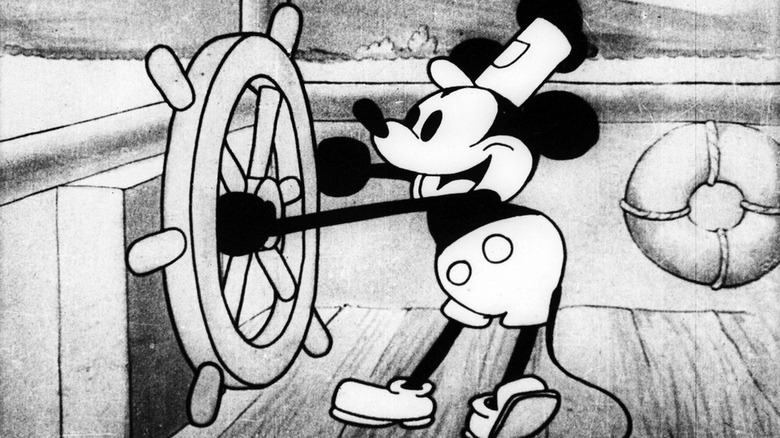 Disney
According to Rhys Frake-Waterfield, he's not willing to risk the anger of the House of Mouse by creating a slasher centered around Mickey. "I'm still very on edge about that," Frake-Waterfield told Yahoo! Entertainment. "I have a feeling that laws can change, and he's already been extended multiple times in the past. There's also a big, big risk factor because he's very tied in with Disney so they may get more litigious."
Fans of "Winnie-the-Pooh: Blood And Honey" will, however, likely be delighted to learn that Frake-Waterfield is already preparing to create a whole slew of microbudget horror films about public domain characters which have also received the Disney film treatment, like "Bambi" or "Peter Pan." "Bambi has a lot of attraction. It's the same thing as Pooh: People are like, 'How can Bambi be a killer?' It makes people's imaginations run a bit wild."
For those who would like their imaginations to be tickled by the sight of Winnie-the-Pooh killing college coeds, "Winnie-the-Pooh: Blood and Honey" will hit theatres via an exclusive weeklong engagement through Fathom Events at movie theatres nationwide starting on February 15.