How The Tulsa King Cast Felt About Filming On Location In Oklahoma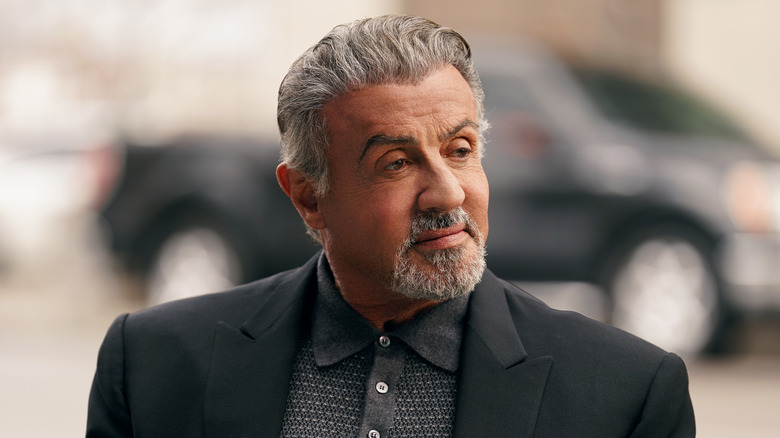 Brian Douglas/Paramount+
Sylvester Stallone is doing something he's never done before — starring in a TV series. "Tulsa King" marks an important moment in his career — bringing together longtime fans and new viewers who are just coming to know the actor's extensive filmography. The series focuses on Mafia member Dwight Manfredi, better known by his nickname 'The General." He returns to crime after a lengthy prison sentence of 25 years. However, this new chapter in his criminal livelihood brings Manfredi to Tulsa, Oklahoma, and introduces a myriad of unexpected challenges.
While some series and films have chosen to shoot in locations that favored budgets or authenticity, "Tulsa King" opted for the latter. Much of the series was filmed at Oklahoma City's Prairie Surf Studios — even selecting Tulsa itself for various outdoor scenes (via IMDB). For the cast, this has been a chance to get outside the usual locations like Atlanta, Vancouver, and Los Angeles. While the series has already had an impact on the actual city of Tulsa, the cast of "Tulsa King" is now talking about the impact the Sooner State had on them and their performances.
Sylvester Stallone's cowboy role ambitions almost played out in Oklahoma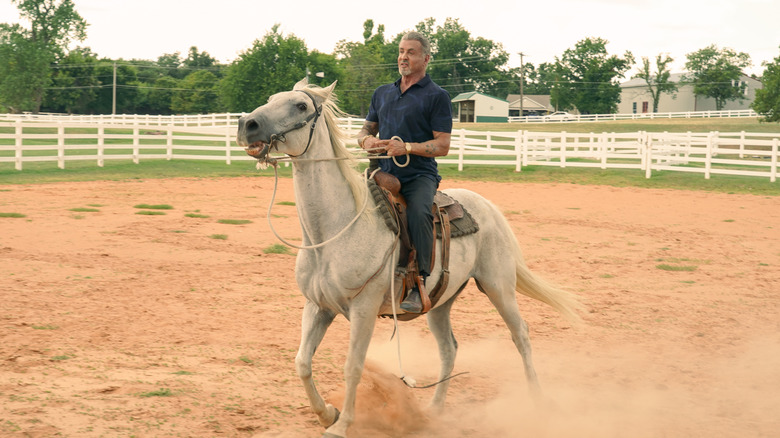 Brian Douglas/Paramount+
There have been many roles in Sylvester Stallone's storied career. From the underdog hero of "Rocky" to the action hero of "The Expendables," his memorable performances have made him a fan favorite. Not to mention, he's also been behind the scenes as a writer and director for various projects — including the cult classic "Staying Alive." Stallone's characters may seem like they cover a wide realm of possibilities, yet there is one that remains elusive — the cowboy. The closest he's come to it was in the Dolly Parton comedy "Rhinestone." The film saw Stallone play a cab driver who enters the world of country music. 
While "Tulsa King" may leave the cowboy category somewhat unchecked, it has given the actor a chance to visit the midwest. "The fact of a gangster coming to Oklahoma is really remote, but that's what makes it special," the actor said (via Tulsa World). "Oklahoma is a special place. Very unique."
Stallone's presence in the area brought more than a few curious residents and tourists to shooting locations. Some cited their favorite character as a reason to see the actor, while others hoped to catch a glimpse of anything related to filming (via News on 6).
Cast members found the setting personally and professionally rewarding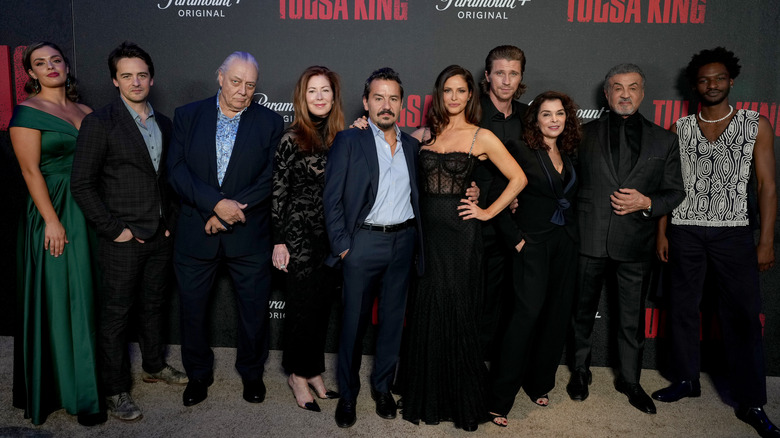 Kevin Mazur/Getty Images
Sylvester Stallone was far from the only cast member who found themselves getting familiar with Oklahoma City. Jay Will — who plays Tyson — found it beneficial to be in the area for two key reasons. According to the actor, it gave him time away from the city to explore the area's countryside. More importantly, his approach to the role grew out of spending time in Oklahoma. "To have the space and to take inspiration from the people out there, the lifestyle, you are in the core. You are in the town where the story is set so you have more to grab from," Will said (via Tulsa World).
His co-star, Dana Delaney, also took time out to explore her surroundings and learn about the area. She spent a lot of time walking around Oklahoma City, seeking out its cultural landmarks and thriving arts community. "Every day I could find some new museum to go to," Delaney said. "I thought the arts scene was really great and surprising."
The area's cuisine was also a standout feature of Oklahoma for many actors involved in the series. Vincent Piazza mentioned some of his favorite food selections in the area were from local Vietnamese and Laotian restaurants. Meanwhile, Max Casella admitted to visiting Mahogany, an iconic local steakhouse, several times a week. While the food was certainly amazing, according to Casella, that may not have been the most healthy thing to do. "My cholesterol is probably still elevated," he jokingly added.