Even Law & Order: Organized Crime's Brent Antonello Has No Idea What That SpongeBob Tattoo Is About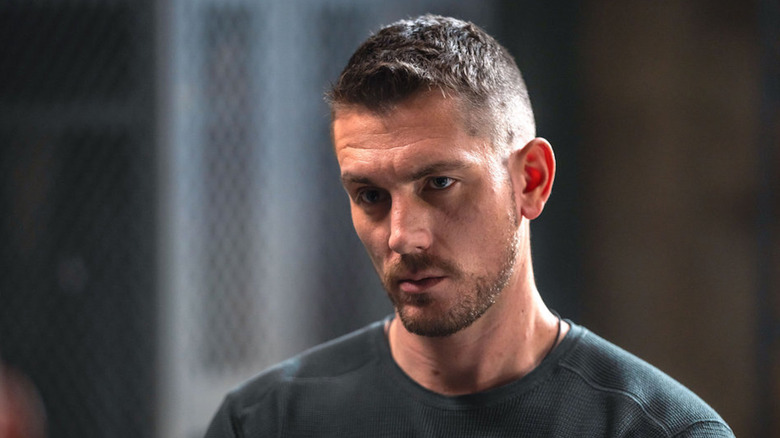 NBC
"Law & Order: Organized Crime" is the newest series to enter the "Law & Order" universe. With former "Law & Order: Special Victims Unit" detective Elliot Stabler (Christopher Meloni) leading the show, "Organized Crime" opens a lot of doors for the "Law & Order" franchise. Exploring more crossovers and intricate cross-series relationships, "Law & Order" is more dynamic than ever.
Despite Stabler's familiar face and constant interactions with "SVU's" Olivia Benson (Mariska Hargitay), the show also features its unique cast of characters. One such character is Brent Antonello's Detective Jamie Whelan, a reoccurring character who, so far, has starred in 12 episodes of "Organized Crime."
Recently, before going undercover, Whelan was shot on the job. As many have pointed out, much worse could have happened to him. In the world of "Law & Order," the detectives often take the worst of the on-screen violence and trauma. After all, how many times has Benson been beaten down in her own show? Whelan took the gunshot to the shoulder, meaning that with proper care, it wouldn't run the risk of being fatal.
The wound did, however, destroy a tattoo that Whelan evidently had on his shoulder. The tattoo never made an on-screen appearance but, apparently, it depicted SpongeBob SquarePants, which left everyone confused. Whelan doesn't really read as the type to get at tattoo like that. Even Antonello was taken by surprise to learn of its existence.
The SpongeBob SquarePants tattoo came out of nowhere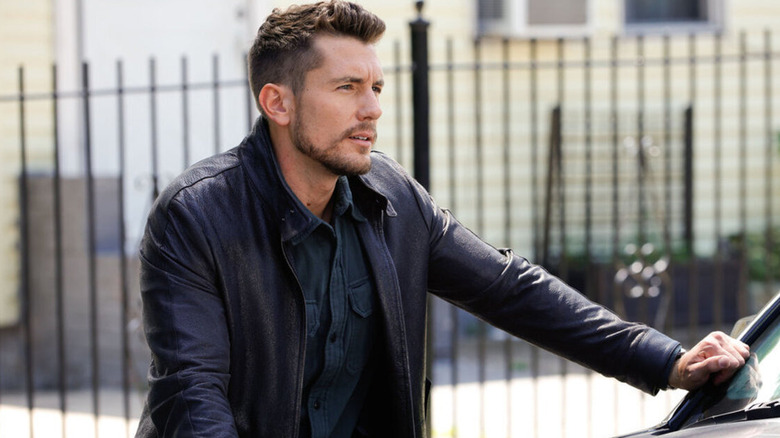 NBC
Brent Antonello spoke with Cinemablend about his role in "Organized Crime" and how the gunshot wound affected his character.
When Antonello found out that he was going to be shot, he thought he would be written off the show. "Reading that you're like, 'Oh, my God, no.' I thought I would get word that I would be let go from the show," Antonello recounted his panic. "But fortunately, it just hit my SpongeBob tattoo..." The way that he trailed off indicated that he had no idea where the SpongeBob tattoo came from. He'd never been informed that his character had one, so it felt like it came out of left field.
"I have a feeling that's going to come back to me somehow," Antonello continued. "I was asking Sean [Jablonski], the showrunner. I think that's going to come back. It wasn't just placed in there for no reason. So we'll see what happens with that. I'm very interested to know the backstory as well." After all, it would be weird to emphasize how his SpongeBob tattoo — a tattoo that viewers did not know about — was ruined if fans never learn the story behind the ink.
Needless to say, fans eagerly await the history of how the SpongeBob tattoo came to be before its inevitable demise.