Ant-Man 3's Evangeline Lilly Has A Dream Superhero Team-Up That's Pretty Impossible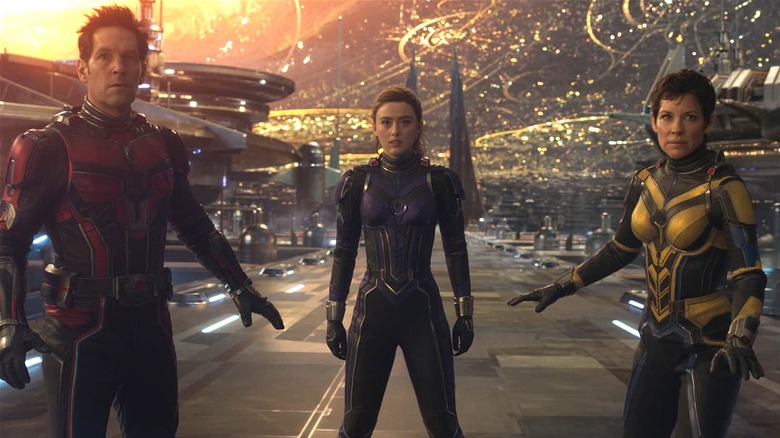 Marvel Studios/Disney
The Wasp holds a lot of important distinctions in Marvel Comics. She was the first female Avenger, being the only woman to join the team when it formed in "Avengers" #1 in 1963. She also was the one to suggest the name "Avengers" in the comics, and, after Captain America, she's the person who's spent the most amount of time leading the famous superhero team. But, of course, that's Janet Van Dyne, the original version of The Wasp from the comics, whereas Hope Van Dyne (Evangeline Lilly), who has been a major character in the "Ant-Man" movie trilogy, is an original creation for the Marvel Cinematic Universe.
Hope also holds an important distinction in the MCU, as Lilly mentioned in an interview with Entertainment Tonight that Hope is the first female superhero in the MCU to get a movie with her name in the title. Lilly went on to talk about what that distinction means to her, saying, "This is [the] highlight of my career for sure," specifically because she got to become that first titled female superhero. She explained, "It feels really important, especially in this climate, in this moment, with our culture, with women so clearly saying we're still not being treated equally ... to now have equal billing with a man in this universe that's predominantly male, means a lot to me."
Given all the firsts that The Wasp has, it would seem appropriate that — when asked what superhero she would want to team up with the most — Lilly chose the very first female superhero in comic book history .
Evangeline Lilly wants to do a Wasp team-up with Wonder Woman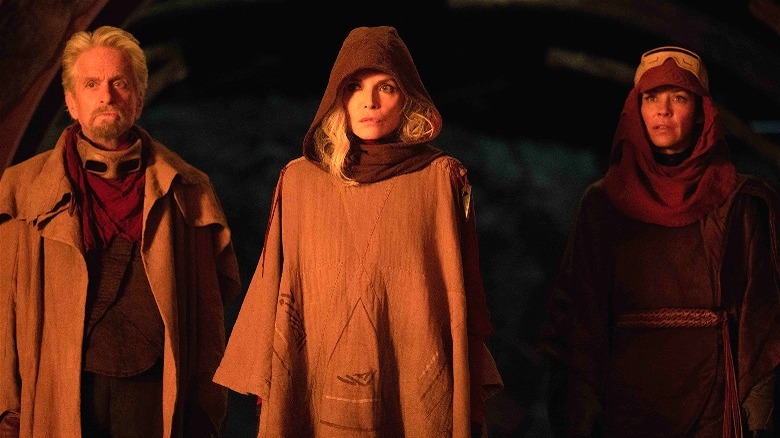 Marvel Studios/Disney
Evangeline Lilly recently made a stop at "The Kelly Clarkson Show," but it was Clarkson's second guest, a starstruck Jonathan Daviss of "Outer Banks" fame, who was allowed to ask the Wasp actress a question — and he asked what other superhero she most wanted to team up with. "I'm going to say that ... even though normally I'm really down on DC ... but like a Wonder Woman, Wasp crossover," the Marvel star replied. "Where DC meets Marvel." She seems to have meant Gal Gadot's Wonder Woman, because Lilly, Clarkson, and Daviss all started talking specifically about Gadot, the most recent actress to play the Amazonian.
While that would undoubtedly be an amazing team-up if it ever happened in a movie, there are a lot of unlikely things that would have to happen. James Gunn and Peter Safran over at DC Studios announced in December that they were not moving forward with a third "Wonder Woman" film starring Gadot. Gadot's future with the newly reworked DCU remains uncertain, although James Gunn said as recently as February 1 on Instagram that he did not fire Gadot. But even if Gadot does return, the odds of two major competitors like Warner Bros. and Disney teaming up to produce a big superhero movie like that are pretty slim. Such an endeavor would be fraught with complications, disagreements, and some difficult compromises. Still, a DC-Marvel crossover film would make a huge amount of money, and nothing that would make that much money could ever really be considered impossible to happen down the road.