The First Look At Lady Gaga As Harley Quinn Has Fans All Saying The Same Thing
Move over, Catwoman. Over the course of the past few years, Harley Quinn has become one of the most dynamic characters in DC's extensive empire of heroes and baddies, and plenty of stars have begun to line up to take a crack at the villainess. Margot Robbie notably debuted her portrayal of Dr. Harleen Quinzel in 2016's "Suicide Squad," before reprising the role in both "Birds of Prey" and James Gunn's "The Suicide Squad." At the same time, Kaley Cuoco began voicing an animated version of the character in 2019 for the "Harley Quinn" TV series. Now Lady Gaga is stepping up to bat to play Quinn in Todd Phillips' sequel to "Joker."
Starring Joaquin Phoenix in an Oscar-winning performance as Arthur Fleck, "Joker" tracks the origins of how a wannabe comedian becomes an iconic supervillain. With its heady hallucinations and choreographed dance sequences, "Joker" seems like it could be a perfect vehicle for Lady Gaga's stylized, sometimes surreal brand of artistry, and in August 2022, Lady Gaga took to Twitter to confirm her involvement in the upcoming sequel titled "Joker: Folie à Deux." Then, on February 14, Gaga shared an image of her "Joker" character, which was met with widespread approval online.
Gaga's Little Monsters are gagging over her Harley Quinn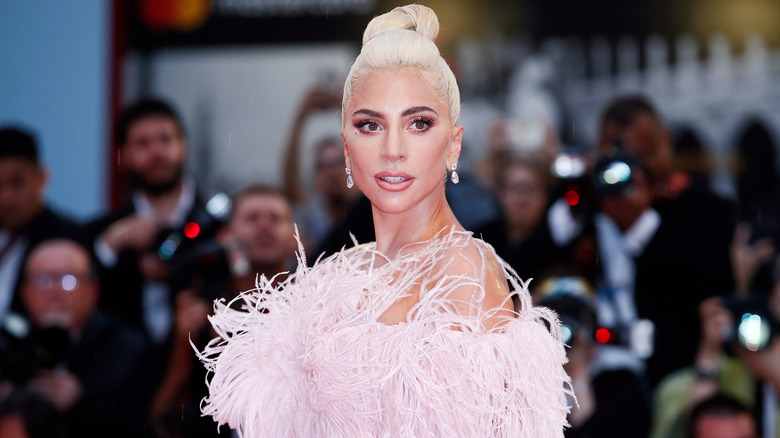 Andrea Raffin/Shutterstock
With "Joker: Folie à Deux" set to be a musical, the musically gifted Lady Gaga is arguably a top tier choice to play its Harley Quinn. Even Margot Robbie endorsed the casting decision, noting that Quinn is an enduring character who multiple actresses should play. On February 14, Gaga tweeted out a first-look preview image of herself as Quinn. In it, Gaga's character is staring awestruck at Phoenix's Arthur with some clown makeup smudged on her face, as she clasps his head in her hands. As it turns out, few are as excited to see Gaga morph into the villain as her devoted fans.
Given the date of its release, Gaga's army of Little Monsters received this photo as a Valentine's Day treat, and needless to say, fire emojis, heart emojis, and gasps of "Mother!" were plentiful in her Twitter replies. "No trailer, No plot, No character description," tweeted @keaaaaley of the image's resulting Twitter frenzy. "Just one Lady Gaga shot on the 'Joker' set that has everyone moving. That's impact." Other users, like @nynagermanotta and @smbaspride, are even hoping that Gaga's multi-hyphenate talents will earn her first Oscar acting nomination since 2018's "A Star Is Born," cementing her status is a Hollywood powerhouse.
Lady Gaga's Harley Quinn is generating lots of discussion online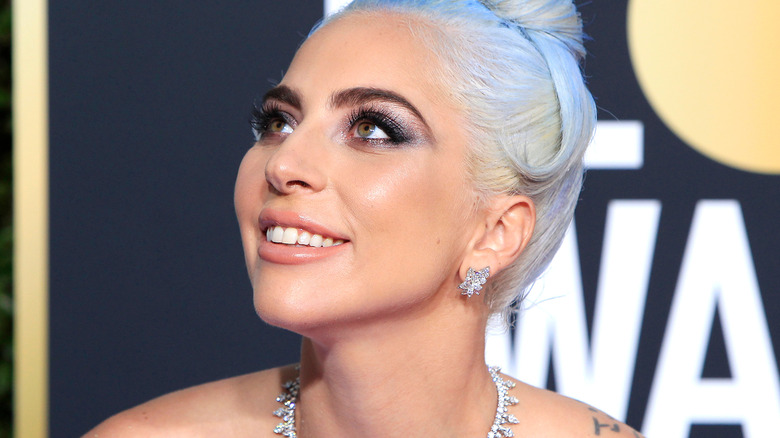 Joe Seer/Shutterstock
On Reddit too, among users the DC cinematic universe subreddit — less of whom are presumably Lady Gaga fans than her Twitter followers — responses are largely positive to this first photo of the pop superstar as Harley Quinn. For example, in a thread dedicated to her preview image, user honeybunchesofpwn wrote, "Lady Gaga can bring the weird energy, so I think this should be pretty rad." This comment alone received more than 600 upvotes. Similarly, user Few-Road6238 argued that a good chemistry is already apparent between Gaga and Joaquin Phoenix.
Meanwhile, users of a general pop culture discussion subreddit are likewise stoked about Gaga as Quinn. "I don't think I was sold on her as Harley until this. Her whole face embodies the character wow, I'm actually getting excited for this one now," wrote one user about the image. User Botapiena even shared that Gaga's preview of her "Joker: Folie à Deux" brought them some genuine joy in an otherwise dark period of their life.
Fans will have to wait a little while longer to see Gaga transform into Quinn on the big screen, however. "Joker: Folie à Deux" is scheduled for release on October 4, 2024.