New GOTG Vol. 3 Merchandise Teases Another Game-Changing Groot Power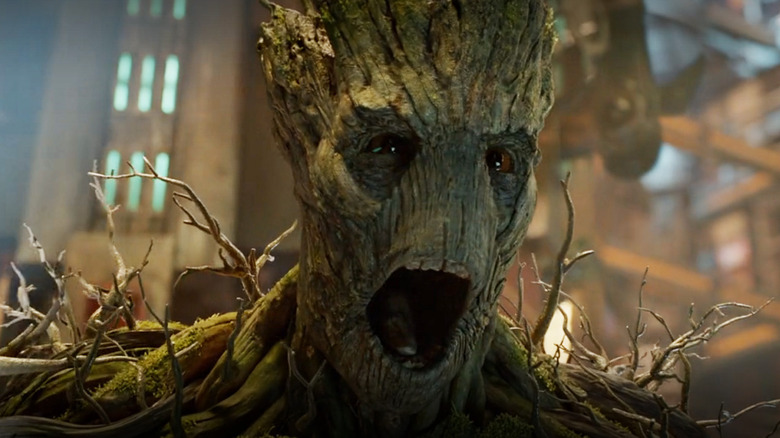 Marvel Entertainment
If a recent announcement from the ridiculously popular toy company Funko is to be believed, Groot may get a shocking upgrade in "Guardians of the Galaxy Vol. 3."
The next film in the Marvel Cinematic Universe (following the imminent release of "Ant-Man and the Wasp: Quantumania"), "Volume 3" promises to bring James Gunn's "Guardians" saga to an emotionally devastating close before the visionary filmmaker leaves Marvel Studios for the foreseeable future. Vin Diesel returns to voice everyone's favorite ferocious foliage, having played two different versions of the character at various ages throughout the past decade (including appearances in films like "Avengers: Infinity War" and "Thor: Love and Thunder").
Groot's unique plant-like physiology grants him a veritable garden of superpowers, including the ability to regenerate limbs, increase his size, and even create bioluminescent spores. This most recent skill, however (revealed through a to-be-released Funko Pop! vinyl figurine), is one of his most surprising yet.
Groot takes flight in GOTG Vol. 3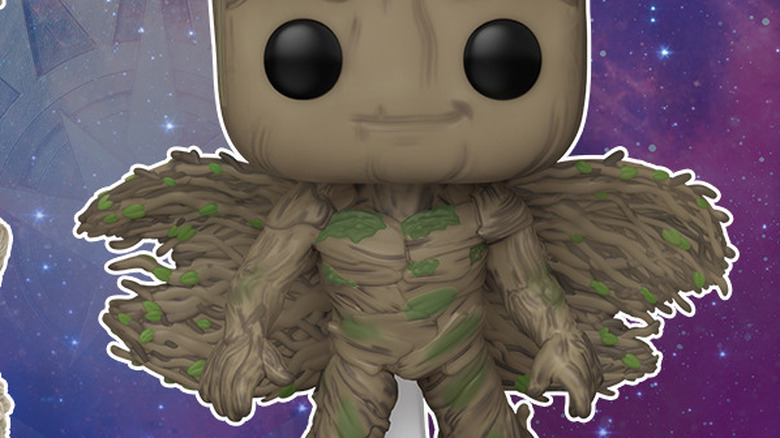 Funko
In a Facebook post announcing the newest Funko Pop! exclusives for "Guardians of the Galaxy Vol. 3," the toy company showcased a version of Groot with large, wooden wings and a clear stand to make it appear as though the figure is flying. Funko rarely (if ever) takes such liberties when making toys for specific films or television shows, meaning it's essentially confirmed that the upcoming film will grant Groot the power of flight.
It's pretty hard to work out the physics of Groot's wood wings actually functioning (not that it matters that much, considering the character itself is a talking tree). There doesn't seem to be any precedent for Groot being able to fly in the Marvel Comics Universe, aside from Secret Wars' Groot Thor. "Guardians" fan @timgotg on Twitter noted that the design looked similar to some versions of DC Comics' Swamp Thing, who can occasionally create earthy wings of his own. Given that James Gunn is clearly a big enough fan of the character to choose a "Swamp Thing" film as the cap for his first chapter of storytelling at DC Studios, it's not entirely unreasonable to imagine that he drew light inspiration from DC's mossy misanthrope. In any case, it's a fun addition to a character with a power set that continues to evolve in surprising ways.
This flying Groot figure will be sold exclusively on Funko's website, as will the "flocked" and un-flocked variants of baby Rocket Raccoon. The same post also revealed a Walmart-exclusive six-pack of "Guardians" figures, containing the entire current team (excluding Gamora) in their new blue and red uniforms.