Conan O'Brien Spent His Initial Late Night Shame Hiding Under A Desk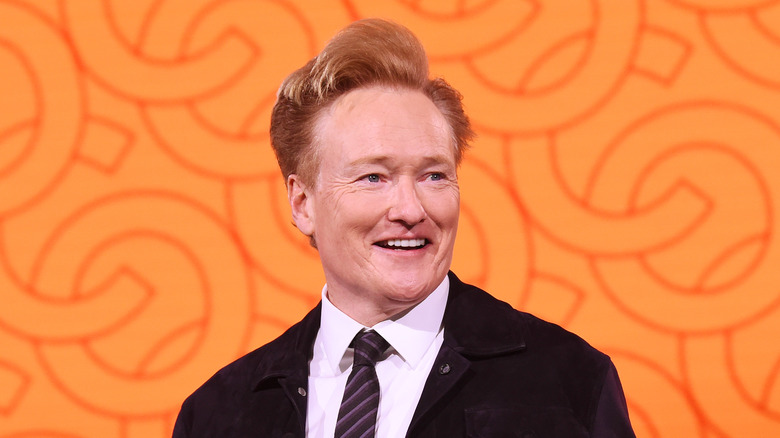 Kevin Mazur/Getty Images
When Conan O'Brien hung up his late-night hat in 2021, the comedian was a veritable talk show veteran, having logged nearly 30 years on the air and 4,368 talk show episodes. After getting his start as a writer on HBO's "Not Necessarily the News," O'Brien moved on to stints at "Saturday Night Live" and "The Simpsons."
The talk show world is more contentious than the breezy, tightly outlined interviews would have you believe. And no one is more privy to that than O'Brien. In 2009, O'Brien took over Jay Leno's post as the new host of "The Tonight Show." The gig would end up only lasting seven months, as the executives at NBC were unhappy with the ratings and wanted Leno back in primetime. The "Tonight Show" conflict would effectively end O'Brien's relationship with the network, and he decamped to TBS for his show "Conan" in 2010.
The "Tonight Show" snafu was a challenging time in O'Brien's career, but according to the talk show host, his darkest moment came when he began hosting NBC's "Late Night" — the current version is under the wing of Seth Meyers — in 1993.
A brutal Charlie Rose interview sent O'Brien cowering in his office
When the then-relatively unknown Conan O'Brien took over "Late Night" in 1993, he anticipated some backlash. He even published his own "op-ed" titled "O'Brien Flops!" in The New York Times. Still, he couldn't have anticipated how negative the critical response would be. About a month after "Late Night with Conan O'Brien" premiered, the fledgling host went on "Charlie Rose," where Rose wasted no time in reminding O'Brien just how much critics hated him.
"There were some really, really dark moments," O'Brien recalled to Howard Stern last November. "[Rose] went, 'You're probably aware of what came out in The Washington Post today. The top TV critic in the world wrote this piece, and here's what it says.' And it was a brutal takedown of me, Andy [Richter], the comedy, everything." The takedown in question was penned by Tom Shale, who called the show "an hour of aimless dawdle masquerading as a TV program" (via The Washington Post).
The interview sent O'Brien cowering back to his studio in awkward silence. "We get to work, I quietly go to my office, and I shut the door," O'Brien recalled to Stern. "I got on the floor and I climbed underneath the desk and just lay there. At one point after a while, someone on the show leaned in and saw just my legs coming up from underneath the desk." He continued, "That, to me, is when the needle got to the lowest."
While that day may have been a low point for O'Brien, the early "Late Night" doldrums eventually gave way to critical success. "[My dad] said, 'If you can survive this, it's going to make the whole story that much better,'" O'Brien added. Not only did O'Brien survive, but he still has the desk in storage.