Milo Ventimiglia Wasn't In As Many Gilmore Girls Episodes As It May Have Seemed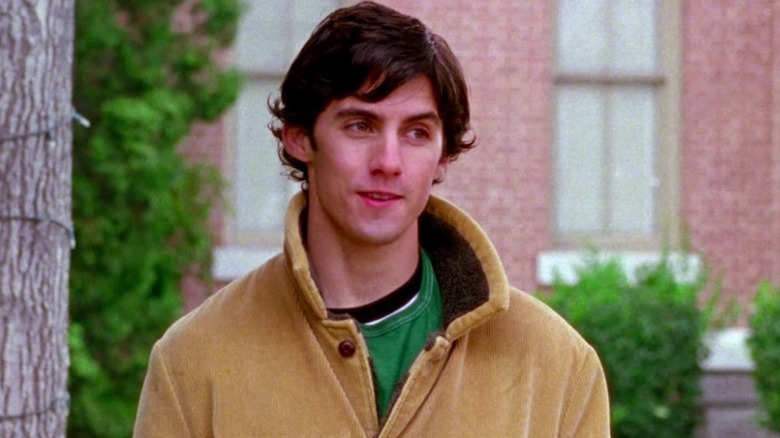 The WB/Netflix
The beloved series, "Gilmore Girls," created by Amy Sherman-Palladino, centers on the mother-daughter relationship between Lorelai (Lauren Graham) and Rory Gilmore (Alexis Bledel), who describe themselves as best friends first and mother and daughter second. But, despite the mother-daughter relationship being at the forefront, the love lives of Lorelai and Rory play a significant role in the show.
Rory Gilmore has a few boyfriends throughout the show's run. First, there's Dean Forester (Jared Padalecki), her first love, who is new to Stars Hollow at the start of the series. Then, there's Jess Mariano, played by future "This is Us" star Milo Ventimiglia, who comes into play in Season 2 when he is sent to live with his uncle, local diner owner Luke Danes (Scott Patterson). Jess, a brooding bad boy who is secretly a softie, hits it off with Rory right away — they're into all the same music and books — even though Rory is dating Dean at the time. Jess is followed by Rory's third boyfriend, Logan Huntzberger (Matt Czuchry), who she meets in college a couple of years after breaking up with Jess.
Despite being a major part of the series and a fan-favorite character, Jess wasn't actually in as many episodes as you may think — here's his episode count.
Ventimiglia was in 37 episodes out of 153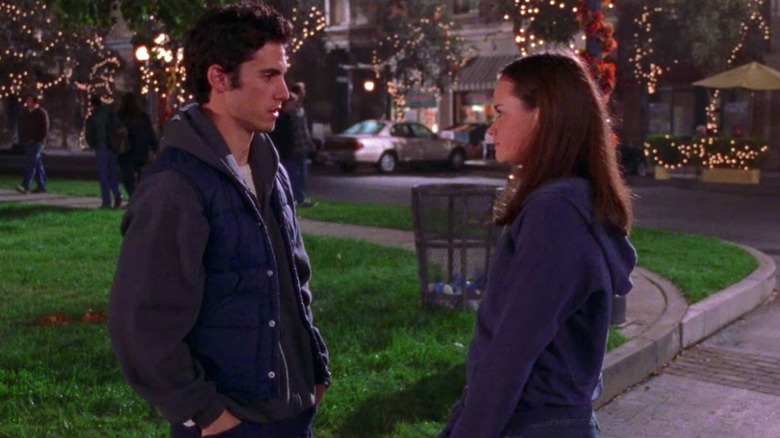 The WB/Netflix
"Gilmore Girls" ran for seven seasons from 2000 to 2007, racking up a whopping 153 episodes. In Season 2 Episode 5, "Nick & Nora/Sid & Nancy," the 26th episode, Milo Ventimiglia shows up for the first time. In the episode, Luke announces that he's been convinced by his sister to take in his nephew, Jess because he's been getting into trouble (and his sister thinks Luke can "straighten him out"). Jess and Luke come over to Lorelai's for dinner to integrate him into Stars Hollow; there, he is immediately rude to Lorelai and Sookie — and immediately interested in Rory. Right away, the two bond over their shared love of books.
It's clear from their first meeting that Rory and Jess will get together at some point down the line, Dean or no Dean. Rory and Jess share their first kiss in the Season 2 finale, "I Can't Get Started," at Sookie's wedding, but Rory freaks out about it and decides to stay with Dean. Then, in Season 3 Episode 7, "They Shoot Gilmores, Don't They?," Dean breaks up with Rory because he's aware of her feelings for Jess — thus beginning the Rory-Jess romance. However, their relationship falls apart by the end of Season 3, and Jess leaves town after they break up.
Jess returns for a couple of episodes of Season 4, during which he abruptly tells Rory he loves her and, later, asks her to run away with him, to which she rejects him and tells him they're over. Jess returns twice more, in Season 6, firstly with the news that he has published a book and now works at a small publishing press. In a later episode, Rory, in the middle of a fight with Logan, kisses Jess — only to return to Logan.
Ventimiglia thinks it's okay that Jess and Rory didn't end up together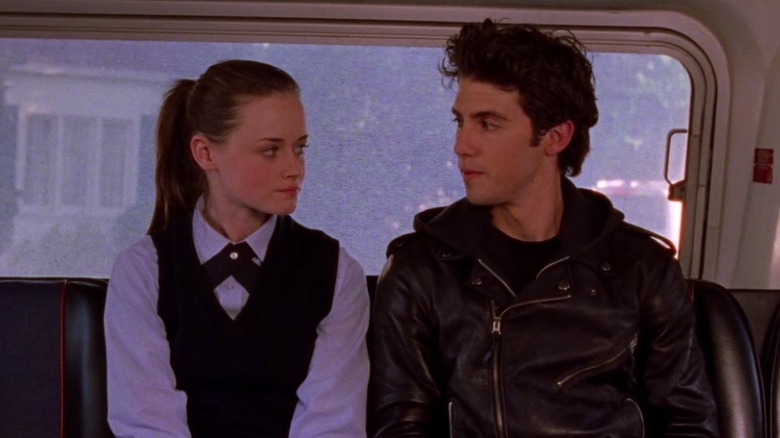 The WB/Netflix
Milo Ventimiglia appeared on his former co-star Scott Patterson's podcast, "I'm All In." During the conversation, the two discussed Jess and the fact that he and Rory didn't end up together — which is something that Ventimiglia thinks is totally okay.
Ventimiglia said, "I think things are complicated when you're young ... You're experiencing things from the heart, from the gut, from the head, that you're experiencing for the first time. So I think Jess and Rory, I think they were what they needed from the moment, from each other, and at the same time, it didn't work out. They went in different directions. And that's okay too. That's kind of great" (via ET).
The actor also shared what he liked most about Jess — and many of these qualities reflect why things didn't work out between him and Rory and why Rory was likely drawn to him. Ventimiglia said, "I think he had a lot of confidence, and he had a lot of insecurities. He kind of had to find his way back to that center, back to that middle, and it made him complex."