Young Sheldon's Lance Barber Explains What Makes Iain Armitage Such A Class Act
CBS
"Young Sheldon" is a rare thing in Hollywood television: the rare successful spin-off of a mega-popular comedic television show. Its parent series, "The Big Bang Theory," ended in 2019 after 12 highly rated seasons. In fact, its ratings remained consistently high all the way until the end, with the only reason for its sudden conclusion being that Jim Parsons, who played Sheldon Cooper, wanted to move on to other projects and refused to renew his contract. Still, that didn't stop CBS from continuing the franchise anyway in the form of "Young Sheldon," which, as the name implies, is a prequel to "The Big Bang Theory" that focuses on a much younger Sheldon (Iain Armitage) growing up in Texas.
Lance Barber portrays Sheldon's father, George Cooper, and the two often find themselves misunderstanding with each other due to their vastly different personalities. Obviously, this leads to some fun and interesting character dynamics between the two. However, when it comes to real life, Barber has nothing but enormous respect for Armitage, and he believes that the young actor is nothing short of a class act.
Barber believes that Armitage is wise beyond his years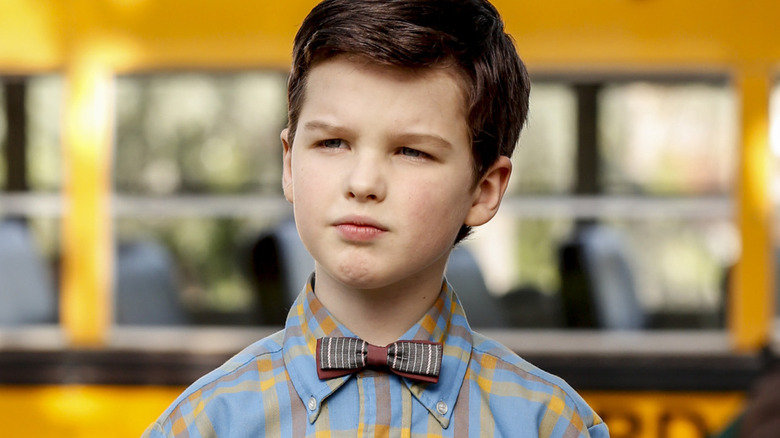 CBS
During an interview with Esquire in 2019, Lance Barber praised Iain Armitage not only as an actor, but as a human being. He believes that acting is something that comes naturally for the young talent, and has found himself impressed more than once during their time filming "Young Sheldon" together. Beyond that, Barber says that Armitage is mature in ways that a lot of kids his age are not.
"He is exceptional as a young actor, as a performer," Barber said. "He's one of those kids that was built to do it. In his genetics is show business. Intellectually, he must be exceptional, I think, to do the amount that he does and the hours that he does. And you spend time with the kid and he's very bright and very smart and has a maturity that is beyond his years."
Barber definitely seems to hold Armitage in particularly high esteem as both an actor and a person, and it's easy to see why. It's clear, from just how long the show has managed to be on the air, that fans of "The Big Bang Theory" have also found a lot to love in "Young Sheldon" and its take on the younger version of the popular eponymous character. The series is currently in the midst of its 6th season, where it remains a solid ratings hit for CBS.