Why Ms. Hutchins From Young Sheldon Looks So Familiar
The character of sad sack high school librarian Cheryl Hutchins (Sarah Baker) was introduced in "Young Sheldon," Season 1, Episode 2, "Rockets, Communists, and the Dewey Decimal System." As a running gag, every time Sheldon tries to ask Ms. Hutchins anything, he gets more than he bargained for as she goes off on tangents about how pathetic her life is. 
One of her sadder moments comes in the Season 3 episode "A Couple Bruised Ribs and a Cereal Box Ghost Detector." Here, Ms. Hutchins accidentally gets hit by a football player during a game, prompting the injured librarian to announce "If I die, tell my therapist I hate him." Feeling guilty, George Sr. invites her to stay with their family for a few days, much to the annoyance of the rest of the family.
While she is currently one of the saddest characters on "Young Sheldon," Baker has a appeared in several sitcoms before in guest roles and recurring roles.
She played Jim and Pam's nurse in The Office's delivery episode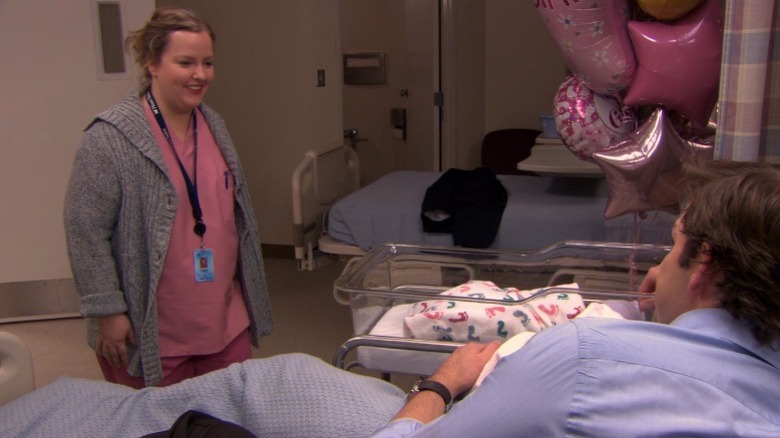 NBC
In Season 6 of "The Office," Jim (John Krasinski) and Pam (Jenna Fischer) have their first baby together in one of the most memorable episodes of the hit series. When Pam and Jim are in the hospital with their new baby, a particularly familiar-faced nurse assists the new parents with their child. In an interview with CBS Local News, Sarah Baker explained what it was like to guest star on "The Office."
As she discussed, Baker is often cast in guest appearances on shows that she doesn't watch, so it was fun to come into a show that she actually saw and knew something about. She also mentioned how impressive it was to see all of these actors who were deeply invested in their characters after six seasons. 
She also mentioned that people come up to her on the street telling her that they first saw her on "The Office" and have followed her career ever since.
She was Sonia on Go On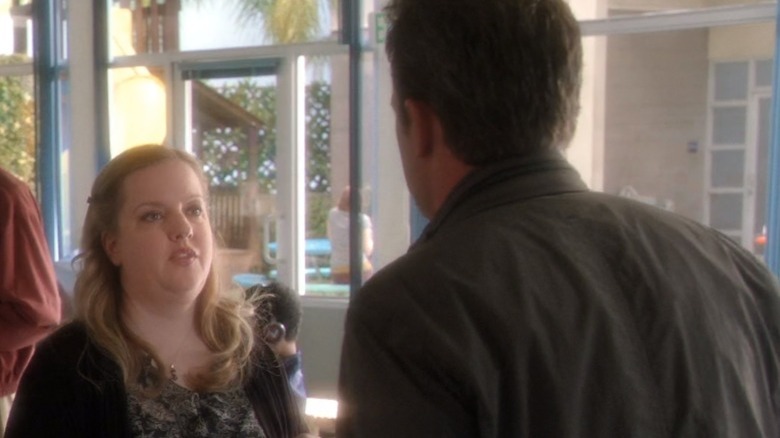 NBC
Sarah Baker's first role as a series regular came in 2012 on the Matthew Perry-vehicle "Go On." The show revolved around sportscaster Ryan King (Perry), who joins a support group after his wife's death and ends up finding himself bonded to the other members of the group. Baker's character, Sonia, is in the group because of the recent death of her cat. While some may think a dead cat is a minor problem, it matters to Sonia; therefore, it matters to the group.
Unfortunately, "Go On" was canceled after one season in the midst of NBC revamping its comedy lineup and was canceled alongside shows like "Whitney," "1600 Penn," and "Up All Night." It still got Baker her first part as a series regular, something that would help move her career forward. In fact, out of the 22 episodes of "Go On," Baker was in every single episode.
She was in Mascots as Mindy Murray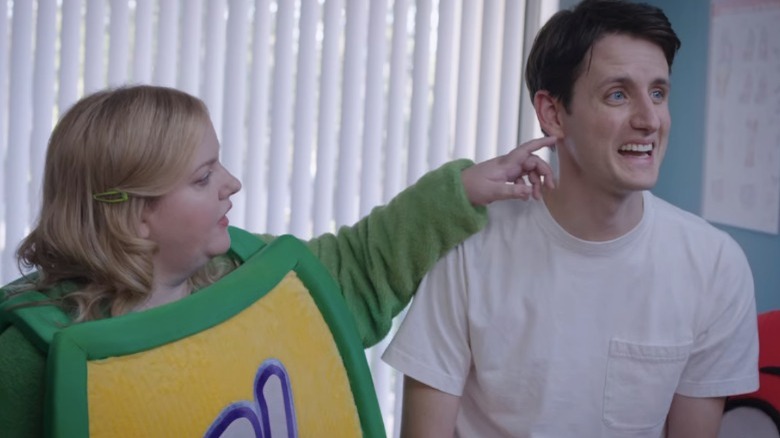 Netflix
Sarah Baker has also worked in film, as seen with the 2016 Netflix film "Mascots," directed by mockumentary film director Christopher Guest. In the movie, Baker appears as Mindy Murray, a.k.a. Tammy the Turtle, a woman who works as a mascot for a popular sports team.
In an interview with Medium, Baker talked a little about how she landed the role in "Mascots." Apparently, even though the actor doesn't usually do commercials, she was specifically asked if she would be interested in doing a commercial with Guest, and Baker readily agreed as she idolizes the director. Much to her surprise, she soon received a call that Guest was writing a role for her in his next movie, so the actor got to work with one of her all-time favorite directors. Guest directed movies like "Best in Show," "Waiting for Guffman," and "For Your Consideration."
She was Thea Cunningham in Big Little Lies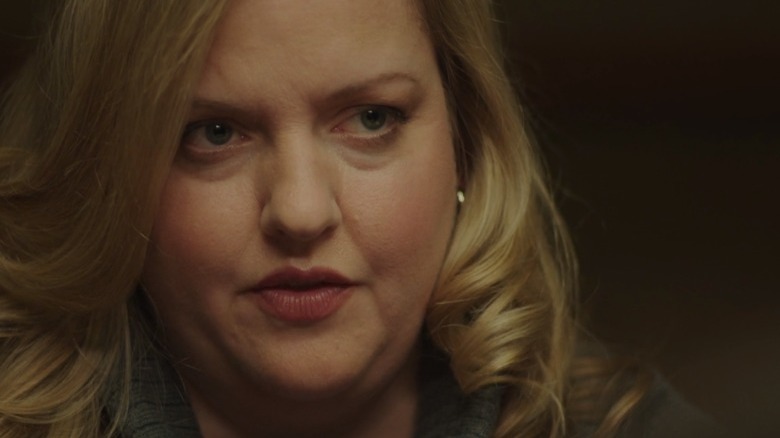 HBO
In 2017, Sarah Baker appeared in six of the first seven episodes of "Big Little Lies," playing the role of Thea Cunningham. In the episodes, most of her scenes take place in a police interrogation. Here, the story slowly unfolds as the residents of an idyllic town recount how a murder happened in their little slice of paradise.
"I play this woman who's part of what we [thought] of as a Greek chorus of men and women who feel free to gossip and make snarky comments about the main characters," Baker said in an interview with Vulture.
She also explained that she feels that she probably got the role because of her previous work with star Reese Witherspoon on "The Good Lie." The series also put her on the same show with Iain Armitage, who she would later work with on "Young Sheldon."
She played Amy's best friend Kylie on Brooklyn Nine-Nine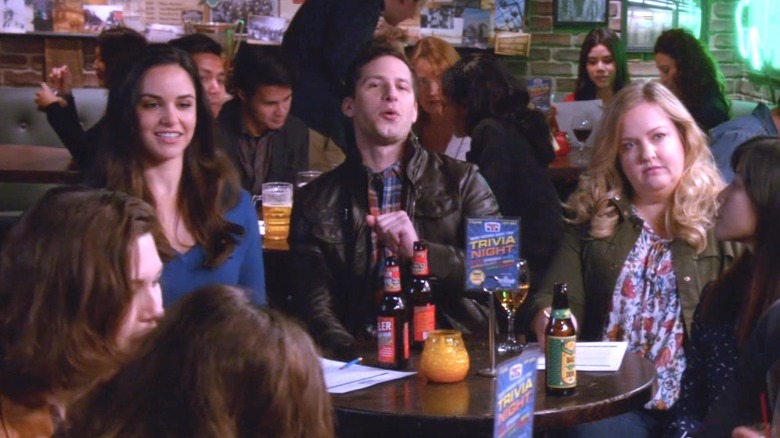 Fox
In two episodes of "Brooklyn Nine-Nine," Sarah Baker guest stars as Amy Santiago's (Melissa Fumero) best friend Kylie. The first episode she appears in is Season 4's "Chasing Amy," where Amy disappears while freaking out about her upcoming exam to obtain the rank of sergeant. Jake (Andy Samberg) stops by to visit Kylie to see if she knows where Amy has gone. 
Later, in the Season 5 episode "Bachelor/ette Party," Kylie is at Amy's bachelorette party. There, they realize the band that was booked for Amy and Jake's wedding is fronted by Amy's ex, who's obsessed with her.
In an interview with CBS Local News, Baker explained that, much like "The Office," she had been a fan of "Brooklyn Nine-Nine" before she got the role. Unlike "The Office" — where her character never got to set foot on the primary set — Baker was excited that she actually got to see the precinct of "Brooklyn Nine-Nine."
She portrayed Mindy Kominsky in The Kominsky Method
Sarah Baker's next role as a series regular came in Netflix's "The Kominsky Method," a dramedy about a veteran acting coach named Sandy Kominsky (Michael Douglas). Baker plays Kominsky's daughter, Mindy, who frequently finds herself frustrated with her father. The show ran for three seasons at a total of 22 episodes, and Baker appeared in every episode.
In an interview with Awards Watch, Baker talked a little about saying goodbye to her role on "The Kominsky Method." She also explained the show wrapped around the time the COVID-19 pandemic first hit, which put a damper on the wrap party. It was especially disappointing for Baker because she got to work with the legendary Kathleen Turner and didn't get a chance to spend much time with the star off set. She still had nothing but praise for Turner's talent as an actor on the show.