Whatever Happened To Pete Miller From The Office?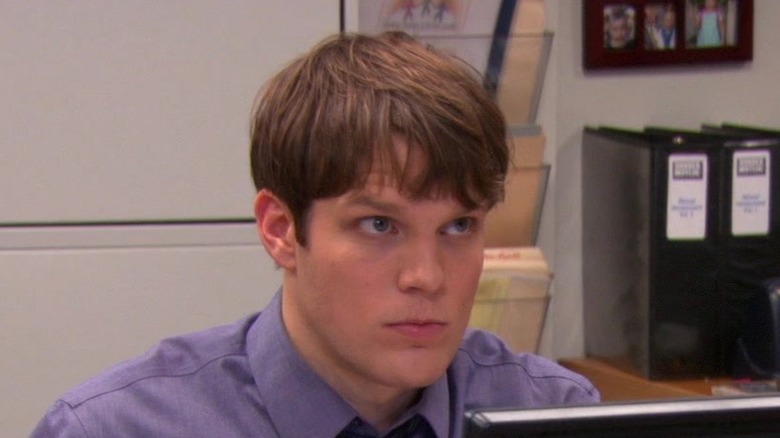 NBC
"The Office" is considered to be the funniest sitcom of all time. A remake of the British version starring Ricky Gervais, the series ran from 2005 to 2013 and followed the antics of the employees working at the Dunder Mifflin Paper Company in Scranton, Pennsylvania. 
During its run, "The Office" received 42 Emmy nominations and introduced several memorable characters, such as Andy Bernard (Ed Helms) and Robert California (James Spader). In the ninth and final season, two new customer service representatives join the staff, Pete Miller (Jake Lacy) and Clark Green (Clark Duke), to replace Kelly Kapoor (Mindy Kaling) and Ryan Howard (B.J. Novak). 
Pete is soon dubbed "New Jim" by his colleagues and "Plop" by Andy. Though it seems they have little in common, Pete and Jim Halpert (John Krasinski) have a penchant for receptionists—the former dates Erin Hannon (Ellie Kemper)—and Jim realizes that Pete is entering the same boring life at Dunder Mifflin. Pete is last seen at the party in the warehouse, and it is unknown what happened to him and Erin after that.
Following his short stint on "The Office," Lacy enjoyed a successful career in both movies and television.
He dated Lena Dunham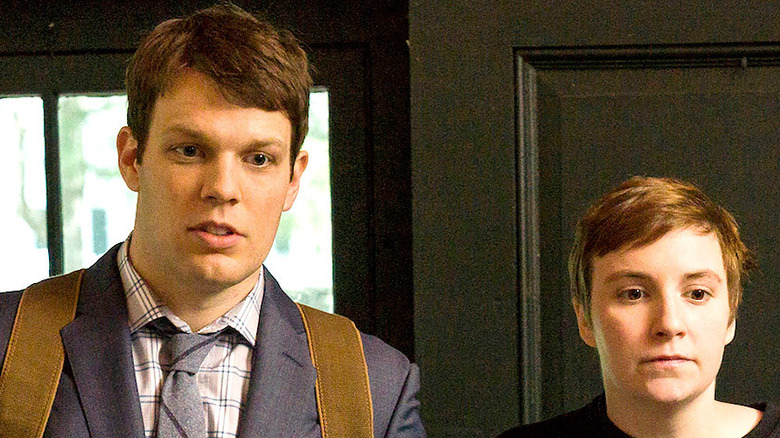 HBO
Immediately after "The Office" in 2014, Jake Lacy appeared in one episode of "The Michael J. Fox Show" and then enjoyed an eight-episode run on "Billy and Billie" as Keith. 
He continued to make a name for himself when he landed a recurring role as Fran Parker in the hit HBO series, "Girls" from 2015 to 2016. Appearing in the fourth season, Fran is a teacher who meets Hannah Horvath (Lena Dunham) at the school where she recently started working. They hit it off, but when he realizes Hannah's going out with him to make her boyfriend, Adam Sackler (Adam Driver), jealous, he ends the date. 
However, this is not the end of Fran. Despite a disastrous first date, Fran comforts Hannah after her panic attack, and the two get together by the end of the season. 
Lacy returns as Fran in the following season—this time in a leading role—but his relationship with Hannah is far from ideal. They constantly bicker over everything, including dirty images he keeps on his phone and how she grades her students' papers. After an explosive argument during a three-month road trip, Fran and Hannah break up.
He was a comedian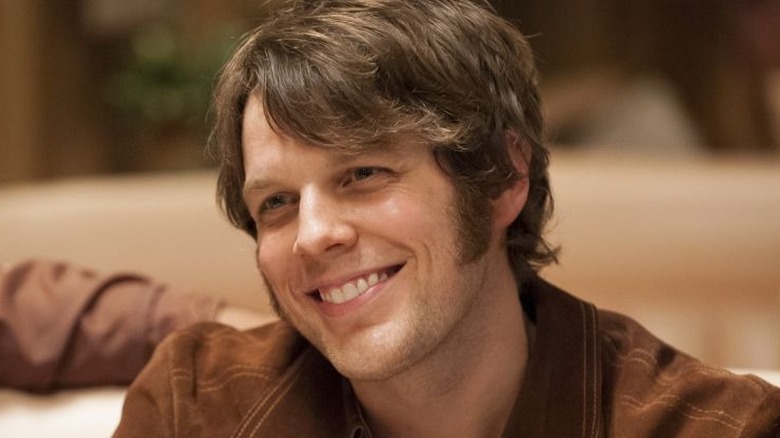 Showtime
A year after appearing on "Girls," Jake Lacy landed a role on Showtime's "I'm Dying Up Here," alongside his "The Office" co-star, Clark Duke. The comedy-drama series — of which Jim Carrey was actually one of its executive producers — is set in 1973 and follows a group of comedians on their way to becoming famous through Goldie's (Melissa Leo) Comedy Club and eventually making a turn on "The Tonight Show With Johnny Carson." As Goldie mentors the comics, they must deal with the struggles and successes of their career path, particularly the cutthroat nature of the industry. 
Lacy portrays Nick Beverly, a stand-up comedian who returns to Los Angeles after spending time on the road. Nick is a somewhat notorious comedian, taking opium before his set on "The Johnny Carson Show." Though his routine goes well, Carson does not wave him over to the couch, and Nick is forced to ask himself why. Despite his good nature and gorgeous looks, Nick's substance abuse and family trauma makes it a struggle to re-acclimate into the Los Angeles comedy scene, especially when he's not welcomed back with open arms. 
Despite a high audience score on Rotten Tomatoes, "I'm Dying Up Here" did not do so well with critics and, as a result, was canceled after its second season.
He was a hotel guest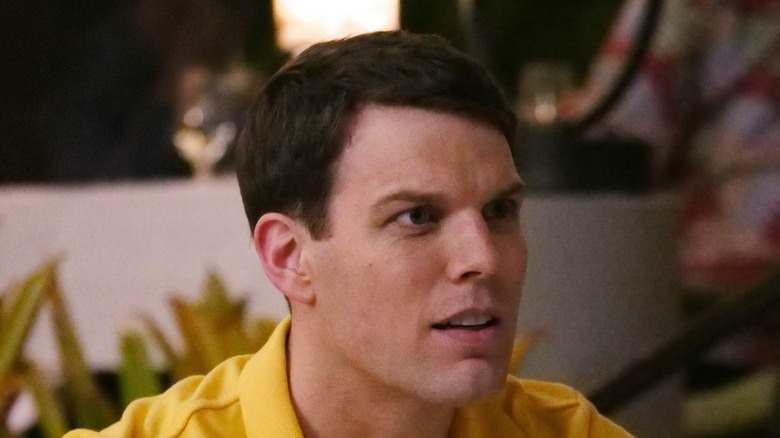 HBO
In 2021, Jake Lacy was cast as Shane Patton in the black comedy-drama anthology series "White Lotus" on HBO. In the eponymously-named hotel, the show focuses on the guests and employees, whose various psychosocial dysfunctions affect their vacations and jobs. 
Shane and his wife, Rachel (Alexandra Daddario), arrive at the White Lotus for their honeymoon in Hawaii. Wealthy and good-looking, Shane is cocky, demanding, and rude. As his and Rachel's vacation progresses, it becomes clear that their marriage is troubled. He and his mother, Kitty (Molly Shannon), constantly break down Rachel's identity, telling her that she shouldn't work anymore because she's rich and that her future is filled with charity events and galas. 
In addition to his toxic relationship with his wife, Shane also has issues with the hotel manager, Armond (Murray Bartlett). This eventually leads to the latter's death and connects to the first episode, when someone's remains are put in a plane. In the end, Shane is reunited with his wife — with no repercussions concerning Armond's murder.
He helped write a hit sitcom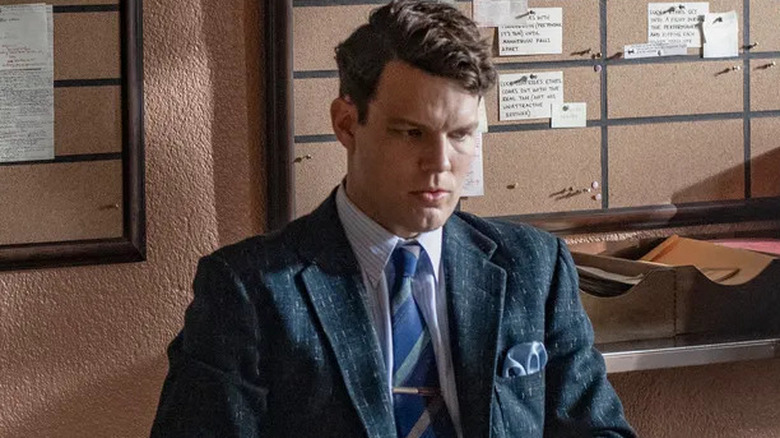 Amazon Studios
Also in 2021, Jake Lacy could be seen in "Being the Ricardos." This film follows Lucille Ball's (Nicole Kidman) tumultuous relationship with Desi Arnaz (Javier Bardem) while the hit sitcom, "I Love Lucy," was being written and filmed. Lacy portrayed Bob Carroll Jr., one of the writers who helped make the series a success, alongside Madelyn Pugh (Alia Shawkat) and Jess Oppenheimer (Tony Hale). 
Throughout the film, Carroll, Pugh, and Oppenheimer deal with just as much as the rest of the cast and crew. In addition to coming up with fresh, new ideas to keep audiences laughing and wanting more, they were also subjected to the drama behind the scenes, which they recount through flashbacks. These include the strained marriage between Ball and Arnaz, Vivian Vance's (Nina Arianda) anger over being portrayed as "less attractive" than Ball, and the fear that the studio would be shut down over accusations that Ball had communist ties. 
"Being the Ricardos" was well-received, with Kidman, Bardem, and J.K. Simmons — who played William Frawley — all being honored with Academy Award nominations. 
He is a family friend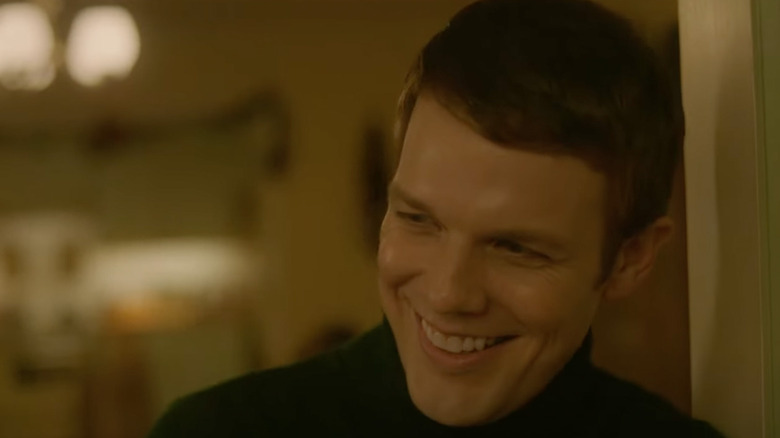 Peacock
Most recently, Jake Lacy landed a leading role on a Peacock-exclusive series, "A Friend of the Family," which viewers found troubling. The drama series is based on the true story of Jan Broberg — played by Mckenna Grace — who was groomed and manipulated by Robert Berchtold in the 1970s.
Here, Lacy again plays a real-life person, though this time, he's not responsible for bringing a beloved show to life. Instead, he portrays Berchtold, a man who betrays the Brobergs' trust and kidnaps their 12-year-old daughter. Even when she is returned to her parents, he abducts her again two years later.
In an interview with TV Insider, Lacy spoke about bringing this man to life on television. Though he felt there were times that Berchtold believed he was in love with Jan, the nature of their relationship was toxic, problematic, and aggressive. Lacy praised Grace's acting skills and the fact that the real Jan Broberg played her on-screen self's therapist in the finale.